If you are looking for an excellent beach in the Philippines with all amenities, entertainment, and night parties, then Boracay Island is your choice! It is the most famous island in the Philippines.
This is not difficult to understand, because it is probably the best beach in the country. White Beach is a vast strip of white powdery sand washed by crystal clear water. However… Is it worth going to Boracay at all?
The most common question asked by travelers who are beginning to develop their travel routes in the Philippines. They have heard conflicting opinions about Boracay, and their doubts are entirely justified.
After all, the island was completely closed to tourists from April 26, 2018, to October 26 of the same year for restoration since fecal bacteria were found in the waters of the famous White Beach and Bulabog Beach.
Green algae on the beaches have become increasingly common, a symptom of pollution and poor water quality.
Anyway, the exponential growth of tourism in Boracay, in 2017 reached 2 million people. The development of the tourism industry without measures and indifference to the environment prompted even the President of the Philippines Rodrigo Duterte to make statements in which he called Boracay a sewer.
There is no airport in Boracay, but there is a Godofredo P. Ramos Caticlan Airport on Panay Island, which accepts domestic flights to the Philippines. It is located only 2.5 kilometers from Boracay and therefore is the closest reception point for tourists traveling to the island. Boracay has a small Cagban Jetty port, on which boats arrive from Caticlan. 
From Manila to Caticlan  by air   
Thus, the easiest and fastest way to get to Boracay is by plane. Arriving at the nearest airport to Boracay, Caticlan, you can walk to the harbor and take a boat to Boracay. Remember that flights will be more expensive during the high tourist season – Christmas, Easter, Chinese New Year, and other holidays. Also, note that if you book tickets right before departure, the price will also be higher.
| | | |
| --- | --- | --- |
| Transport Name | Route Time | Price |
| Cebu Pacific Economy | 06:00 - 07:10 | $90 |
| Philippines AirAsia Economy | 06:20 - 07:25 | $72 |
| Philippines Airlines Economy | 06:35 - 07:50 | $144 |
| Cebu Pacific Economy | 07:05 - 08:10 | $95 |
| Philippines AirAsia Economy | 07:25 - 08:35 | $72 |
| Philippines Airlines Economy | 08:15 - 08:25 | $112 |
| Philippines AirAsia Economy | 09:50 - 11:00 | $72 |
| Cebu Pacific Economy | 12:20 - 13:30 | $95 |
| Philippines Airlines Economy | 10:10 - 11:25 | $144 |
| Philippines AirAsia Economy | 11:00 - 12:05 | $72 |
| Philippine Airlines Economy | 11:10 - 12:25 | $60 |
| Cebu Pacific Economy | 12:20 - 13:30 | $95 |
| Philippine Airlines Economy | 13:00 - 14:15 | $60 |
| Cebu Pacific Economy | 14:20 - 15:30 | $84 |
| Philippine Airlines Economy | 14:40 - 15:55 | $50 |
| Cebu Pacific Economy | 14:55 - 16:00 | $75 |
| Cebu Pacific Economy | 16:15 - 17:40 | $63 |
| Cebu Pacific Economy | 17:50 - 19:15 | $63 |
An inexpensive way to get to Boracay is to fly to Kalibo Airport; from there, take a bus/minibus to Caticlan and then a boat to Boracay. This journey will take you about three hours.
Here you can consider flight options to Caticlan or Kalibo on the dates you need, choose the most convenient, and book tickets.
In addition, you can book a transfer from Caticlan or Kalibo Airport, including taxi/minibus delivery to the ferry, ferry ride to Boracay, and travel through Boracay to the desired hotel (all inclusive). This transfer costs from $6 per person.
BEST THINGS TO DO ON BORACAY
Without a doubt, the best thing to do in Boracay is to enjoy White Beach at any time of the day:
Early in the morning, when almost no one is there.
At noon, when the water seems especially turquoise.
At sunset, when the sky becomes simply amazing and will give you one of the most photographed sunsets in the Philippines.
A night is filled with fire shows and parties.
Island Tour on Boracay
If you want to go snorkeling or see the nearby islets, you can hire a boat for 1000 – 3500 pesos (depending on the size of the boat and the season). That will allow you to see Crocodile Island, Tambisaan Beach, various snorkeling spots, and other beaches such as Puka Shell Beach.
Kitesurfing practice on Bulabog Beach on Boracay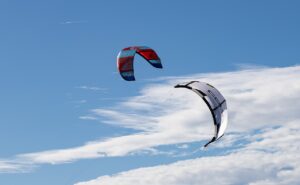 Boracay is the most famous place for kitesurfing, and Bulabog Beach offers many opportunities for both beginners and advanced kite surfers. There are several kitesurfing schools where you can hire instructors and rent equipment if you don't have one for about 2,000 pesos a day. The best time for kitesurfing in Boracay is from mid-November to April. However, from May to October, you can practice it on the other side of White Beach because the wind changes direction. Remember that many people will be at Christmas, Chinese New Year, or Easter.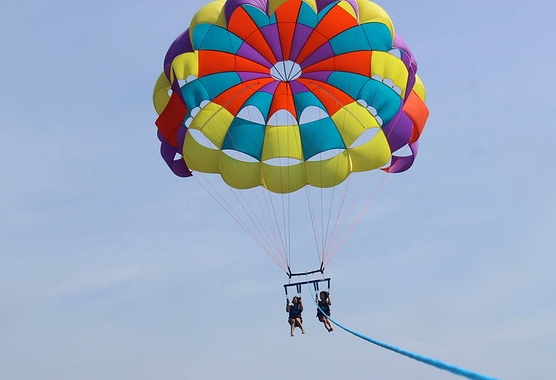 Jump from Ariel's Point
Do you want strong emotions? Then don't forget to visit
Ariel's Point
near White Beach – the point with several platforms from which you can jump from a height of three, five, six, and fifteen meters. Although it is not cheap here, do not deny yourself the pleasure of spending a busy day this way. The Ariel Point tour includes a boat transfer, food (barbecue buffet and snacks), unlimited drinks (soft drinks and beer), kayaks, snorkeling, and all kinds of jumps.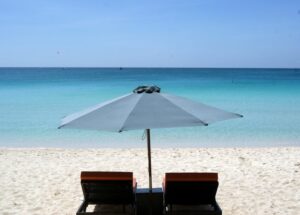 More adrenaline? Fly Fish Ride on Boracay
Fly Fish Ride is a giant inflatable boat with "flying fish" characteristics,  which will fit several people at once—controlled by a jet ski. Parasailing – in tandem with a friend, you can see Boracay from a bird's eye view, following a jet ski connected to you by a reliable cable.
Visit the lesser-known beaches of Boracay
Diniwid Beach is small, only 200 meters, but it has preserved a calm, non-tourist peaceful atmosphere. The landscape of the rocks around it is magnificent! On the opposite side of the Individual is Ilig-Iligan Beach, which you can easily reach on foot. This beach offers opportunities for snorkeling.
Night entertainment on  Boracay
Boracay has a lot to offer to lovers of active nightlife: night parties, music, karaoke, dating, and dancing till you drop. If you want to go to a party in Boracay, here are the most famous bars and nightclubs:
Bars
: Exit Bar (the main hangout for kite and windsurfers, live music on weekends), Aplaya Beach Bar (soft pillows right on the sand, good music, and excellent Italian cuisine), Coco Bar or Red Pirates Pub (reggae bar-pub with friendly staff, the best cocktails in Boracay and, often, with live reggae music, chillout). Open until 00:00.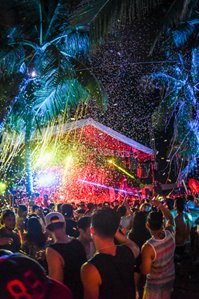 Clubs
: Epic (offers a stylish lounge atmosphere, located in the heart of White Beach at the entrance to the D'Mall Mall), Summer Place (musical hangouts with famous DJs), Cocomangas (large dance floor, parties, DJs, dance music, hip-hop, house, 15-stack game), Guilly's Island or Club Paraw (a party from sunset to the morning, friendly staff and inexpensive drinks).Almost every establishment can offer you two drinks for the price of one at the so-called happy hour (usually from 5 to 7 pm).From the point of view of site visitors TripAdvisor.com, the best party places in Boracay are Boracay PubCrawl, The Manic Monkey Crew, Exit Bar, Red Pirates Pub, and Epic Boracay.A lot of musical get-togethers with invited famous DJs take place in Summer Place. D'hobbit House and Boracay Mandarin Island Hotel offer you to enjoy live music at dinner.