Puerto Princesa is the gateway for many travelers to the fabulous island of Palawan, declared one of the most beautiful in the world. If you are looking for something unusual, excursions to Honda Bay and rafting on the famous underground river, listed as a UNESCO World Heritage Site, will not leave you indifferent. Put in your list of activities swimming with a whale if you are traveling between April and November.
Puerto Princesa is a city on Palawan Island, the capital of Palawan province. It got its name in honor of the Spanish Princess Eulalia, the daughter of Queen Isabella II.
With almost 100 kilometers of beaches and resorts spread out along its coastlines, Puerto Princesa has become an increasingly popular destination with tourists from all over Asia. Its white sand beaches and clear turquoise waters make it one of Asia's most popular beach destinations.
Puerto Princesa has several shopping malls, restaurants, and bars that offer everything you need.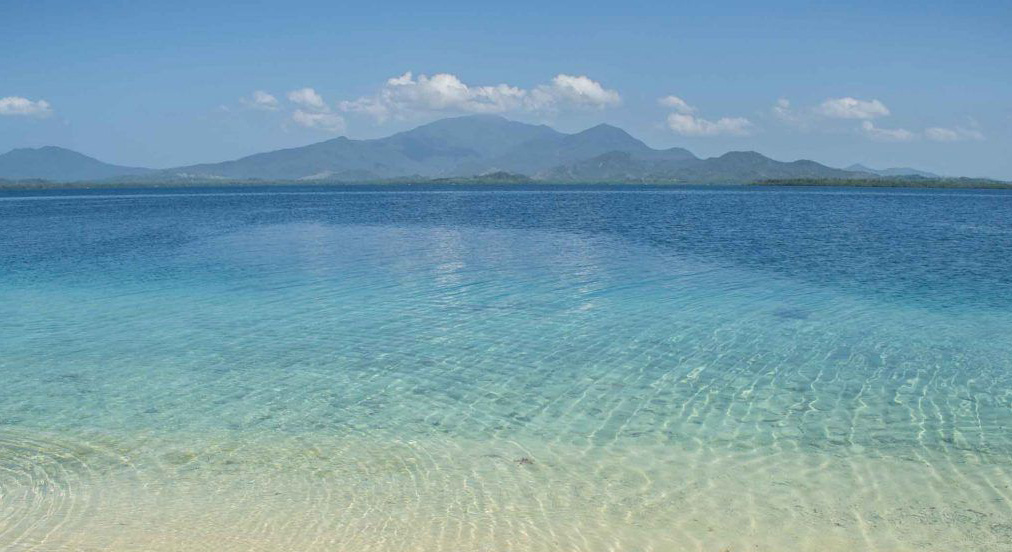 HOW TO GET TO PUERTO PRINCESA
Puerto Princesa has Puerto Princesa International Airport (PPS), which accepts flights to domestic and foreign destinations. There is also a Puerto Princesa Port and a San Jose Bus Terminal.
The San Jose terminal and the airport are located about 6 kilometers from each other, which you can easily overcome by a tricycle or jeepney. A tricycle can cost you anywhere from 50 to 100 pesos, while a jeep ride costs about 12 pesos per person.
Manila to Puerto Princesa by air   
The most convenient way to get from Manila (MNL) to Puerto Princesa (PPS) is by plane. Several airlines, including low-cost ones, such as Cebu Pacific Air and Air Asia, fly in this direction. Flights usually depart from the fourth domestic terminal of Manila Airport – Ninoy Aquino International Airport.
If you plan your trip, you can find flights from Manila to Puerto Princesa from $47, although usually, the price is about $52 – $74. You will often find tickets for $54 or even more in a few days. We advise you to book your tickets at least a week before your trip.
Depending on the airline and the fare you choose, sometimes you can check in your luggage for free. Take care of baggage check-in in advance to avoid overpaying at the airport. Almost all Philippine airlines allow carrying 7 kg of hand luggage.
The flight from Manila to Puerto Princesa is 1 hour and 20 minutes.
From Manila to Puerto Princesa can also be reached by water. We recommend this option only if you have a lot of time and want to acquire a new experience, because, given the cost of tickets, it is not particularly profitable.
| | | |
| --- | --- | --- |
| Transport Name | Route Time | Price |
| Philippines AirAsia Economy | 04:35 - 05:50 | $47 |
| Philippines AirAsia Economy | 06:55 - 08:20 | $74 |
| Cebu Pacific Economy | 08:10 - 09:35 | $142 |
| Philippine Airlines Economy | 11:40 - 13:05 | $67 |
| Philippines AirAsia Economy | 12:40 - 14:00 | $45 |
| Cebu Pacific Economy | 14:55 - 16:20 | $49 |
| Philippines AirAsia Economy | 17:40 - 19:05 | $52 |
| Cebu Pacific Economy | 18:10 - 19:45 | $49 |
| Cebu Pacific Economy | 21:30 - 23:00 | $54 |
Manila to Puerto Princesa by ferry   
The shipping company 2GO sends ferries from Manila to Puerto Princesa every Friday at 19:00. Prices depend on the class you choose (bed without air conditioning, with air conditioning, cabin); about $38 for the Super Value class. The journey takes 24 hours. You can book a ticket here. Honestly, we couldn't get tickets for the dates we needed.
| | | |
| --- | --- | --- |
| Transport Name | Route Time | Price |
| Cebu Pacific Economy | 04:40 - 06:00 | $50 |
| 2GO Cabin for 4 | 09:30 - 18:00 | $2 |
| Cebu Pacific Economy | 11:30 - 13:00 | $37 |
| Philippines AirAsia Economy | 13:40 - 15:05 | $44 |
| Cebu Pacific Economy | 15:35 - 17:05 | $50 |
| 2GO Suiteroom for 2 | 19:00 - 19:30 | $4 |
El Nido to Puerto Princesa by minivan   
You can get to Puerto Princesa from El Nido. The fastest way is by minibus. The journey takes from 4.5 to 5.5 hours. Minibusses usually depart from 04:00 to 20:30. Prices range from around $12 – $14. You can book a ticket here.
The disadvantage of minibusses over conventional buses is that minibusses are very cramped; they have small seats and distances between rows. The best option is to choose a seat next to the driver or directly behind him.
| | | |
| --- | --- | --- |
| Transport Name | Route Time | Price |
| Lexxus Shuttle Van 9pax | Any time | $128 |
| Eulen Joy Express Minivan | 05:00 - 10:30 | $17 |
| Eulen Joy Express Minivan | 07:30 - 13:00 | $17 |
| Eulen Joy Express Minivan | 10:30 - 16:00 | $17 |
| Fortwally Travel and Tours Minivan | 13:00 - 18:00 | $12 |
| Lexxus Shuttle Shared van | 16:00 - 21:30 | $15 |
| Fortwally Travel and Tours Minivan | 18:30 - 00:00 | $10 |
El Nido to Puerto Princesa by bus   
You can also get to Puerto Princesa from El Nido by Cherry Bus. They drop off passengers at the final stop at the San Jose Bus Terminal. Therefore, if you need to go to the airport, you will have to take, for example, a tricycle.
The trip lasts from 6 to 8 hours, depending on the number of stops that the bus makes. It will cost you about $13 for economy class without air conditioning. Departure schedule: 9:00 and at 21:00. You can order tickets here.
| | | |
| --- | --- | --- |
| Transport Name | Route Time | Price |
| Cherry Bus Economy Non AC | 09:00 - 15:49 | $13 |
| Cherry Bus Regular WC | 21:00 - 03:49 | $15 |
Port Barton to Puerto Princesa by minivan or taxi        
The trip from Port Barton to Puerto Princesa takes about 3-4 hours, sometimes a little less, because minivans usually go very fast. The fare is from $10 for a van and $91 for a taxi. Book a seat on a minivan or a taxi from Port Barton to Puerto Princesa in advance. 
What to do in Puerto Princesa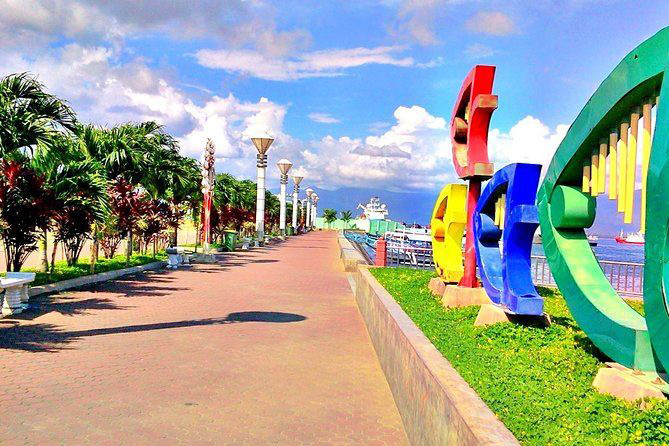 There are many exciting things in Puerto Princesa and its surroundings: the longest underground river in the world, mangroves teeming with fireflies, dishes of Vietnamese origin…
If you decide to tour the underground river or swim with whale sharks (in season), we advise you to spend at least two days in this city.
Walk through the center of Puerto Princesa
Filipino cities tend to be chaotic. Puerto Princesa is no exception. However, there is little left of the madness, the main hero of which was this city during the Second World War. If you are interested in history, we advise you to visit the Plaza Cuartel – a stronghold of American and Filipino soldiers, built-in 1940. When Japanese troops took them, they were converted into a prison. In 1944, about 150 prisoners were burned alive here, and only 11 managed to escape. On the square, you can find several posters about this sad event. And its current appearance is a garden that has little to do with the previous horror story.
Directly opposite the barracks is the Immaculate Conception Cathedral. This neoclassical church replaced the previous church built by the Spaniards at the end of the XIX century. They proclaimed the Virgin Mary the patroness of Puerto Princesa, which is why City Day is celebrated here on December 8 of each year (on the date of the celebration of the immaculate conception of the Virgin Mary).
Four kilometers from the main Cathedral of the city is the Memorial Museum of the Palawan Special Battalion of the Second World War, where you can learn in detail about the fundamental role of the Philippines and Palawan guerrillas during World War II. Admission costs 50 pesos.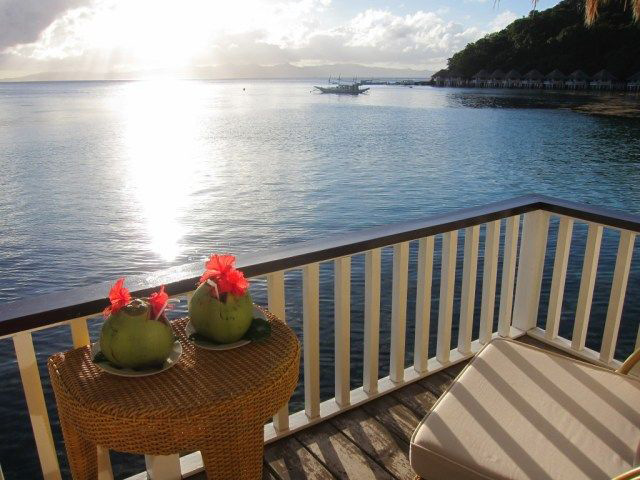 Sunset watching at Baywalk Park
If you are going to stay overnight in the city, one of the things to do in Puerto Princesa is to take a walk in Baywalk Park in the late afternoon. There you can have a cheap snack while watching the fantastic sunset.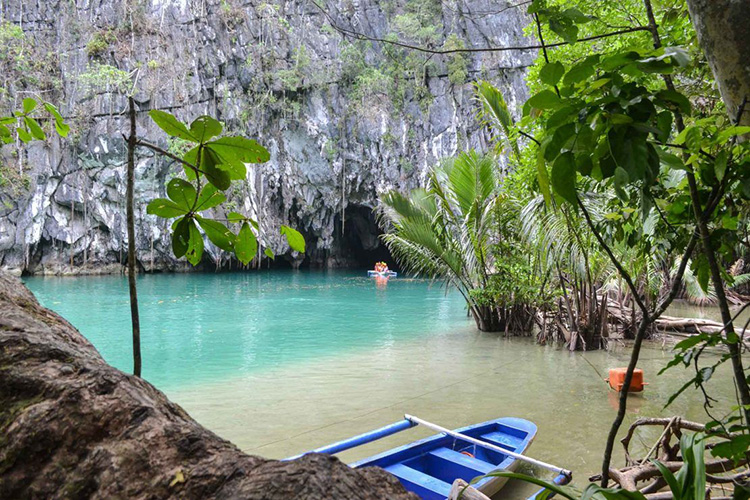 Excursion to the Puerto Princesa Underground River National Park
The most popular activity in Puerto Princesa is visiting the underground river. It is located about 80 kilometers from the capital, near the small Sabang town in the Puerto Princesa National Park. The length of the river is 25 kilometers, of which the last eight kilometers are entirely underground. It is the longest underground river in the world, listed as a UNESCO World Heritage Site, and one of the world's natural wonders.
Travelers can visit only 1.2 kilometers of the cave system from the seaside by boat with oars. Thanks to the lanterns, you will be able to appreciate stalactites, stalagmites, and all the life that unfolds in the river. In addition, thanks to the audio guide, you will be able to understand the importance of the underground river. The tour lasts about an hour.
Don't forget to bring a flashlight! With it, you will be able to see much more and consider interesting places in more detail.
Let's talk about two options for visiting an underground river:
Tour from Puerto Princesa: the most straightforward option we recommend if you have little time and want to see other places in Palawan without staying in Sabang. Prices range from 1600 to 1800 pesos. They usually include a pickup truck picking you up from the hotel and a buffet meal.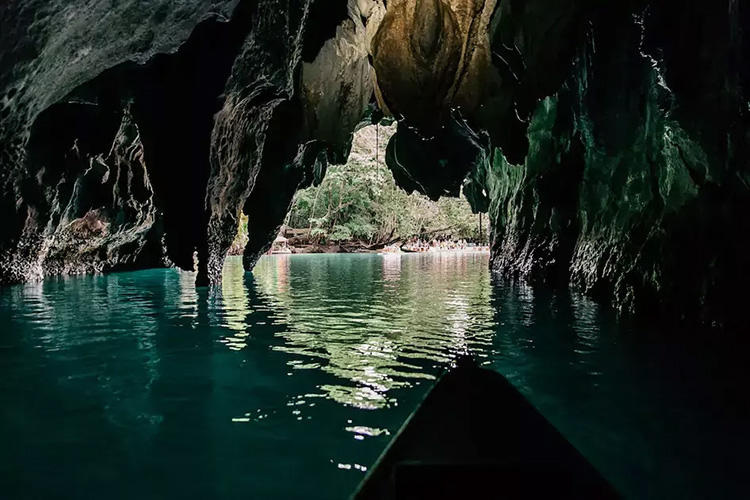 Go to Sabang on your own and buy an excursion on the spot – a cheap but more difficult option. What need for this:
Get permission to visit the river at least one day before the trip at the Underground River Office at the City Coliseum in Puerto Princesa. This can also be done in Sabang, but issuing a permit in advance may be better. Quotas are limited, and a ticket costs 500 pesos per person, plus 150 pesos for an environmental fee (paid in Sabang) and 85 pesos for an audio guide. Opening hours are from Monday to Friday from 8:00 to 16:00, and Saturdays and Sundays – from 8:00 to 12:00 and from 13:00 to 17:00.
Drive to Sabang. You can get to the San Jose Terminal and take a bus to Sabang (150 pesos/3 hours). You can order a shuttle from your hotel (it will be faster, 1.5-2 hours), which you can book here.
In Sabang, go to the harbor at Sabang Boat Terminal, pay an environmental fee, and pay for the boat. This is usually 185 pesos per person if you share a boat with other travelers. The boat can accommodate six people, so you won't have any problems finding a large number of people.
Enjoy the tour of the underground river!
Sabang Beach
If you like a beach holiday, then one of the things you can set aside time for in Puerto Princesa is to go to Sabang.
The trip will take just under 2 hours from the port, and you can combine it with a previous excursion along the underground river. And although Sabang Beach is not the best in the Philippines, it is a pleasant place to eat by the sea, with reasonable hotel offers and a waterfall.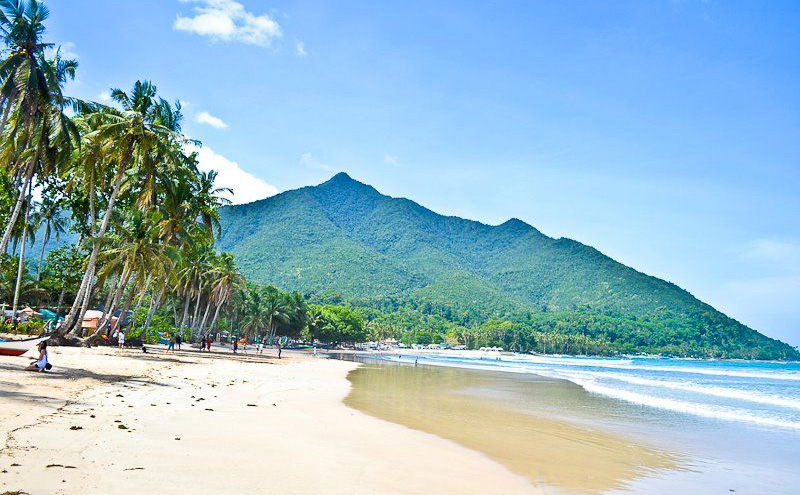 Honda Bay
Perhaps the most popular event in Puerto Princesa is a trip to Honda Bay. You can visit beautiful islands: Gili Island, Starfish Island, and others. They offer excellent opportunities for snorkeling. The tour prices range around 1300-1400 pesos per person and usually include lunch.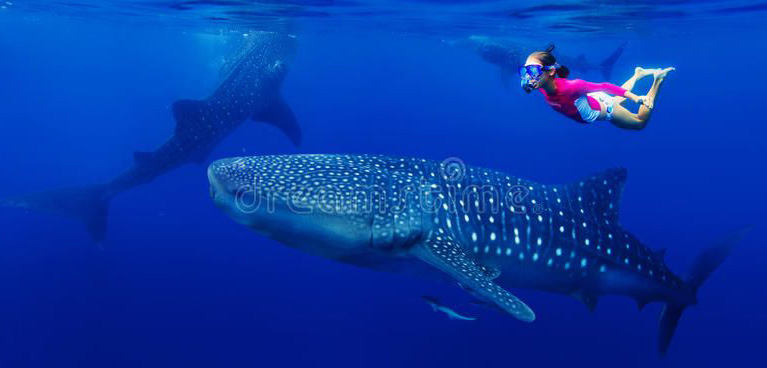 Swimming with a whale shark in Puerto Princesa
Until recently, tourists knew nothing about the opportunity to swim in this place with the precious whale shark. However, if you are traveling in the Philippines between April and November, you can include a whale shark in your list of activities in Puerto Princesa.
Many travelers dream of swimming with a whale shark in the Philippines. Many even plan to go to the Philippines specifically to see them. Imagine yourself next to the largest fish in the world. Have you known that it can reach 12 meters in length? Already this makes the excitement roll through the whole body.
The price for swimming with a whale shark in Palawan is 2000 pesos per person. The organizers of such tours return half of the money if the sharks do not appear.
Whale sharks feed mainly on plankton or phytoplankton, although they can also eat small fish. They do not pose any danger to people if you do not violate the rules of the distance and, of course, do not leave common sense on the shore. Even though the whale shark is relatively peaceful and a little clumsy animal, hitting it with its tail can harm you. Therefore, it is recommended to be at least three meters away from the shark's body and four meters from its tail.
Tubbataha Reef Tour from Puerto Princesa
The Tubbataha Reef Natural Park is a UNESCO World Heritage Site. It is located in the Sulu Sea at a distance of 150 km from Puerto Princesa and consists of two parts – the Northern and Southern atolls, between which an eight-kilometer strait flows. The area of the park is approximately 10,000 hectares.
Crystal clear water allows you to see the stunning underwater world on sunny days to a depth of 40 meters. The underwater world of the reef is fantastic: the reef has become home to 360 species of coral (almost half of the coral species currently existing on earth), which, in turn, provide shelter for 600 species of fish, 13 species of whales and dolphins, 12 species of sharks, green sea turtles, Biss turtles and more than 100 species of birds. For this reason, Tubbataha Reef is very popular among divers.
You can enjoy diving and see the beauty of the underwater world only as part of an organized diving tour. Divers should have at least an average level of training – be able to monitor the depth and cope with currents.
The best time to visit the park is from March to June when the official diving season begins, and ideal conditions for diving are created: calm at sea, clear sunny weather, and excellent visibility underwater. You will need to contact diving centers and operators that offer safari diving tours to Tubbataha Reef Park (preferably a year before the trip!).
The journey time on a diving boat from Puerto Princesa to Tubbataha is about 10-12 hours. Accordingly, to get to the reef with the first rays of the sun the next day, the boats go to sea at lunch or even in the morning of the previous day. The cost of a four–day safari is approximately 60,000 pesos.
Nagtabon Beach in Puerto Princesa
To get to Nagtabon Beach, it is best to rent a motorcycle in Puerto Princesa (for about 500 pesos per day) and drive 24 kilometers separating both points. The journey will take you about 40 minutes. But remember that the last descent to the beach is somewhat dangerous. Drive carefully.
Another way is to take a bus in the direction of Taytay, Roxas, or El Nido and get off at Bacungan (50 pesos). Once there, you can take a tricycle to Nagtabon Beach for 250 pesos.
Ursula Island
Ursula is a bird sanctuary, a tiny island that is home to a number of rare Philippines birds. Therefore, to visit it, you need to obtain permission from the Provincial Environment and Natural Resources Authority (PENRO) of Palawan.
Activities on the island include swimming, beach volleyball, birdwatching, and Dugong are also said to be spotted in the local waters.
To get to the island, having received a permit to visit the island, you need to take a bus to the city of Bataraza ("Rio Tuba"). Upon arrival in the city, take a tricycle to the port of Coral Bay. From there, hire a boat to take you to Ursula Island.
Pambato Reef
If you are into diving or snorkeling, then you will be interested in a small protected marine reserve – Pambato Reef, which the locals call the mini Tubbataha reef. It is located in the middle of Honda Bay, 20 minutes by boat from Kauri Island, and is considered the best reef around Puerto Princesa.
The corals of this reef are about 4 – 6 meters from the surface, so even beginners in life jackets will be able to appreciate the pristine beauty of its well-preserved corals. Here, among the thickets of deer antlers, brain-corals and other corals, you will meet parrot fish, barracuda, butterfly fish, angels and many other picturesque inhabitants of this reef.
However, be careful: there may be noticeable currents in this place.
Most often, snorkelers get to this reef as part of excursions, including as part of package island hopping tours offered in Puerto Princesa. There is a minimum fee to visit the reserve, but it is usually included in the price of the package tour. You can also drive north of downtown to Sta. Pier Lourdes. From there, you can take a 15-minute boat ride to the marine reserve.
The best time to visit Pambato Reef and the rest of Puerto Princesa is during the dry months, usually from November to May, so you can avoid rainy days.
ACCOMMODATION IN PUERTO-PRINCESA
Suppose you decide to stay in the city for one or two nights. In that case, it is best to settle in the vicinity of Rizal Avenue – the avenue connecting the International Airport of Puerto Princesa with the city center, where most restaurants are located. In addition, it is an artery through which tricycles and jeepneys pass, which go both to the airport and the bus station.
If your flight from Puerto Princesa departs early in the morning, we advise you to book a hotel near the airport.