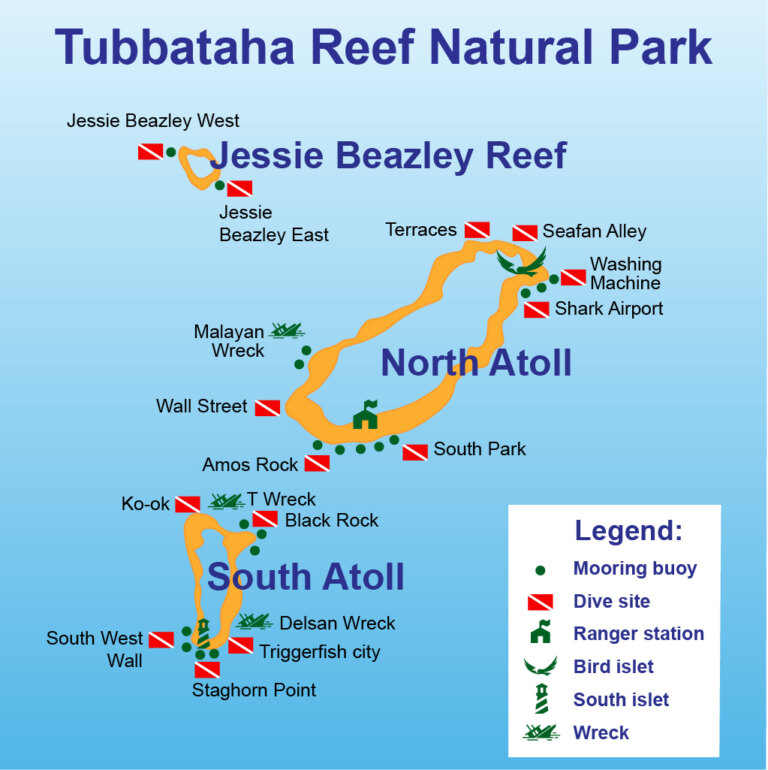 The uniqueness of Tubbataha Reef
General information
Tubbataha Reefs Natural Park is a protected area in the Sulu Sea, 93 miles southeast of Puerto Princesa, Philippines, known for its diverse marine life and colorful coral reefs. The reef is the only National Marine Park in the Philippines and was declared a UNESCO World Heritage Site in 1993.
The word "Tubbataha" means "long reef." The park covers an area of approximately 7030 hectares. It is the sea and bird sanctuary.
It consists of 2 central atolls surrounding more than 50 tiny coral islets and sandbanks and the smaller Jessie Beazley Reef. Tubbataha Reefs Natural Park is about 130 km long and 18 to 30 km wide.
The currents can be pretty intense at times, and the dives are a little deep, so the diving safari on Tubbataha Reef is designed for more advanced divers, but with proper care, everyone can like it.
The age of the Tubbataha reef is more than 15 million years. That's why the unique kilometers of ancient underwater beauty attract divers from all over the world.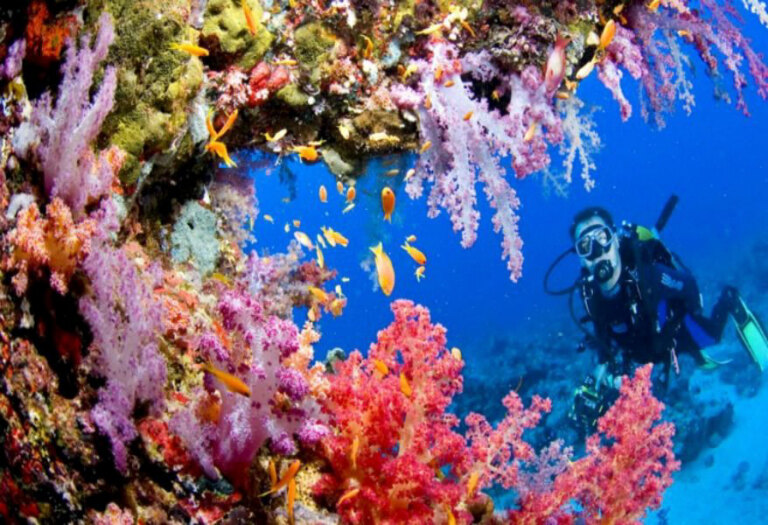 Tubbataha Reef is the most beautiful reef in the world
Tubbataha Reef is in the South Sea of the Philippines and has a unique shape, which is formed due to its geological origin. According to experienced divers, after diving in various dive sites around the world, such as the Red Sea, Silfra, the Great Barrier Reef, the Maldives, Palau, and Hawaii it would not be an exaggeration to call Tubbataha the best dive site in the world.
The reef was formed thousands of years ago by fringing reefs from several volcanic islands along the Cagayan Range. Over time and at the turn of the millennium, the volcanoes went out, and the islands sank into the ocean's depths. Today we see corals that continue their growth upward toward sunlight.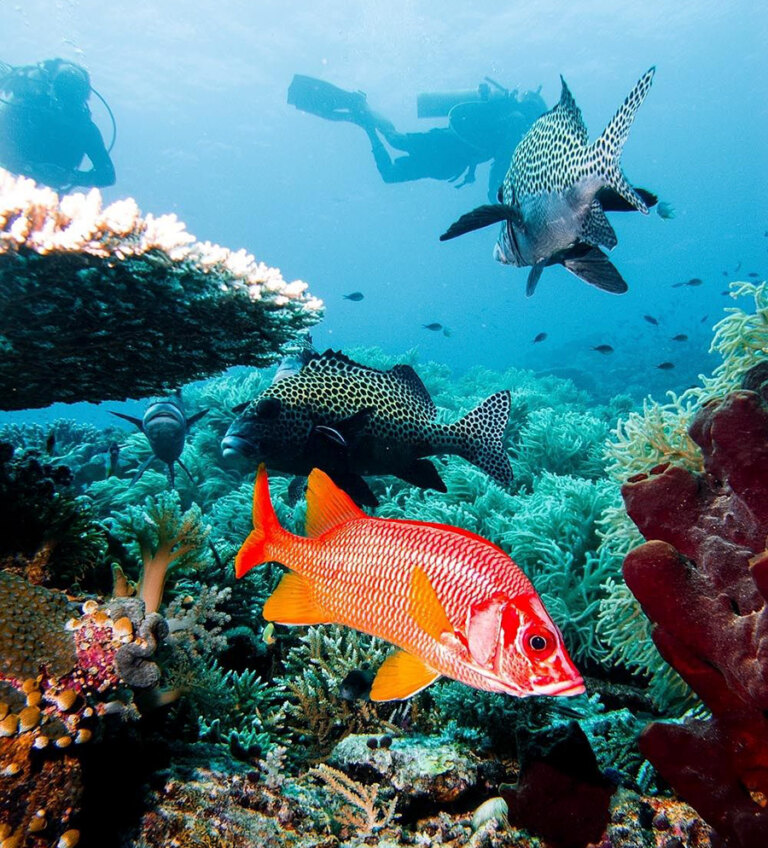 Tubbataha Reef species diversity
This Natural Park is home to over 600 species of fish, 360 species of coral, 11 species of sharks, 13 species of dolphins and whales, and many other marine species. It also serves as a nesting site for sea turtles, including the Green sea turtle and the Hawksbill turtle.
The reason for this bio-abundance was the location of the Tubbataha in the area of converging currents. As a result, clean water and many nutrients are constantly arriving here, which attracts marine life.
Therefore, this national park, with a 100-meter perpendicular coral wall, an extensive lagoon, and two coral islands, is recognized as one of the best diving sites in the world.
The park is a popular destination for scuba diving and snorkeling, and visitors can see various marine life up close, including colorful fish, rays, and sharks.
Rangers and conservationists monitor Tubbataha Reefs Natural Park to preserve its natural beauty and diversity for future generations.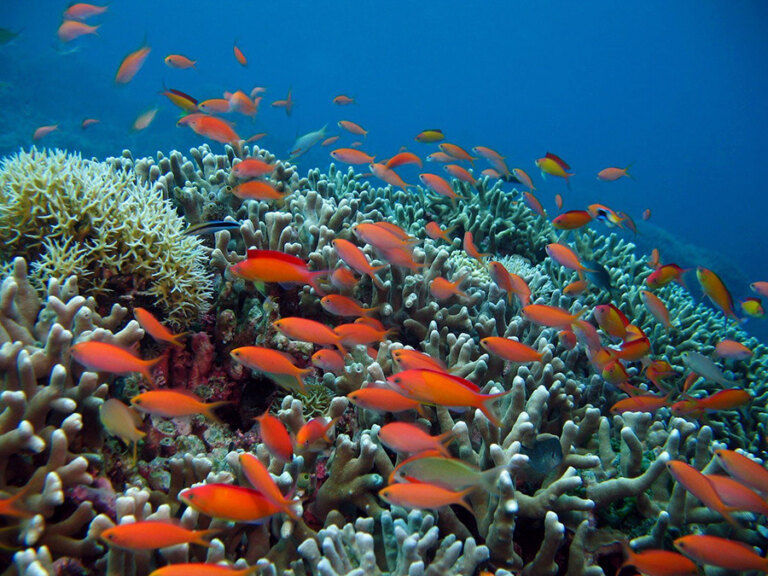 The cost of the tour in Tubbataha Reef
Expect to pay at least $2,600 for a 6-night dive safari and could go up to $4,000 or more for longer and more luxurious trips. However, please note that prices can change over time and may vary depending on the Pacific tour operator and other factors. It's best to research and compare costs and services from different providers to find the best option.
Interesting diving spots within the Tubbataha Marine Reserve
The entire Tubbataha Reef is a great dive site for diving in the Philippines. But several ideal dive sites can be singled out separately on each atoll, differing in some features.
North atoll
The northern part of Tubbataha Reef is about 180 km (110 miles) southeast of Puerto Princesa. It is famous for its large number of turtles. The sandy slope of the northern surface of the atoll abounds with corals up to 15 meters long. A vertical wall borders gentle s opes. Near the place, nicknamed the Black Rock, there are solid and unpredictable undercurrents. Amos Rock, north of Tubbataha Reef, is surrounded by sandbanks and is ideal for night diving.
The northern wall bordering Bird Island begins at 8 meters deep. Leopard sharks and nurse sharks chose the nices in the almost vertical slope. As we move to the northeast, the depth of the reef increases. Black corals exist with soft corals and tubular bells, many small sharks, lobsters, and spotted blue rays. Here you can also see rare species of starfish and sea urchins.
Immer ion will give many sensations, although, on the other hand, the rapid current does not contribute to high-quality photography.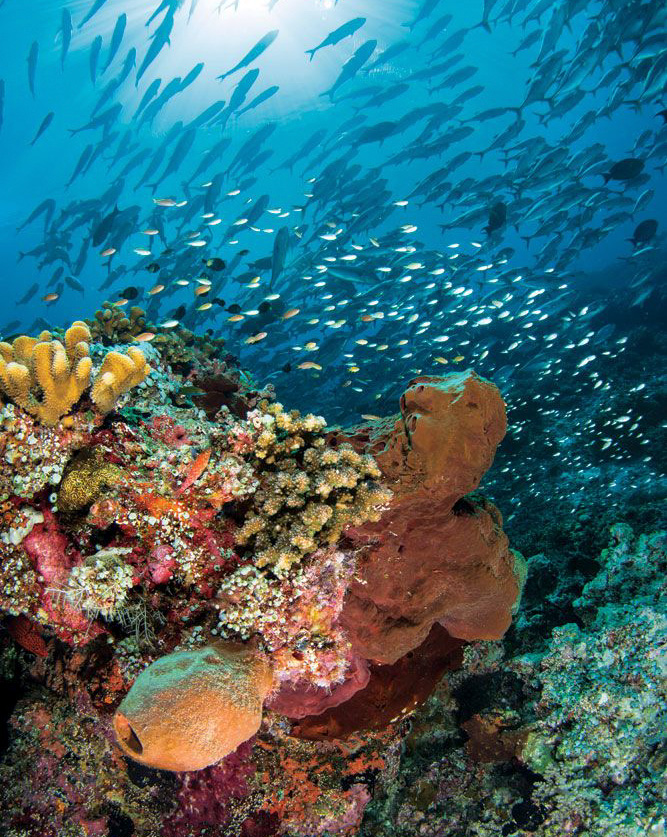 South Atoll
The southern atoll is shallower. Here you can see many different species of corals, fish, sharks, crabs, and other marine animals.
There is a solar-powered lighthouse on a small inner island. When diving, you can see the remains of the long-sunken ship "Delsan." The walls of the atoll are covered with soft and fan-shaped corals of the most fantastic colors.
These are just some of the many stunning diving spots at Tubbataha Reef, each offering a unique experience and beautiful views of the underwater world.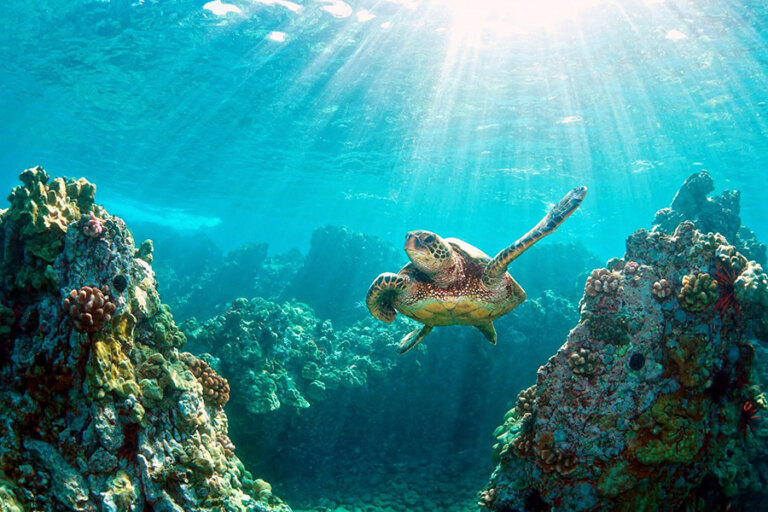 Jesse Beazley Reef
Jessie Beazley Reef is a beautiful and secluded atoll. It is 18 km northwest of North Tubbataha. A small coral reef in the shape of a circle is only 500 meters in diameter, sometimes reaching the sea's surface. The waters' depth in the reef's vicinity is approaching 500 meters.
There are many sandbanks and caves, visibility underwater in good weather reaches 37 meters and strong currents. The slopes of the reef on the border with the walls reach a depth of 7-12 meters. The walls go down 50 meters. There are a lot of soft and hard corals. There are nurse sharks, white-finned and black-finned reef sharks, and hammerhead fish.
A deep depression or channel between atolls is a diving spot famous for its depth and variety of marine life. Here you can meet large predators such as sharks, squid, and various starfish and snakeheads.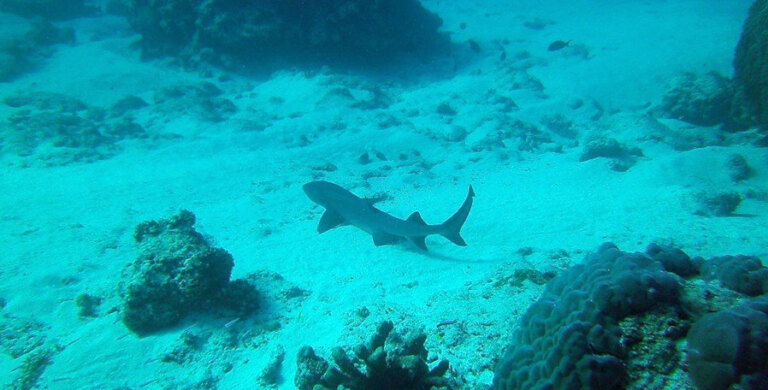 When to go to the Tubbataha Reef Nature Park
Trips to the Tubbataha National Marine Park from Puerto Princesa are held during the diving season from mid-March to mid-June when the waves are the calmest, the sky is clear, and water visibility ranges from 30 to 45 meters (98 to 148 feet).
All trips are carried out by boat or "safari," as accommodation is impossible. Visitors stay on the yacht/boat throughout their stay in the park.
During the diving season, ships designed for diving are usually booked in advance, especially during Easter and Asian holidays called "Golden Week."
Divers are advised to book trips closer to the middle or end of April, as the calm sea from April to June has a short window.
How to get to Tubbataha Reef Natural Park
Travelers should contact dive centers and operators who offer safari-diving tours to Tubbataha Reef Park. The park is only accessible by boat, and there are restrictions on the number of visitors allowed each year to help protect the fragile ecosystem.
To get to the park, you must first get to Puerto Princesa, a little over an hour's flight from Manila (the fastest and most convenient option). The journey time by diving boat from Puerto Princesa to Tubbataha is about 10-12 hours, but it all depends on the speed of the boat and the weather conditions at sea. Most ships leave after lunch, reaching Tubbataha at 6 a.m. the next day. On the other hand, some slow-moving sea vessels leave Puerto Princesa earlier to get to the park with the first rays of the sun.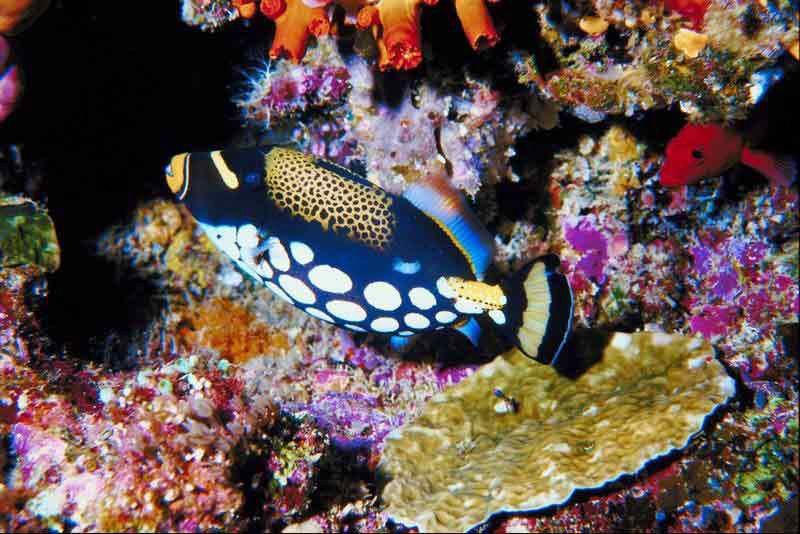 How to choose a tour operator for a trip to Tubbataha Reef
Research the operator's reputation: Before choosing an operator and organizing a trip, it is recommended to study the reviews and importance of the operator on the Internet. The most trusted and authoritative reviews are those published on sites that the tour operators do not control. Ensure that the operator offers certified dive tours that meet the requirements of local authorities.
Tripadvisor is an excellent site where you can find many positive and negative reviews and form your opinion about tour operators offering Tubbataga Reef Natural Park safari tours.
Determine what is included in the price of the tour. It is essential to find out what exactly is included in the price of the tour, as this may affect your budget and the pleasure of the trip. Some operators may offer a complete package, including flights, accommodation, and diving, while others only provide diving services. Regardless of the chosen operator, it is essential to remember that safety during diving should be a top priority.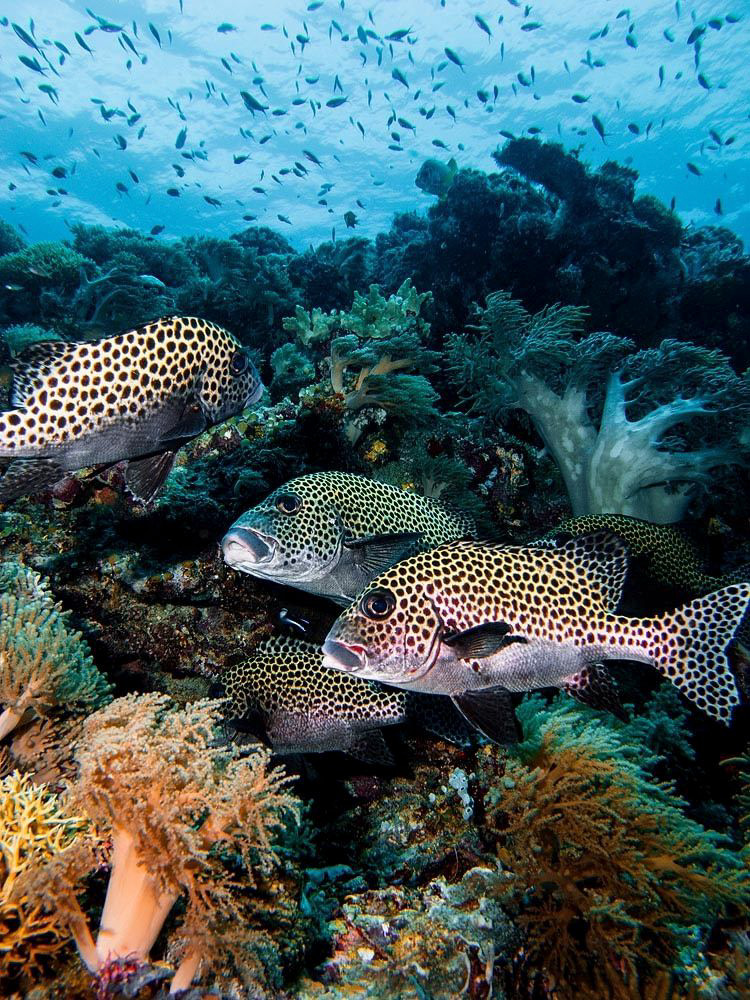 Dangers for divers diving in Tubbataha Reef Natural Park
As with any other dive site, Tubbataha Reefs Natural Park has some dangers that divers should be aware of and take precautions against:
Strong currents
There may be a strong current in the Tubbataha Reefs Natural Park area, especially during the change of tide and low tide. Divers should dive only under favorable conditions and consider currents when planning their dive.
Dangerous animals
Tubbataha Reefs Natural Park is home to dangerous animals such as sharks and sea snakes. Divers should be careful and avoid close contact with animals, especially if they are not familiar with the species that can be found in this region.
Lack of medical assistance
Tubbataha Reefs Natural Park is far from the nearest hospital or medical center, so divers need to be careful and take all necessary precautions to avoid injury or other accidents.
Insufficient preparation
Tubbataha Reefs Natural Park is not a place for novice divers. Divers must have the appropriate experience and training and follow all rules and instructions to avoid possible dangers.
Weather
There may be bad weather in Tubbataha Reefs Natural Park, which may affect diving safety. Divers should follow the weather forecast and plan their dives only in favorable conditions.
Other Divers
There may be quite a few other divers in Tubbataha Reefs Natural Park, which can lead to situations involving impact or getting stuck on the bottom. Divers need to follow safety rules and avoid close contact with other divers.
Tubbataha Reefs Natural Park is a safe place to dive if divers take the necessary precautions and comply with safety regulations.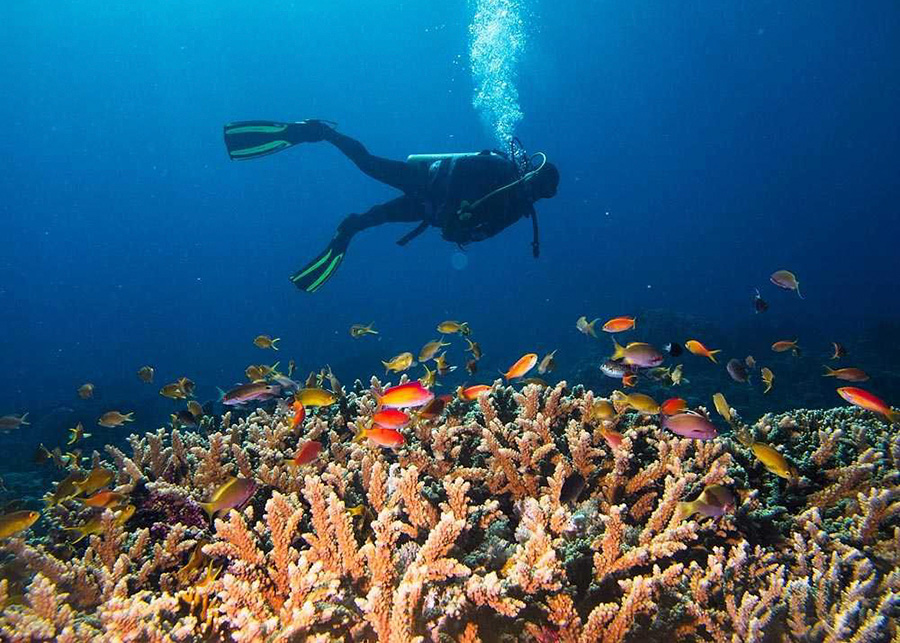 Requirements for divers and recommendations
Divers of any level can take part in Tubbataha Reefs Natural Park. However, there are some requirements and recommendations for the safety of all dive participants and for preserving the park's ecosystem.
The required level of training is average — strong currents are possible; you need to monitor the depth).
Certification: Divers must have the appropriate certificate of PADI, SSI, NAUI, or other international diving organizations. Many diving operators can also conduct their training courses and require divers to have a certain level of training.
Experience: To dive in Tubbataha Reefs Natural Park, it is recommended to have diving experience of at least 30-40 dives. This will help divers feel more confident in the underwater environment and not risk their safety.
Training: Divers must be trained according to local rules and procedures for safety in the park. Some diving operators conduct on-site training before diving.
Physical fitness: Divers must be in good physical shape and undergo a health check before diving.
Tubbataha Reefs Natural Park is a place for divers with different experience levels. Still, it is essential to follow the rules and recommendations to preserve the safety and ecosystem of the park.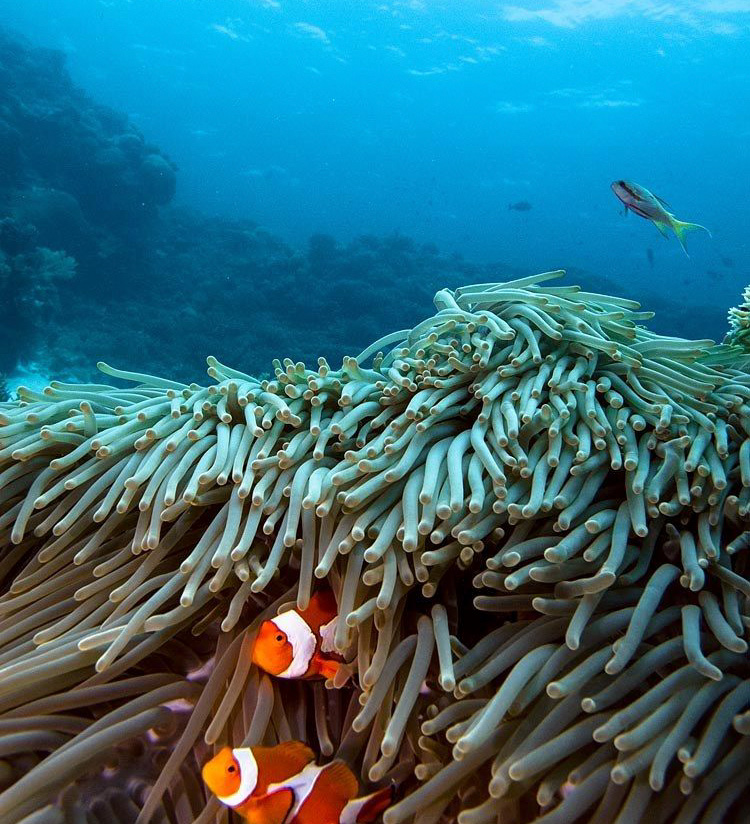 Read about other great places in the Philippines