El Nido is known all over the world! Photographs of the landscapes of Bacuit Bay have made it one of the most attractive destinations on any trip to the Philippines.
Bacuit Bay
Bacuit Bay resides in El Nido, Palawan, and it is regarded as one of the most beautiful places in the country. It boasts beaches with white sand, cliffs for you to climb on, and plenty of fish and wildlife to see.
Everything for your holiday
There are also several islands you can explore while you're there—and if that weren't enough, there are several resorts nearby where you can stay while you're in town!
Here we will try to give tips to help you make your unique journey to this fantastic place.
From Manila to El Nido by plane   
Several airlines currently fly to El Nido Airport (ENI). They operate direct flights from Manila (MNL), An airplane is the fastest way, but also the most expensive. If you decide to fly from Manila to El Nido, expect to spend from $100 to $130 for economy class. There are, in fact, seat sales on this route from time to time, so it pays to monitor the best deals available. Here you can find direct flights to El Nido. Just select the desired date.
| | | |
| --- | --- | --- |
| Transport Name | Route Time | Price |
| AirSWIFT Economy | 05:55 - 07:15 | $130 |
| AirSWIFT Economy | 06:00 - 07:20 | $118 |
| AirSWIFT Economy | 10:10 - 11:30 | $131 |
| AirSWIFT Economy | 12:50 - 14:10 | $102 |
| AirSWIFT Economy | 15:00 - 16:20 | $89 |
Cebu to El Nido by air   
Planes don't fly daily from Cebu (CEB) to El Nido (ENI). In this regard, plan and buy plane tickets in advance. The flight takes 1 hour and 40 minutes and costs $ 194.
Bohol to El Nido by airplane   
There are no daily flights from Bohol (TAG) to El Nido (ENI). Choose your flight date in advance and buy a ticket. The flight takes 1 hour and 40 minutes and costs $ 172-204.
Coron to El Nido by ferry or by air       
A fast-ferry ride daily from Coron (Busuanga Island): the journey takes more then 4 hours. This method is one of the most frequently used by travelers. You can book a ferry ticket in advance – book a seat online.
Planes from Coron to El Nido don't fly every day. The cost of the flight is 85 dollars. The flight will take 40 minutes.
| | | |
| --- | --- | --- |
| Transport Name | Route Time | Price |
| Judy Ferry Travel Tourist | 06:00 - 11:00 | $62 |
| Atienza Shipping Lines | 07:00 - 12:00 | $56 |
| AirSWIFT Economy | 10:10 - 10:50 | $85 |
| AirSWIFT Economy | 15:20 - 16:00 | $85 |
Puerto Princesa to El Nido by bus or by van      
From Puerto Princesa to El Nido you can reach by bus or van. The journey will take 5-6 hours, and the ticket will cost $ 14-128.
| | | |
| --- | --- | --- |
| Transport Name | Route Time | Price |
| Lexxus Shuttle Van 9pax | Any time | $128 |
| Fortwally Travel and Tours Minivan | 06:00 - 11:30 | $10 |
| Cherry Bus Regular | 09:00 - 15:49 | $14 |
| Lexxus Shuttle Shared van | 11:00 - 16:30 | $15 |
| Fortwally Travel and Tours Minivan | 13:00 - 19:00 | $18 |
| Eulen Joy Express Minivan | 15:30 - 21:00 | $17 |
| Eulen Joy Express Minivan | 17:30 - 23:00 | $17 |
| Cherry Bus Regular WC | 21:00 - 03:49 | $15 |
Port Barton to El Nido by van   
You can get from Port Barton to El Nido by minibus; Port Barton is 160 km from Puerto Princesa International Airport. Some travelers first visit this charming village and then follow to El Nido. The trip takes about 3 hours.
| | | |
| --- | --- | --- |
| Transport Name | Route Time | Price |
| Lexxus Shuttle Shared van | 09:00 - 14:00 | $16 |
Diving in El Nido Island
Although it does not reach the level of Coron Island or Malapascua Island, in El Nido, you will find exciting dives among the reefs with a wide variety of marine life.
Kayaking on the island
The best way to have a little fun is to rent a kayak on Coron Beach and visit nearby beaches, such as Papaya Beach.
Island hopping in El Nido
To go to El Nido and not make at least a couple of tours of the nearby islands (Island hopping) would be unwise. The town of El Nido itself is not very attractive, and despite the good beaches surrounding it, there is no point in paying particular attention to it.
Bacuit Bay
Going to Bacuit Bay to its impressive islands is worth doing here, which you can visit during ready-made tours. In no case should you miss the opportunity to get lost on a small boat between the substantial limestone walls of the islands of Bacuit Bay. Stop at some of them for snorkelling. So, no doubt, set aside a couple of days for this adventure.
Island Hopping in El Nido
Take Island hopping and swim with a mask. There are four types of tours organized in El Nido: A, B, C, and D. They all include 4-5-6 stops on the islands, depending on the kind of tour, which usually alternate with snorkeling spots, lagoons, and beaches. Each of them is about 8 hours, usually from 9:00 to 17:00.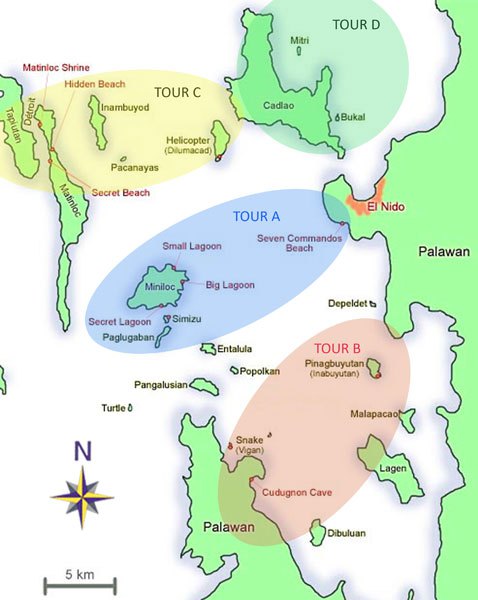 Payment for Hopping Island
All tours are charming, but the most beautiful are A and C. Their cost ranges from 1000-1400 pesos per person. It includes meals and scuba diving. You need to add two payments to this cost: the El Nido environmental fee, which is 200 pesos and is valid for ten days, and a fee for visiting a large or small lagoon.The latter is 200 pesos per person and is paid only if you see these places. Since December 2018, visits to the lagoons have been limited, so if you want to visit them, you must take care of the armor in advance.
El Nido Private Tours
El Nido is a popular tourist resort, and many people from all over the world come here. Therefore, to avoid large crowds of vacationers, we recommend taking private tours, despite being more expensive than usual. If you are traveling alone or in a couple, it can cost you a pretty penny, so cooperate with other travelers.
A few tips
Advice to those who plan to take tours to the islands: take sunscreen and waterproof bags with you to put your valuables there. The weather can change quickly.
El Nido beaches
Unlike Busuanga, where there are several not very impressive beaches, in the vicinity of El Nido, there are some of the best beaches in the Philippines.
Therefore, we advise you to devote at least one full day of your stay in El Nido to visiting beaches such as Nacpan Beach, Las Cabanas Beach, or Lio Beach. If you have more time, you can go to more remote places, such as Sibaltan or Duli Beach.
Corong Corong Beach, on the other hand, it's a place where you can catch amazing sunsets and take some great photos, sit at sunset in one of the local cafes, and here you can find a boat to explore the islands. But for swimming, it is better to look for another place – this beach has a problem with litter and lots of boats and is relatively shallow for swimming.
Gone are the days when there were only a few hostels near the city's El Nido Beach and Corong Corong Beach. Now there are many accommodation options: hostels for budget tourists, luxury hotels, and resorts for everyone else, which are distributed between these two areas, as well as in neighboring places such as Lio Beach, Las Cabanas, and even in the distant Nacpan Beach.
For example, a quiet resort near Corong Corong Beach – Last Frontier Beach Resort, located in a quiet part of El Nido, not far from the city. It is a great starting point for island hopping, and places to eat or drink are within walking distance. Another example is Lime Resort El Nido, where you can relax in rooms with sea views, a 2-minute walk from Corong Corong. Consider also staying at the Sea Cocoon Hotel, which has excellent Tripadvisor reviews.
Choosing a hotel in El Nido is a matter of taste. We recommend staying in one of the hotels on Corong Corong Beach, from which you can see incredible sunsets. The value for money of housing in El Nido is not very high. Prices rise on days such as Christmas, Easter, and Chinese New Year. Therefore, the sooner you take care of booking a hotel, the more choice you will have.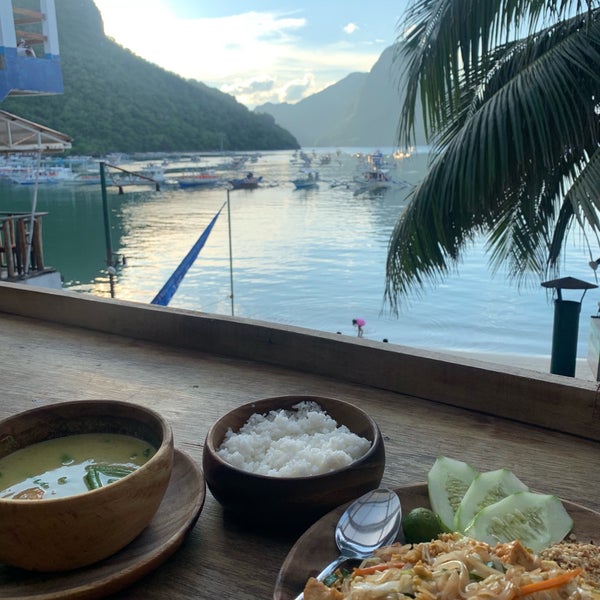 With the expansion of tourism, more and more restaurants and bars are aimed at tourists.
Here are some small recommendations
Pizza: Bella vita El Nido, on Corong Corong beach and Trattoria Altrove, on the city beach.
Grilled food: There are many places on the city's El Nido beach where you can enjoy freshly cooked food. Angel Wish is one of the best.
Vegan and vegetarian options: Taste El Nido, in the city, Shaka El Nido, on the beach Lio, Happiness Beach Bar, on the city beach.
International food: La Plage Restaurant & Beach Bar, slightly away from the city beach, Panorama Resort El Nido, Corong Corong beach, Republica Sunset Bar, Corong Corong Beach.
Be careful and take care of your health
Cases of food poisoning due to contaminated water in El Nido are not uncommon. On the Internet, you can find several reports regarding food poisoning in El Nido.
Health Insurance
El Nido has no hospitals, only small clinics. You should be transferred to Puerto Princesa, Manila, or Cebu if something serious happens. Don't forget to buy good insurance in advance!
We want to note that this may not be a problem specifically for El Nido but a severe problem for tourists in Asia, the Caribbean, Africa, and anywhere. Here are some tips from a wise hotel owner to help protect yourself from food poisoning while traveling.
Hygiene
Only drink bottled or purified water and use it to brush your teeth.
Wash your hands frequently, after the bathroom, and before every meal.
Carry hand sanitizer or a bottle of alcohol with you at all times.
Food products
Avoid buffets and only eat food that is hot and freshly cooked.
Raw fish and shellfish are the number one cause of food poisoning.
Try not to use drinks with ice cubes – you don't know how clean the water used to make ice was.
Stick to cooked vegetables, fruits, and veggies you can peel yourself, like bananas and mangos. Raw fruits and vegetables can pose a food poisoning risk because they are washed in tap water (locally, it is healthy).
Wash fruits you consume in purified water.
Restaurants and cafe
Please stick to the restaurants that cater to tourists rather than the food shacks locals frequent, as they tend to have higher food safety standards.
Order food well done.
Street food
Street food can be a great option if the bank card is busy, appropriately refrigerated, and cooked fresh in front of you.
Be observant and watch if vendors are wearing gloves and handling money and food in a sanitary manner.
Avoid ice cream. If they re-frozen it, bacteria can breed.
Think twice about ordering fresh fruit shakes from a small booth somewhere on the street.
Care about kids
Bring packaged food for kids. Granola bars and pouches have been lifesavers for our kids when we travel. And power bars are great for adults too!
TIPS FOR VISITING EL NIDO
The best time to visit is from November to May.
Exchange offices
There are several exchange offices in the village, although sometimes they run out of money or do not work. Remember that it is essential to always have cash in the local currency with you.
Transportation
If you travel from Coron, booking ferry tickets in advance via the Internet is better.
What to take for your trip
What to take with you in addition to everything else (clothes, sunscreens, pills for motion sickness, etc.), you must have a waterproof bag and equipment for island hopping.
Movement on the island
In El Nido, most people move on tricycles. Usually, the fare is 50 pesos for the road from Corong Corong to the city of El Nido and back and 150 pesos between the town of El Nido and the cottages. You can rent Bicycles for about 500 pesos per day.
Do not forget to print out all e-tickets
Print out all e-tickets for ferries, intercity buses, and other transport in advance.
Read about other great places in the Philippines