Located next to the famous stratovolcano Mount Isarog, the city of Naga was formerly known as the Royal City of Nueva Caceres. This city has been the center of commerce, education, religion, culture and health of the Bicol Peninsula for hundreds of years.
Naga is a major road junction and the main stop on the main rail line from Manila.
Probably the most crucial event in this city is the Peñafrancia Festival, which starts on the second Friday of September every year.
And, besides all of the above, there is something for tourists to see.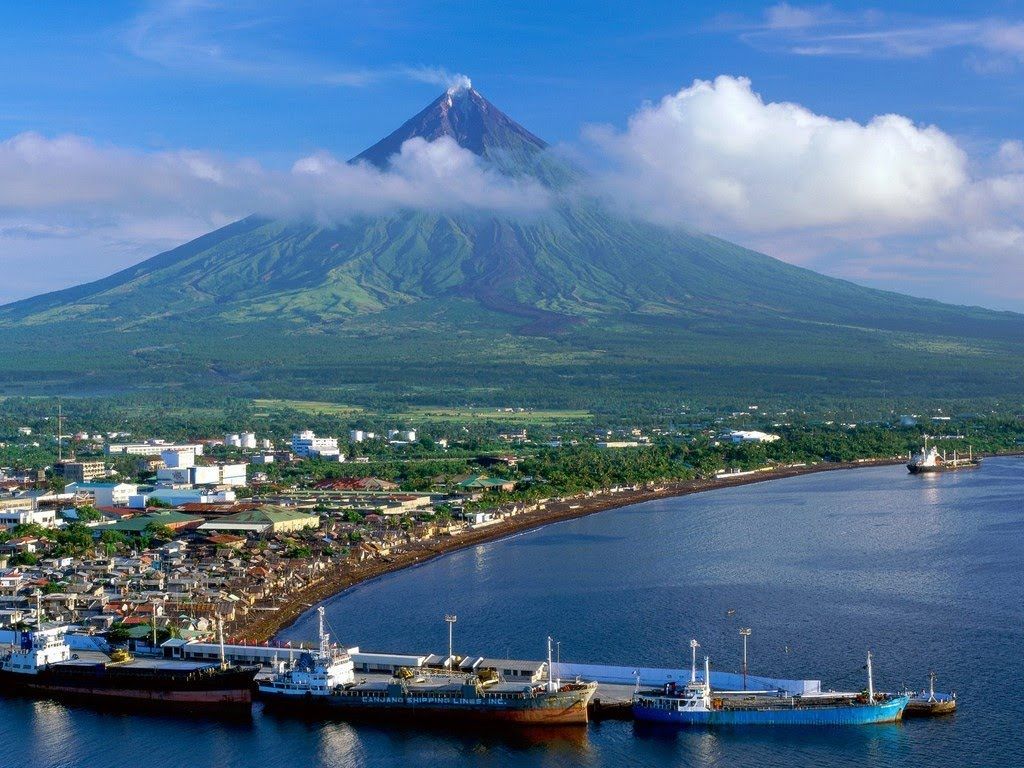 There are two ways to get to Naga from Manila.
From Manila to Naga by plane   
Airplane Cebu Pacific can get you to Naga from Manila. It takes 1 hour and 20 minutes, and costs start from $142. The most significant disadvantage of traveling with Cebu Pacific is that luggage is not included.
You may want to consider only traveling with hand luggage if possible. If this is not possible, ensure that you pay for additional baggage when purchasing your ticket, rather than paying at the airport, as you will save a considerable amount.
| | | |
| --- | --- | --- |
| Transport Name | Route Time | Price |
| Cebu Pacific Economy Class | 07:55 - 09:15 | $142 |
| Isarog Line Elite | 08:30 - 18:40 | $31 |
| Isarog Line Elite | 11:00 - 21:29 | $40 |
| Isarog Line Regular | 12:30 - 22:40 | $34 |
| Our Lady of Salvacion Economy Non AC | 15:30 - 01:59 | $24 |
| Legaspi St Jude Transport Lines Economy Non AC | 17:00 - 03:32 | $20 |
| Penafrancia Tours Elite | 19:00 - 05:32 | $27 |
| DLTBCo Regular AC | 20:00 - 07:40 | $18 |
| Penafrancia Tours Regular | 22:00 - 08:10 | $22 |
From Manila to Naga by bus   
More than 50 bus lines can get you from Manila to Naga. Buses without air conditioning cost $16-18, with air conditioning $24-39. The journey will take 10 hours and a half.
Each passenger is allowed to have 15 kilograms of luggage, any items exceeding 15 kilograms will be weighed and tagged, and you must pay for corresponding charges.
One passenger can bring only one child with a height of 3 ft. and below, provided the child does not occupy a seat.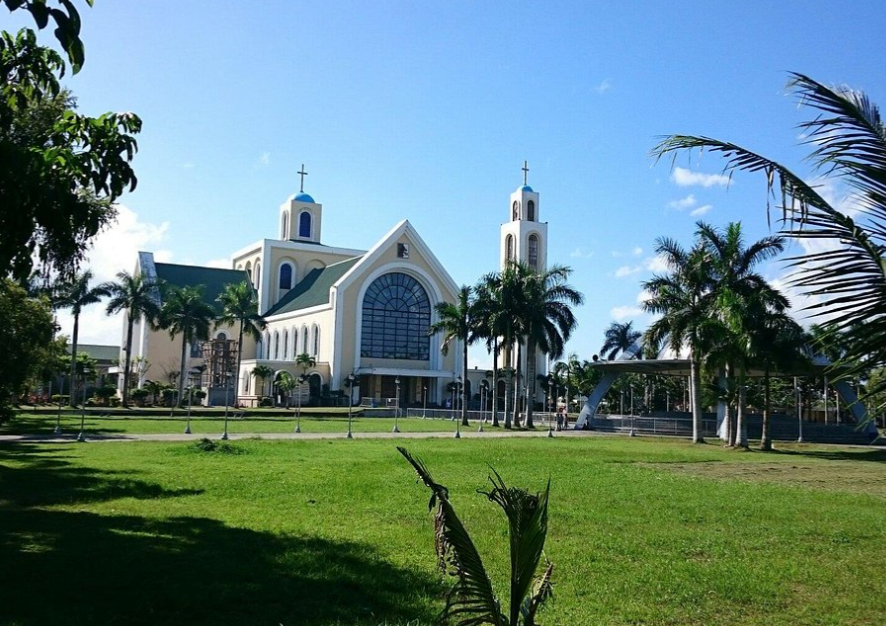 1. Come in Basilica of Our Lady of Peñafrancia
Basilica Minor Peñafrancia or Minor Basilica of Our Lady of Peñafrancia (Spanish: Basílica Menor de Peñafrancia) is a minor Roman Catholic basilica located on the outskirts of the city of Naga. It is one of the largest Mary's pilgrimage sites in Asia, as the image of Our Lady Peñafrancia, created in 1710, is preserved in this sanctuary.
Fantastic history
This shrine has a remarkable and fantastic history. An image modeled on Our Lady of Peñafrancia appeared in the city because it was ordered here by Miguel de Cobarrubias, who moved to the Philippines from Spain with his family and believed that the Virgin Mary helped him many times in life. The statuette of the Virgin Mary was kept in a small chapel until the Basilica was built.
A must-see place for tourist
The Basilica of Our Lady of Penafrancia is one of the must-see places for tourists in the city of Naga. If you are in the city center, take a jeepney towards Magsaysay Avenue and get off at McDonald's. Or take a tricycle and ask the driver to take you to the Basilica.
The Basilica has a large area that can accommodate many people during special processions called "traslacion" and "fluvial" held at the festival of Our Lady of Peñafrancia. It is very well maintained – a clean, solemn, beautiful altar. The stained glass window depicting the story of how the image of Our Lady of Peñafrancia came to the city of Naga is mesmerizing.
Access to the Holy Image is open to devotees. But if you don't want to get stuck in traffic and too many people, visit the Basilica outside the festival.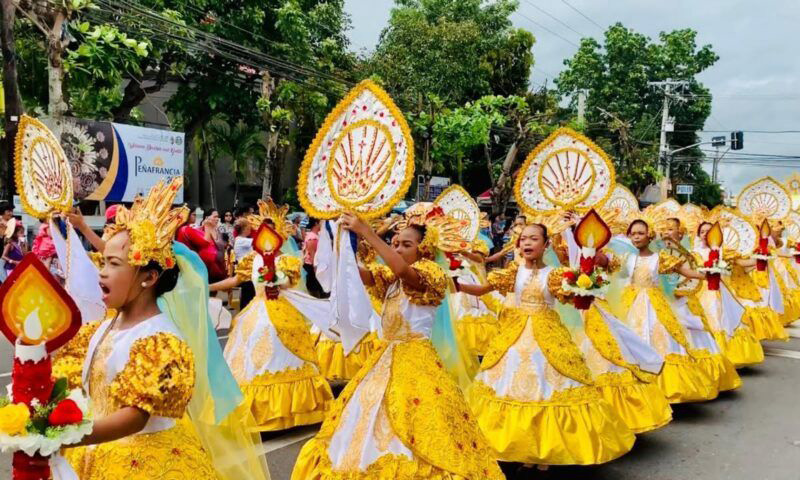 2. Take part in Peñafrancia Festival in Naga
Every year, starting on the second Friday of September, for ten days, the city celebrates the feast of Nuestra Señora de Peñafrancia (Our Lady of Peñafrancia), patroness of the Bicol region. The feast is an essential service for Mary in the country.
The beginning of the holiday features a procession (or translation). The centuries-old image of the Blessed Virgin Mary people moves from the shrine to the cathedral.
Simultaneously with nine days of novena prayer in the cathedral, the city celebrates parades, theatrical performances, street parties, song contests, exhibitions, concerts, and other events.
Finally, on the third Saturday of September, the image returns to the shoulders of the so-called voyadores to the basilica across the historic Naga River. The next day is the Feast of Our Lady of Peñafrancia. High papal masses there are in the basilica attended by hundreds of thousands of faithful devotees.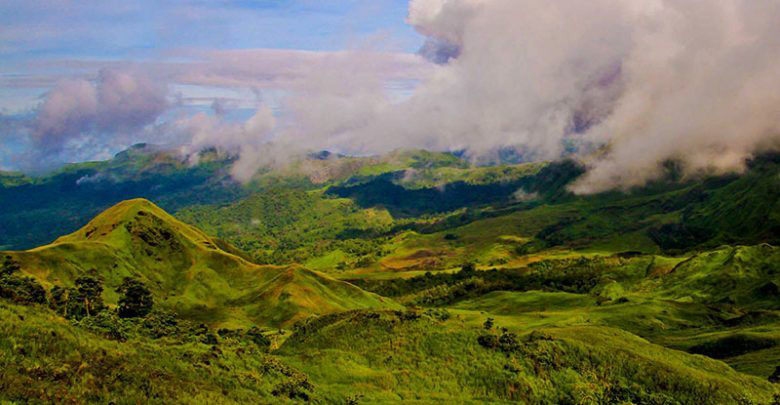 3. Go to Mount Isarog National Park 
About half an hour's drive from Naha, Mount Svarog National Park offers many activities for nature lovers. There are many waterfalls here; the most famous is the Malabsay and Nabuntulan waterfalls.
Mount Isarog's climb is somewhat tricky. Do not invite your loving grandma and grandpa for the walk. Five hours up and always five hours down will only attract the fittest. It is considered Southern Luzon's highest forested peak. You will experience what it is like to be in a jungle, technically, a virgin rainforest. It's a fantastic experience.
Preparation for the hiking
It would help if you pre-arranged a guide. Just call the head of principles called, Jeffrey (09460961961). He can assign you a guide even at short notice. The guide fee is 600 Pesos per day.
Wear comfy clothes and hiking boots, and get a raincoat. Do not forget bottled water and food. If you don't want to burden yourself with food, arrange with your guide in advance. A tour guide will provide you with food but additional pay. They can bring food and cook it for you. If you do the overnight at the summit and do not have your equipment, you must ask the guide to provide a tent and gas cooker, pots and plates, and spoons.
How to get there
If you do the two-day hike, it is OK to take the 7:00 Jeepney from Naga to Pancuasson at the Jeep Terminal close to the New York Bakery, where you can also stock up on Bakery goods before you leave. Tell the driver you want to hike Mt. Isarog, and he will kick you out at the right junction. From there, you can either walk to the park entrance (30 min, around 200m in elevation) or hope to find a motorbike taxi. You should probably take a 4:30 or 5:00 Jeepney for the one-day hike. Remember you need to pay ₱50.00 for the park entrance.
At the park entrance, you join the guide, pay the fee, and have the first possibility to fill your bottles. There are many places where you can refill your bottles.
After your descent, there is enough time to swim in the nearby waterfall or, if you need more heat in the hot springs.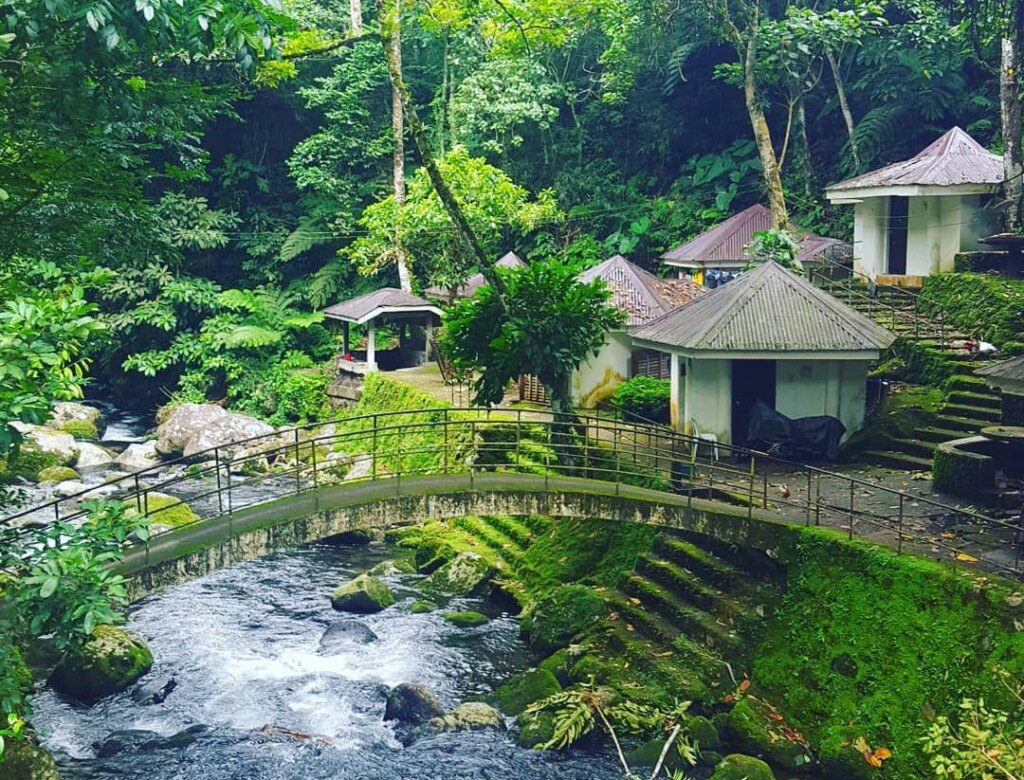 4. Enjoy Panicuason Hot springs resort
Hot springs resort resides at the foot of Mt. Isarog, Naga City. It is the natural sulfuric Hot Spring Resort. An excellent place for family recreational, outdoor enthusiasts, and nature lovers activities.
One can rent several cabanas around the five swimming pools. There are three hot sulfuric water and two cold springs. Water comes from nearby hot and cold springs that truly energize! This place is excellent for communing with nature. The resort is a jungle paradise of ancient trees and giant ferns.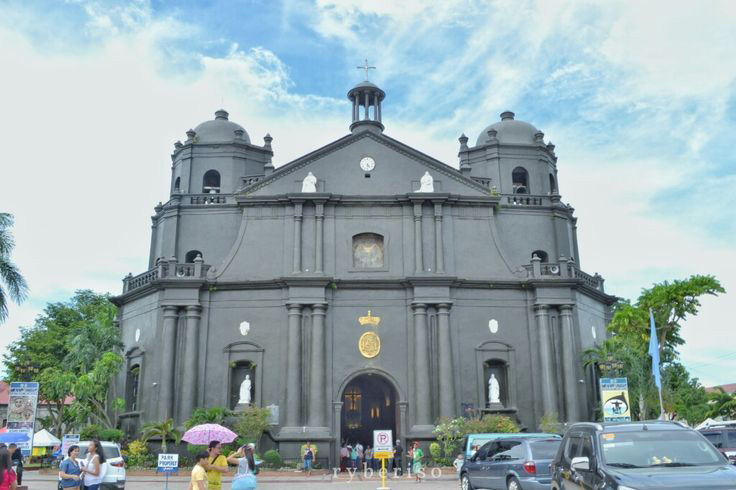 5. Visit Naga Metropolitan Cathedral in Naga
Naga Metropolitan Cathedral is a Roman Catholic cathedral in Naga City, Camarines Sur, Philippines. It is the seat of the Roman Catholic Archdiocese of Caceres.
The current cathedral was built in 1808, completed, and consecrated in 1843. The cathedral can accommodate 1450 people simultaneously and another 2300 standing.
Outside you can see one dome and a pair of spiers. The cathedral has a Romanesque style and Baroque architecture typical of Spanish-era ecclesiastical structures.
The facade, painted in black, the cathedral changes color depending on the direction of the sun: from dark gray – at early dawn to brown – in the morning and yellow – at sunset. It is worth a visit if you have free time in the city.
Where to stay in Naga City
Read about other great places in the Philippines