Coron city
Coron city is the starting point for snorkeling near Coron, Busuanga, and Culion islands trips and dozens of beautiful islands scattered across a vast bay between these islands.
Coron island
In this article, you will know about a lot of exciting places for snorkeling near Coron island. A map with the best snorkeling spots near Coron will help you. We recommend you rent a boat with a skipper and arrange your private tour to the places you want to go. It is most convenient and cheaper to book such tours in hotels, agencies, or diving centers, but not at the pier.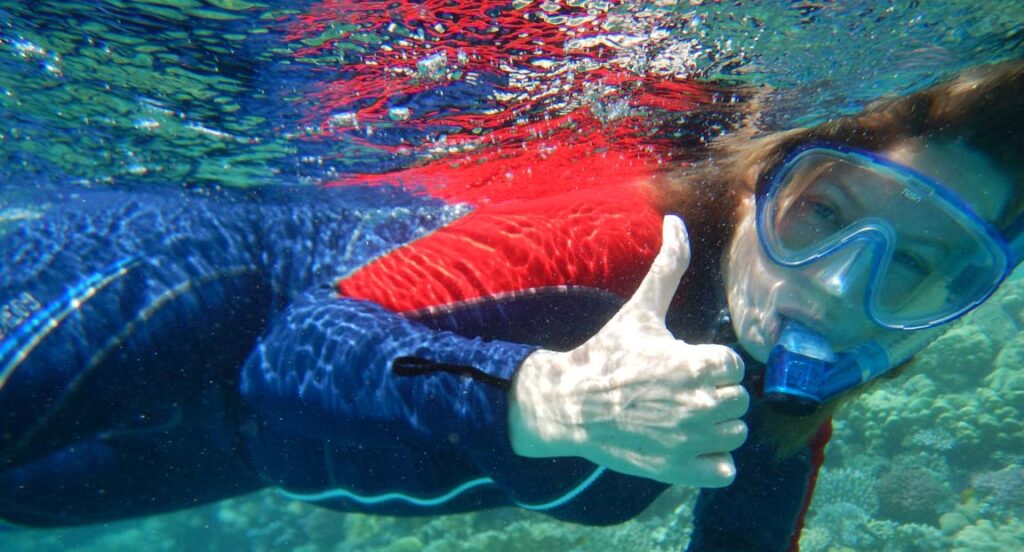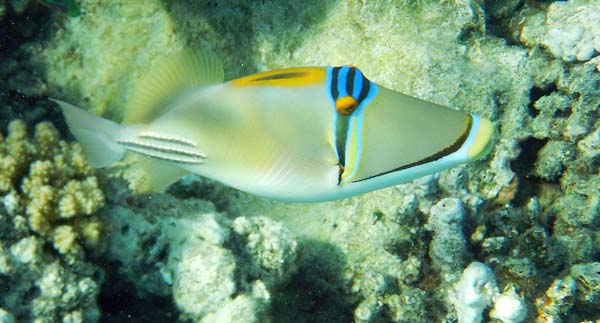 Best snorkeling spots near Coron
1 – Siete Pecados group of islands near Coron
This is one of the best places for snorkeling in the Coron area and the Philippines.
People think this group of islands is the most popular snorkeling spot in Coron as they are the closest to Coron town and the easiest to get to.
You will have to swim to the reef because there is no shoreline where a boat could dock. But it's worth it.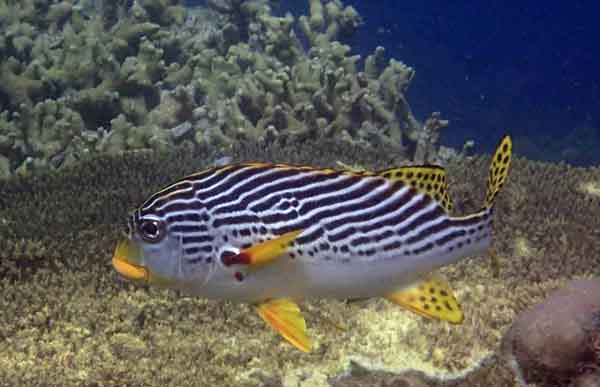 How to reach Siete Pecados reefs
You can get to the reefs of Siete Pecados, both as part of an organized tour and rent a boat with a captain. You can also get to Siete Pecados by land – 6 kilometers on foot or by taxi, from 200 meters by swimming. The corals and fish in the Siete Pecados are fantastic. This place is one of the best snorkeling spots in the Philippines.
Underwater fauna
Quite a lot of live corals are here in good condition, although there are dead corals, as, indeed, on many other reefs. The underwater fauna here is quite diverse. You will encounter schools of trevally, barracuda, angel fish, anemones, clown fish, sea snakes, and, of course, squid and sea turtles. Sometimes you can meet rays, young sharks, and even whale sharks. It is worth sailing to the reefs of Siete Pecados as early as possible to avoid crowds of tourists.
There is another island, Siete Pecados, 300 kilometers away from the island of Guimaras, between Negros and Panay. There are coral gardens there too, but this Siete Pecados – near Coron Island, is more famous for its fantastic snorkeling. If you have read something about good snorkeling in Siete Pecados, they were likely talking about the one next to Coron Island.
Luzon Island is well known as a good place for snorkeling. On the west coast, there is an extensive coral reef. This is a beautiful, diverse reef with a length of about 1 km. The reef starts at a depth of one meter, so it is ideal for snorkeling. The condition of corals at a depth of 2-5 meters is even better than in deeper waters. Sometimes there can be a strong current here, so be careful.
Near the island is also one of the many Japanese boats sunk during the US bombing in 1944. It is located on the south coast of the island.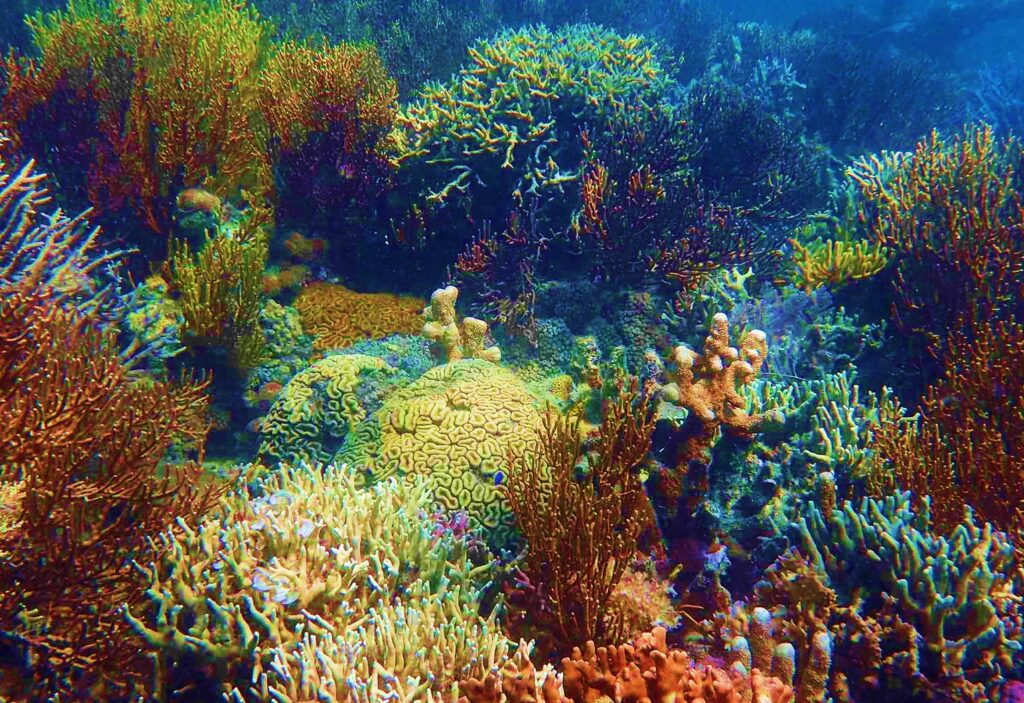 3 – Dicalatan Island or Pass Island
Most well-preserved corals are only a meter or two deep, so the area is ideal even for beginner snorkelers. You can find attractive six-striped angelfish prowling under the corals, schools of rabbitfish, and many other exciting fish with unusual colors and striking shapes.
4 – Malajon Island or Black Island
Malajon Island, or Black Island, resides northwest of Busuanga Island. Black Island has this name because of its black limestone cliffs jutting out of the dark blue waters. The place looks like it came straight out of a Pirates of the Caribbean movie.
The island has two caves, but the true wealth is underwater. Black Island is a paradise for diving enthusiasts. The reef is phenomenal and extraordinary for shallow water and advanced snorkelers, as it has a deep well that free divers might like. Many live, colorful corals are also a few meters from the shore.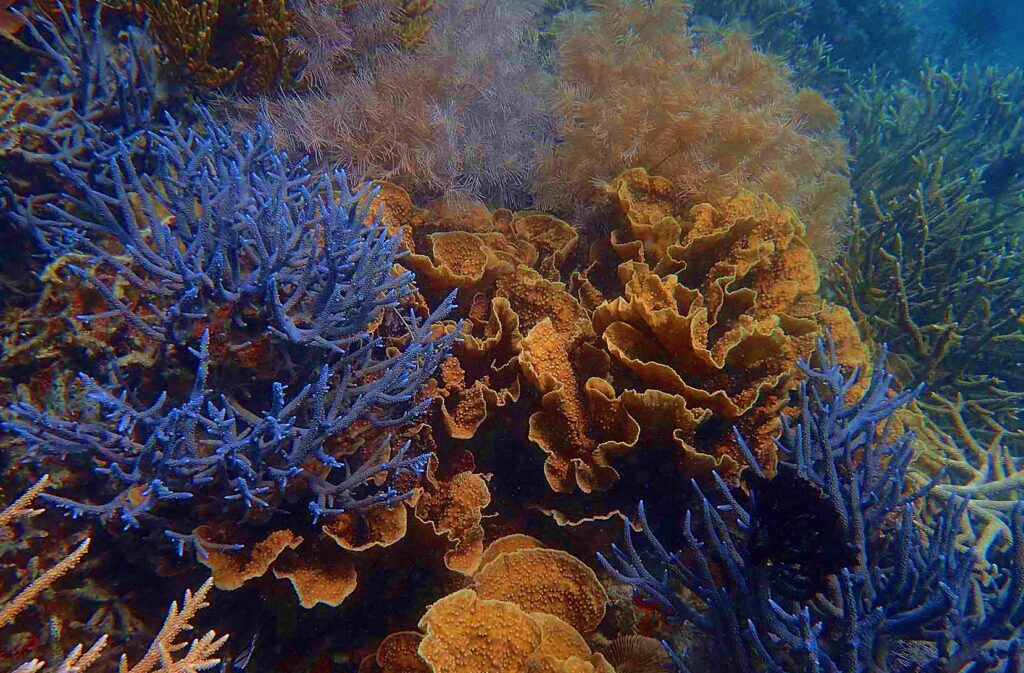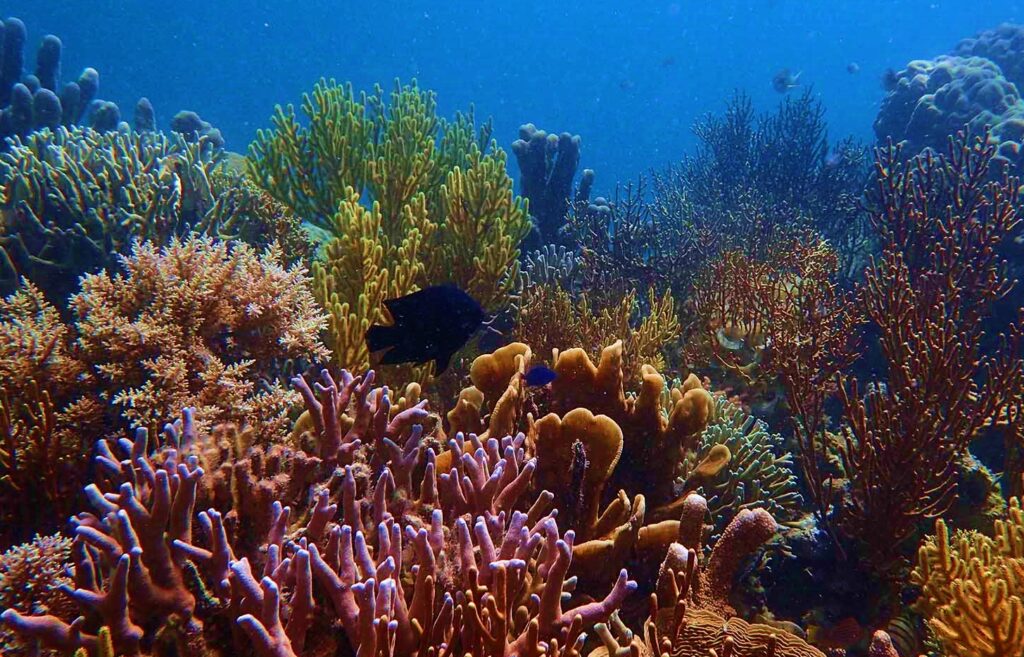 Dimalanta is a tiny uninhabited island north of Busuanga and one of Palawan's best snorkeling spots. Most boats cannot get close to shore because the corals are in shallow water, and boaters have to anchor offshore.
Therefore, swimmers must swim some distance toward the beach to reach the corals.
You will see natural gardens of high, living corals here. The reef's marine life is varied and colorful, and the crystal-clear water allows you to see it from a boat.
Here are just a few creatures inhabiting the reef: Amphiprion and pseudo-Amphiprion on sea anemones, angelfish, groupers, and mantis shrimp.
You can dive into the Kyokuzan Maru wreck near Dimalanta Island if you are a good diver.
Snappers

Anemonefish
6 – Blue Lagoon near Coron
This lagoon is not as popular among tourists as the twin lagoons, although it has clear, emerald, transparent water and is surrounded by majestic rocks. Moreover, there is a reef next to the lagoon that can please snorkelers.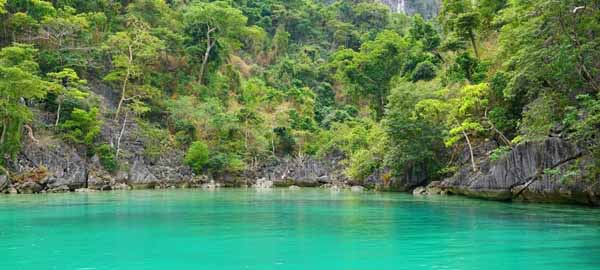 7 – Snorkeling in Twin Lagoon near Coron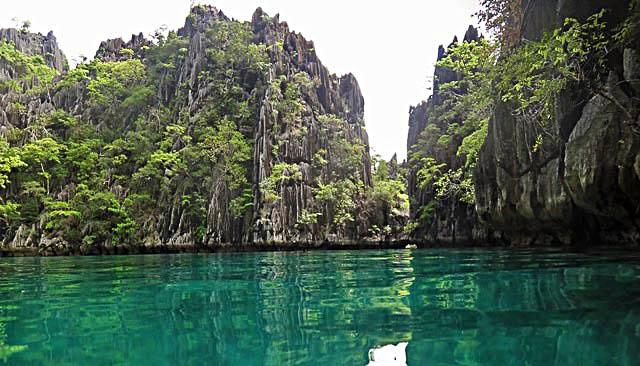 The lagoons are located just a 5-10 minutes walk from Lake Barracuda and are two small bays with turquoise water and picturesque rocks covered with tropical vegetation.
The bays are connected by an underwater tunnel through which you can swim by diving underwater at high tide. Nearby is a guy who ensures that the one who descended from one side appears on the other.
After lunch, you can swim without diving at low tide when the water goes down. You can also go from one lagoon to another using the stairs from above.
The thermocline
The thermocline in this place is observed at a depth of two meters, so you can safely dive without diving equipment. The top layer of water is fresh. If you dive, you will feel that the water becomes salty and warm.
The water here is clear and relatively calm, making it great for snorkeling. There is not much fish in the lagoons, but many different sponges exist. The reefs are shallow, which allows you to see a variety of underwater animals. To visit the lagoon, you need to pay 200 pesos.
Sponges

Sponges


8 - Smith Coral Garden around Coron
This place is one of the best coral reefs around Coron. The reef resides near the northwestern part of the island. Strong wind and waves are always at the place. Be careful.
The depth is small – from one to three meters, which makes snorkeling very comfortable. Here you can find many types of coral fish and various corals.
You can even meet a giant turtle and swim with it. To visit this place, you will have to pay 150 pesos to the Coron tribe.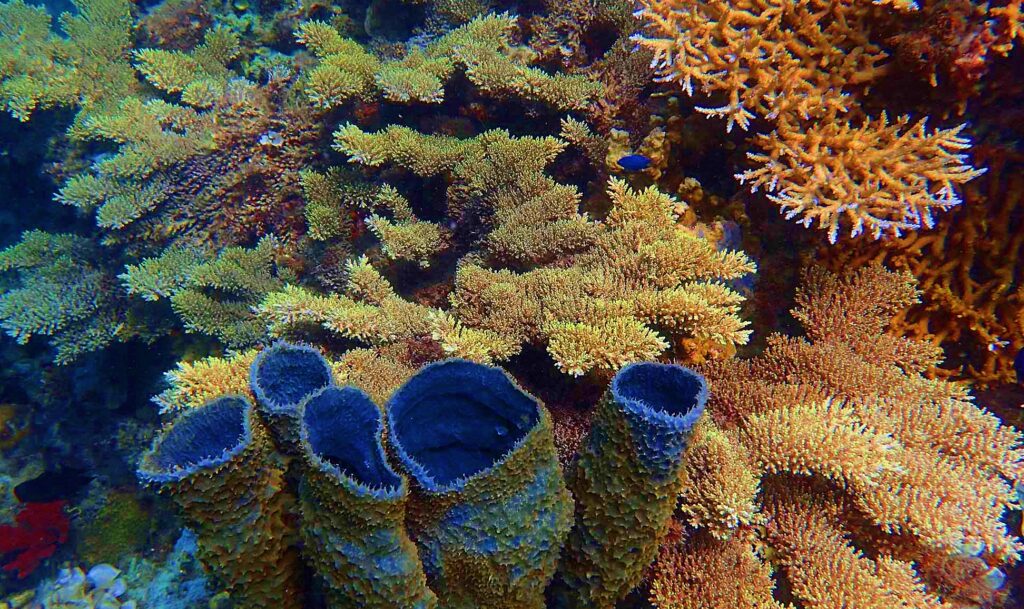 Where to stay
Paolyn Houseboats Coron Island is close to the famous Banul Beach, where you can enjoy snorkeling. Many package tours include this place in their itinerary even after enjoying the corals and marine life. You can go to Banul Beach and relax on the white sand.
The coral garden is more suitable for experienced divers because it can continue to depths of over 40 meters.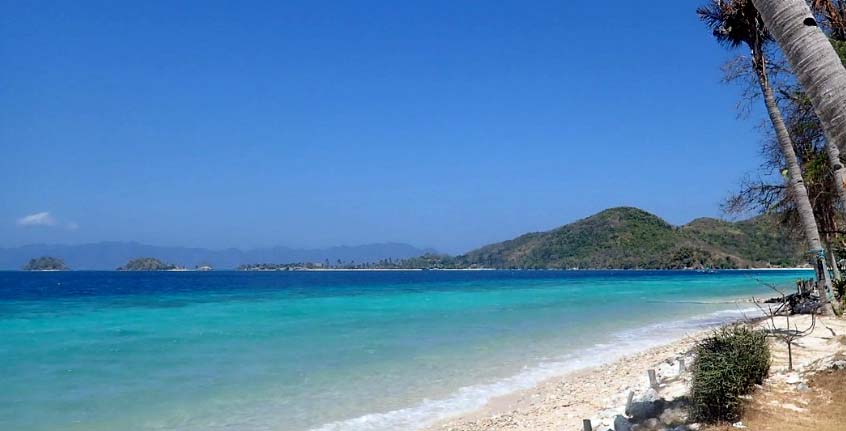 Banana Island is excellent, with stripes of white sandy beaches and crystal-clear waters. People often visit it along with Malcapuya and Bulog Dos Island, but Banana Island is a more convenient place for snorkeling than the two opposites.
The farther you swim from the aggregate, the more you will achieve high levels of corals and a variety of fish species. You can also see giant clams. Be careful, as there can be strong currents here.
On this island, there is a resort called Club Paradise Palawan. The reef next to this resort is in good condition. Here you can see coral gardens of both hard and soft corals.
A variety of reef fish
A variety of reef fish live here, such as parrots, several species of nudibranchs, frogs, spiny seahorses, and a variety of butterfly fish. And sometimes, you can even meet black reef sharks, rays, and sea turtles.
The real gem is a dugong
But the real gem of Dimakya Island is its rare inhabitant, the dugong, a sea cow related to the manatee. Dugongs come here to feed. Their sizes can reach almost 3 meters.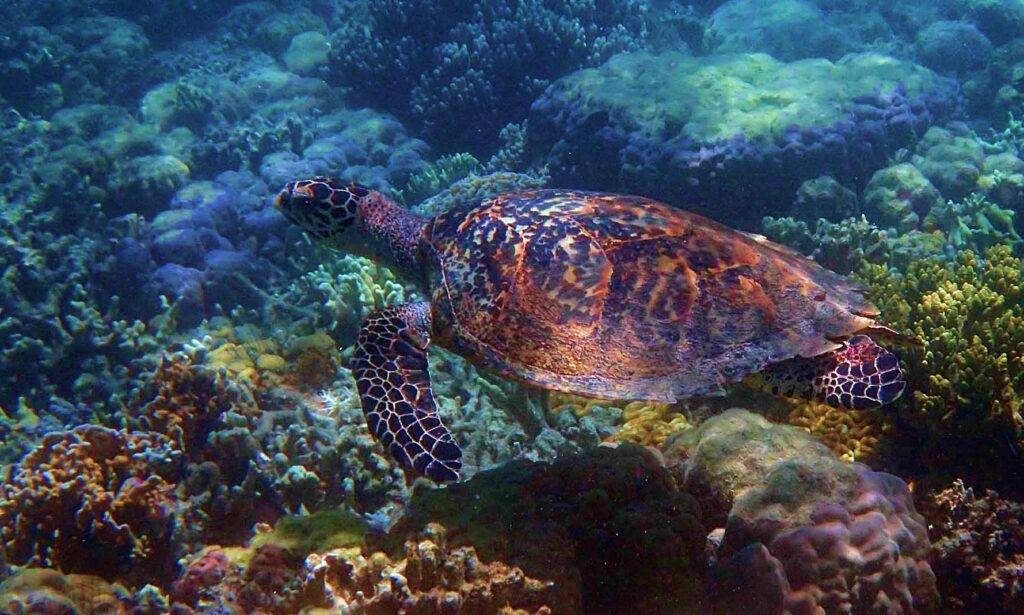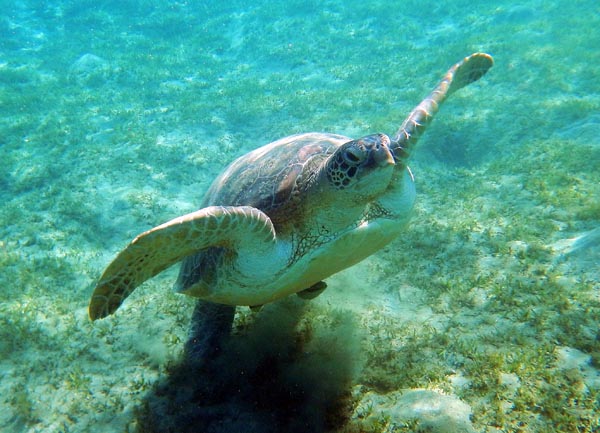 Turtles come to the island between December and February
Another reason Dimakya Island is unique and protected because it is a turtle sanctuary. Turtles come to the island between December and February to lay their eggs, and resort staff and volunteers fence off the eggs until they hatch. Resort guests can also participate in this endeavor and help protect and guide the cubs as they make their way to the sea.
You can read about other great places for snorkeling in the blog "Snorkeling off Bohol Island."
Read about other great places in the Philippines