Let's say you decide that you have 15 days to get acquainted with the Philippines. We offer you a route through several islands, ideal for your first acquaintance with this magnificent country.
International flights to Manila are usually cheaper than to Cebu. Therefore, we suggest choosing Manila as the starting point of this route.
Palawan, Bohol, and Siquijor are the islands you should visit first; discover them for yourself after spending enough time there. And, of course, be sure to visit the island of Coron, located north of Palawan. Such a plan will ensure you see beautiful beaches, waterfalls, mountain scenery, and small villages and have time to make exciting excursions on land and water.
Plan of the 15-day itinerary for the islands of Palawan, Bohol, and Siquijor:
Day 1: Transfer Manila – Puerto Princesa – Port Barton
Days 2 and 3: Rest in the village of Port Barton
Day 4: Transfer from Port Barton to El Nido
Days 5, 6, and 7: Rest in the town of El Nido
Day 8: Transfer from El Nido to Bohol Island
Days 9, 10, and 11: Relax on Bohol Island
Day 12: Transfer from Bohol to Siquijor
Days 13 and 14: Relax on Siquijor Island
Day 15: Transfer from Siquijor Island to Manila
On the map below, you can see the outline of this route. So, let's break it down step by step.
On the same day, you arrive in Manila; you can take one of the flights to Puerto Princesa. When booking this flight, you should consider leaving at least 3 or 4 hours of connection between the international and domestic flights, as flights may be delayed. Please note that you will have to move from Terminal T1, where international flights arrive, to Terminal T4 for domestic flights. There is a free transfer between the terminals, but this is not frequent so you will need some time. Also, when you arrive, you must go through immigration and collect your luggage, which takes about an hour. We also advise you to exchange money at the airport and buy a SIM card to have the internet on the islands.
If you arrive in Puerto Princesa before 6:00 pm, you can catch a minibus to Port Barton. If not, you can spend the night in Puerto Princesa and head to Port Barton the following day early in the morning.
Recommended accommodation:
If you need to stay overnight near Manila Airport: Alice Apartment
If you need to spend the night in Puerto Princesa: Colors Boutique Hostel
For an overnight stay in Port Barton: Ausan Beach Front Cottages
Days 2 and 3: Rest in the village of Port Barton
These days are all about enjoying Port Barton to the fullest.
On the first day, take a day trip to Coconut Beach, White Beach, and Pamuayan Falls.
Dedicate the second day to Island hopping. Back in Port Barton, enjoy an unforgettable sunset at Coconut Beach. For more information on what to do in this beautiful place, see the Port Barton page.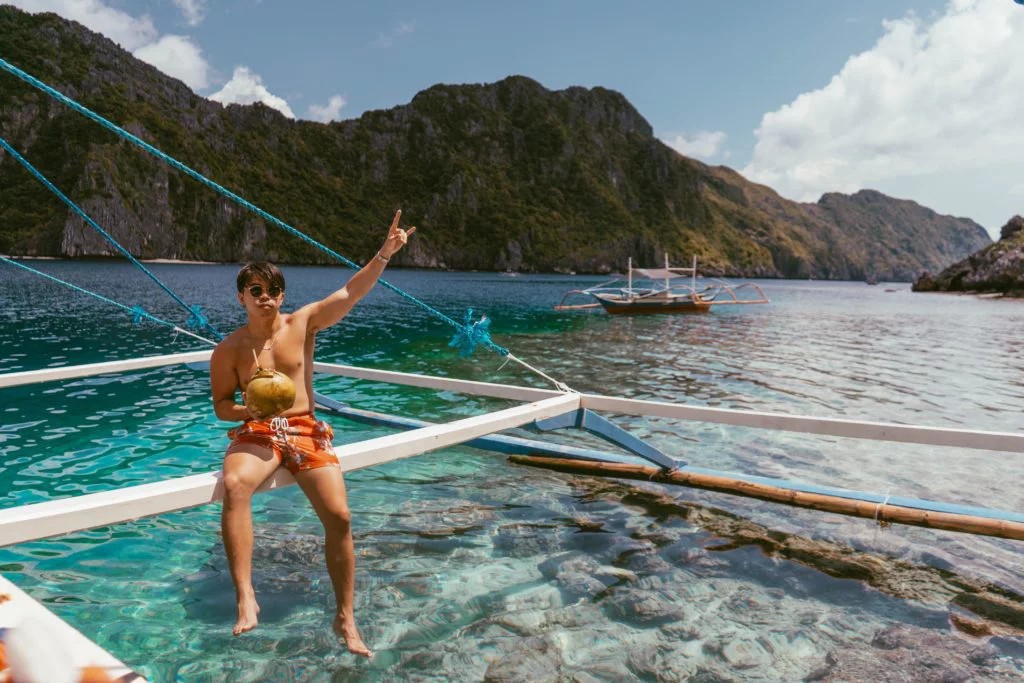 Day 4: Transfer Port Barton – El Nido
This is the day of the transfer, but you can also have time to spend some time in the pearl of Palawan – the village of El Nido. You can take one of the minibuses from Port Barton to El Nido and get there as early as possible. The trip will take you about 3.5-4 hours. After arriving in El Nido and leaving your luggage at your hotel, you can immediately go to Las Cabanas Beach, one of the best beaches in the Philippines, to enjoy a good swim and one of the best sunsets in the Philippines.
Recommended accommodation in El Nido. Good value for money: Bulskamp Inn or Panorama Resort.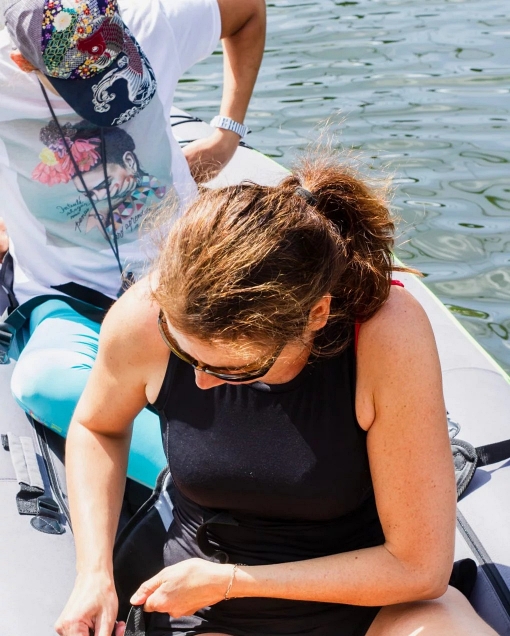 Days 5, 6, and 7: Rest in El Nido village 
On Day 5, we advise you to take several Island hopping – A + C or B + D or C. We recommend that you tour at least two (but no more than three) of the islands in order for your trip to be as enjoyable as possible. If you prefer to focus on just one island, make sure it's a smaller island with fewer tourists or less developed infrastructure. 
On Day 6, we recommend spending this day exploring the nearby islands of Dooley and Lio Beach. These are both relatively close (5-10 minutes by boat), but they're still very different in character—Dooley has fewer tourists and more seclusion than Lio Beach does, but both have beautiful beaches that are perfect spots for swimming or floating along on a raft.
Rent kayaks if you like outdoor activities. We advise you to look at the weather forecast before buying tours to tour the islands in sunny weather. Read more about what to do in this village on the El Nido page.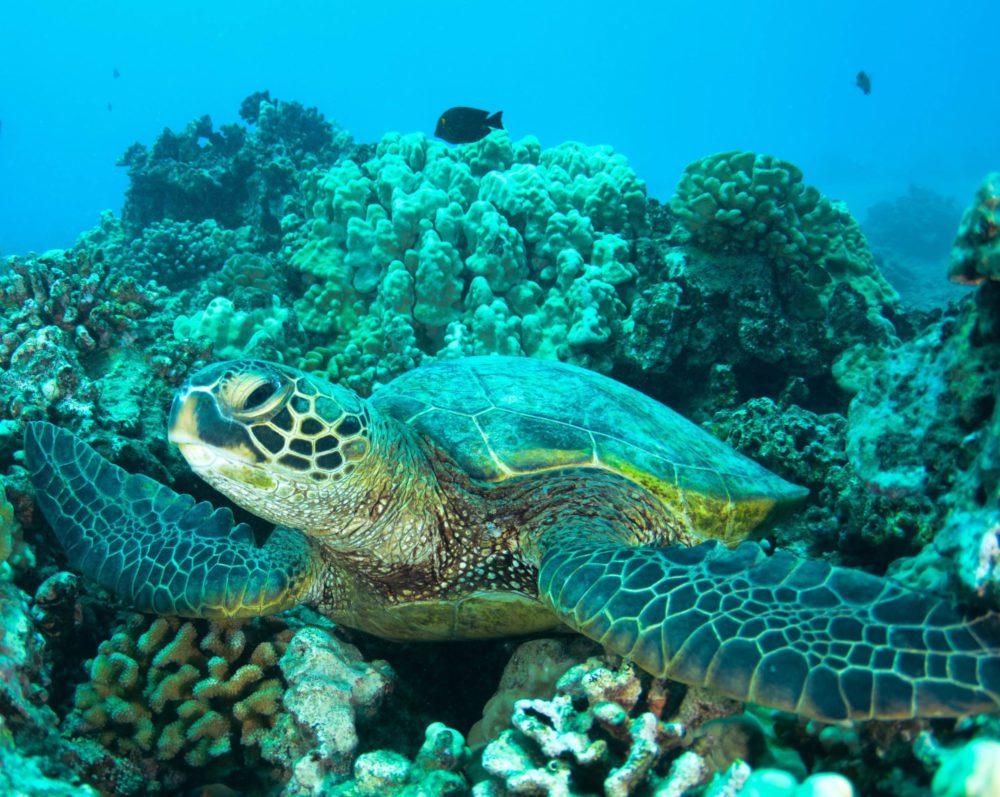 Day 8: Transfer El Nido – Bohol
Today is transfer day, and there are several ways to make a transfer. You can choose the one that takes less time or the one that takes less money. There are three options:
You will find more information on how to get to Bohol by clicking on the link.
All options except the first one will take you most of the day, so the only thing left for you to do is relax in Bohol after moving.
Recommended accommodation in Bohol. Good value for money: Alona Pawikan Resort or Henann Resort.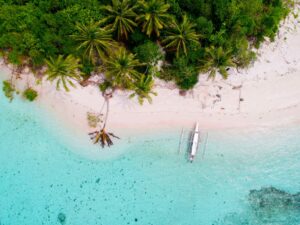 Days 9, 10, and 11: Relax on Bohol Island
Welcome to the Visayan Islands! Bohol is a huge island where you can stay for a long time and not get bored, but you only have three days to get to know this wonderful place.
Spend a day on the beaches of Panglao. Rent a motorbike and discover: Alona Beach, White Beach, or Dumaluan Beach, and visit the Danao Beach area or North Zen Villas for an incredible sunset.
Rent a motorbike or car and walk around the Chocolate Hills or Chocolate Hills, Loboc River, and Bamboo Suspension Bridge.
Spend a day diving or snorkelling at the Balicasag Marine Reserve to greet the hundreds of turtles that live there.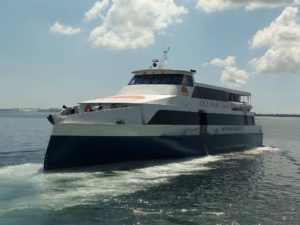 Day 12: Transfer Bohol – Siquijor
Get up early to catch the
OceanJet ferry from Tagbilaran Port to Siquijor Island
(Larena Port). You will arrive at your destination in a couple of hours, which means that on this day you can enjoy the beaches of San Juan and see one of the best sunsets of your life.By the way, at the port of Laren you can take a tricycle to the hotel you have booked.Recommended accommodation in Siquijor. Good value for money:
Tropical Fun Na Sea Rentals.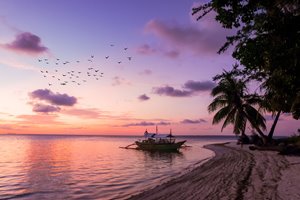 Rent a motorbike and take a tour around the island, including, of course, Cambugahay Falls and Lugnason Falls, Balete Old Tree, Salandong Beach, Sandugan Beaches, and Latsi Church. You can drive to the island's centre with a motorbike, try the Filipino Hilot massage, snorkel in the Tubod Marine Reserve or relax on the hidden Cagusuan beaches. If snorkelling with Balicasag was not enough, you could dedicate the second day of the Apo Island tour from Siquijor to this.
Day 15: Transfer Siquijor – Manila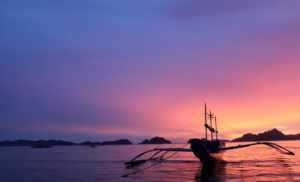 It's time to wrap up this excellent 15-day Philippines itinerary. Depending on your flight schedule, you will have to consider leaving Siquijor one way or another. Make sure to be in Manila the day before your flight. In the Philippines, a ferry or plane flight can be cancelled anytime, especially during the rainy season.Take
the ferry from Siquijor to Dumaguete
, which is on the neighbouring island of Negros. In Dumaguete, you must get to the airport and
fly to Manila
.And this is the end of this Philippines itinerary. If you follow our advice and arrive in Manila a day before departure, you will have enough time to enjoy the capital of the Philippines. Be sure to leave enough time to get to the airport – traffic in Manila is hellish.
Recommended accommodation
in Manila:
I'M Hotel
.
Read about other great places in the Philippines