There are three options where you can go snorkeling off Bohol and enjoy the underwater world of this beautiful island. The best options are snorkeling on the islands of Balicasag and Cabilao. You can tour Balicasag Island or rent a boat with a captain. Although getting to Cabilao Island will be a little more complicated, its coral reefs deserve your attention. Besides, you can also go snorkeling at Alona Beach if you have enough time.
Let's take a look at all three options in detail.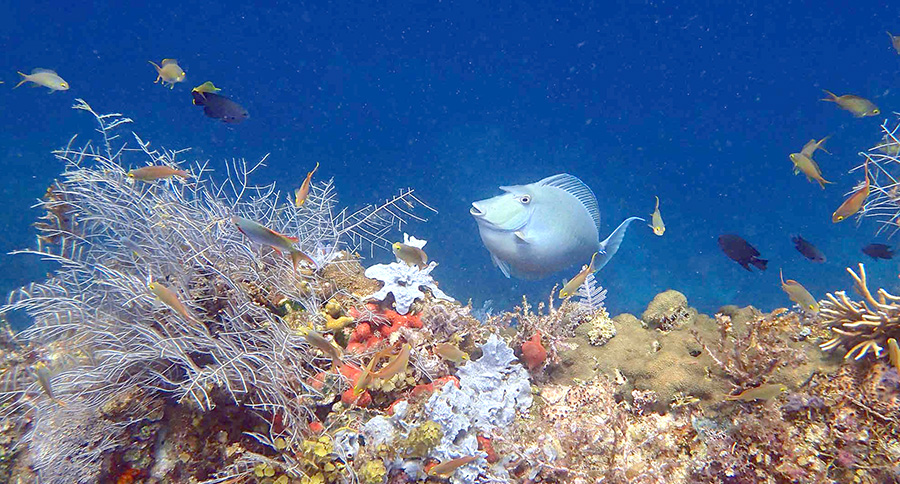 3 best places for snorkelling off Bohol island
1. Snorkeling on Balicasag Island
Balicasag is a tiny island in the southwest of the Bohol region in the central Philippines. It is more popular with divers who dive deep near vertical walls. But there are fantastic intricate coral gardens at shallow depths available for snorkelers.
Where to stay on Balicasag Island
There is only one place to stay on the island. It is Balicasag Island Dive Resort which is worth booking in advance. Otherwise, you will have to settle for visiting this island on a day trip from nearby Alona Beach, located on the small island of Panglao near Bohol. The distance from Alona beach to Balicasag island is 4 kilometers.
The big problem is to find a tour operator that will take you to decent places in Balicasag. An alternative would be to hire a private boat with a captain for the day.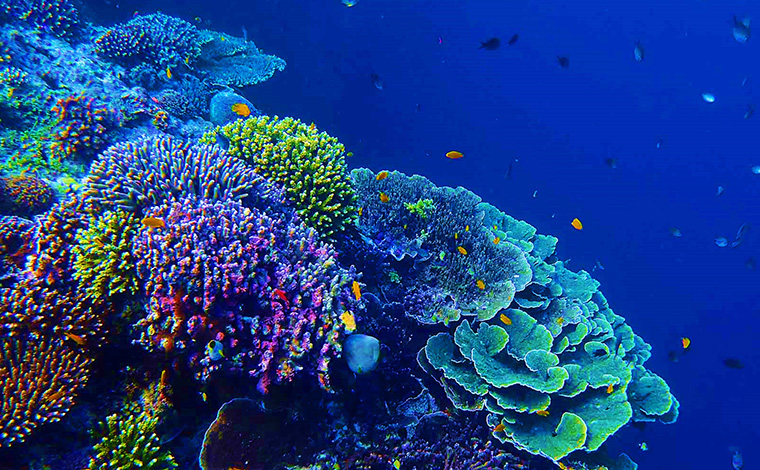 Tours with divers
Snorkelers who ride dive boats do not always have the best spots for snorkeling. The places you visit are suitable for divers but not always for snorkelers. Luckily, Balicasaga's best diving spot is also the best snorkeling spot. So on at least one of your dives, you'll probably be in a better spot. But the other two dives may be in places that are not good for snorkelers. You have to accept it. The price of a tour with divers is only 400-600 pesos.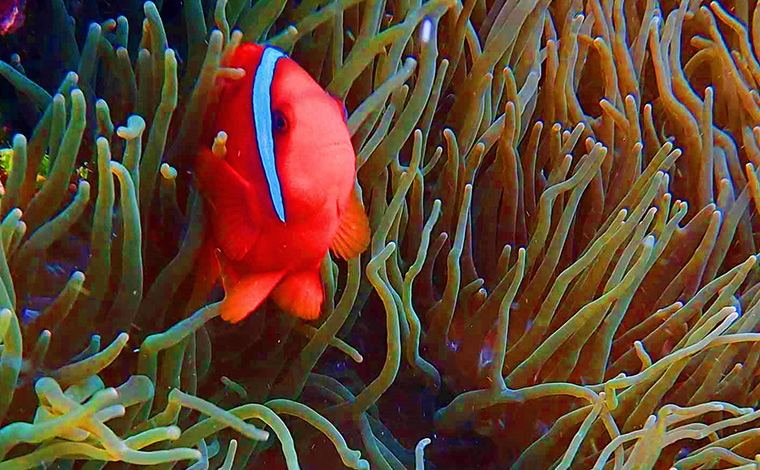 Privat tour for snorkeling off Bohol
If you have the money, it's worth making a regular trip with your skipper and boat to choose where to go. When negotiating the price, make it clear that you want to go precisely to the island's west side, near the dive resort, and make sure the skipper agrees to take this route. Depending on the size, such a boat will cost 3000 pesos or more for the whole day.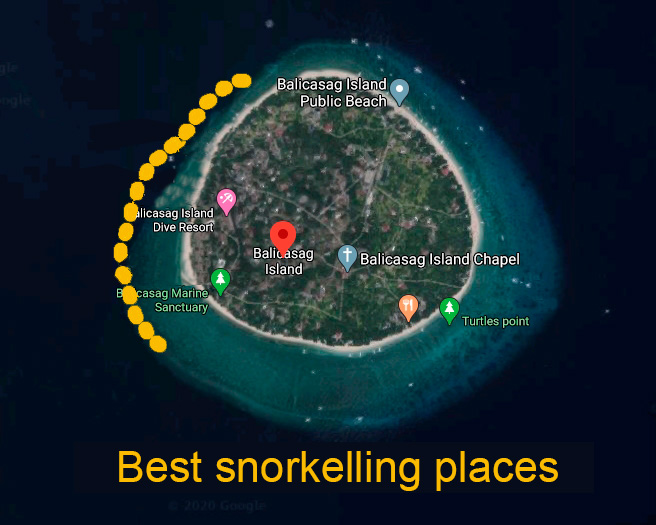 The best snorkeling spots on Balicasag island
The best snorkeling spots (marked in yellow on the map) on Balikasag Island reside on the island's western side, with a steep wall for divers and a shallow reef surface of 1-3 meters with lots of hard live corals. Soft corals there are, but to a lesser extent.
There are many turtles here, especially in the sandy areas. So even if you are in a "bad" place for snorkeling, there is still a good chance of seeing a turtle. And the "bad" snorkeling areas can be pretty decent.
Near Balicasag Island, you can see a lot of different fish. You may meet: the well-known clown fish (Nemo, Amphiprion) hiding in anemones, all kinds of surgeon fish, various butterflyfish, and many others. The high season is from December to May.
2. Snorkeling on Cabilao Island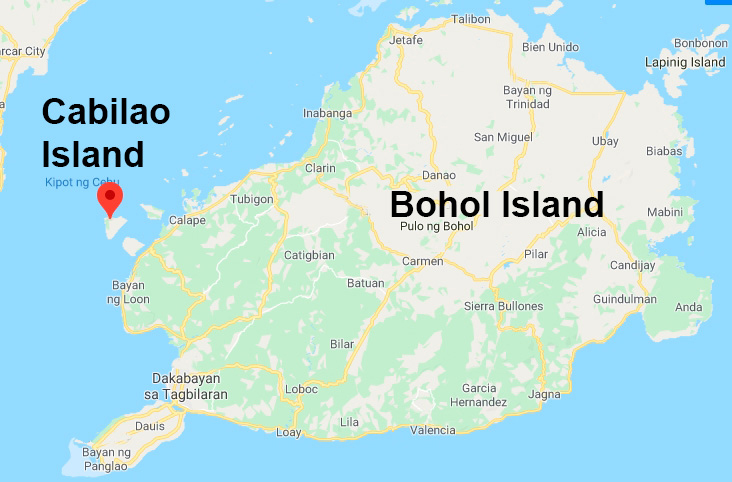 Fantastic coral gardens off Bohol
Cabilao is a tiny island off the west coast of Bohol. Plenty of snorkeling spots around this island, and you can see fantastic coral gardens. You will see a variety of hard corals of all kinds of colors and shapes and a lot of well-preserved soft corals. This is worth seeing with your own eyes!
There are a vast number of all kinds of reef fish of different sizes around Cabilao. You can meet giant turtles, napoleon fish, and barracuda.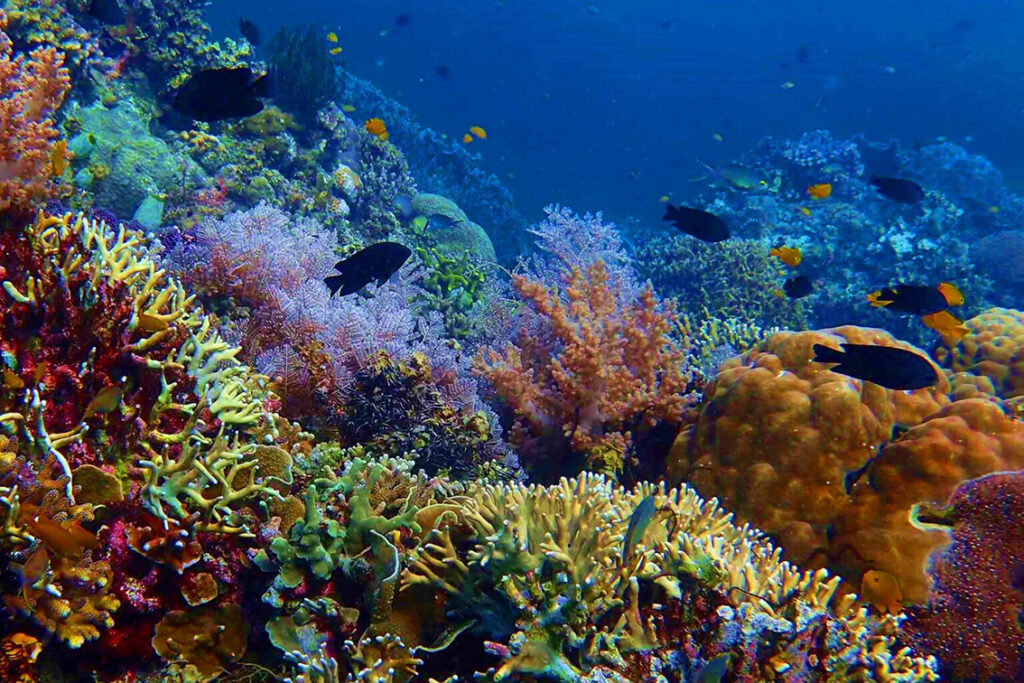 A lot of reef fish near Cabilao
In addition, you will encounter much smaller but no less bright and expressive fish, such as the spotted lionfish and the royal angel, and many others.
You will catch the eye of the starfish "Crown of Thorns" and many other starfish of various incredible colors that will not leave you indifferent. Depths along coral reefs can range from 2 to 6 meters.
The coral reefs in the northwest corner of Cabilao are worth seeing. This corner is the best place for snorkellers, but deep sea freedivers and scuba divers can also find beautiful places in other parts of the island.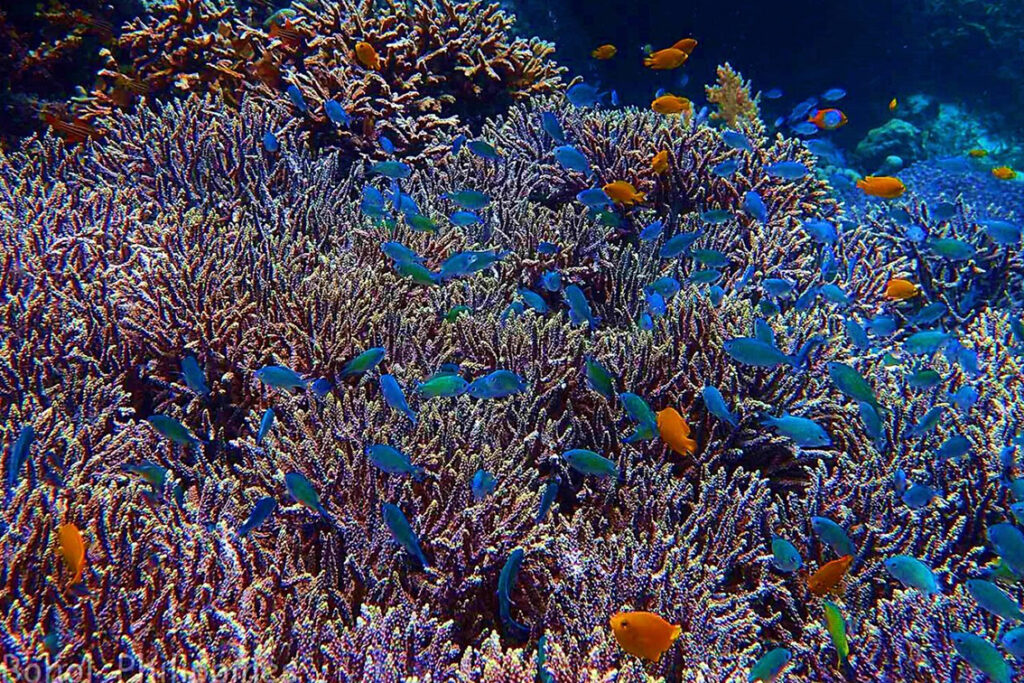 Cabilao's coastline
Tourist bases are located on gently sloping sandy beaches, so getting to the sea in these areas is easy. However, if you explore further, note that 70% of Cabilao's coastline is rocky cliffs, so you won't be able to get in/out of the water where you please. People have made stairs in the rocks to access the sea in several places. If you use them to get out of the water, be aware that they can lead you to someone's back garden.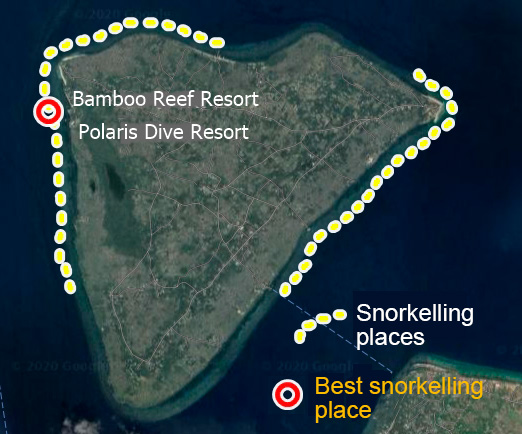 The best spot for snorkeling off Cabilao
If you're looking for the best, head to the area between Bamboo Reef Resort and Polaris Dive Resort. The corals here are mainly located 3-5 meters from the water, and their condition is pleasing to the eye.
The beaches are not great for swimming, and the resorts are generally uncomfortable, so this place is not for everyone. Still, if you are not picky about housing, Cabilao is an excellent place for snorkeling and diving.
Cabilao Island has a pleasant village atmosphere. Cabilao is best known to divers. There are four shabby dive resorts on the northwest corner and one on the northeast corner.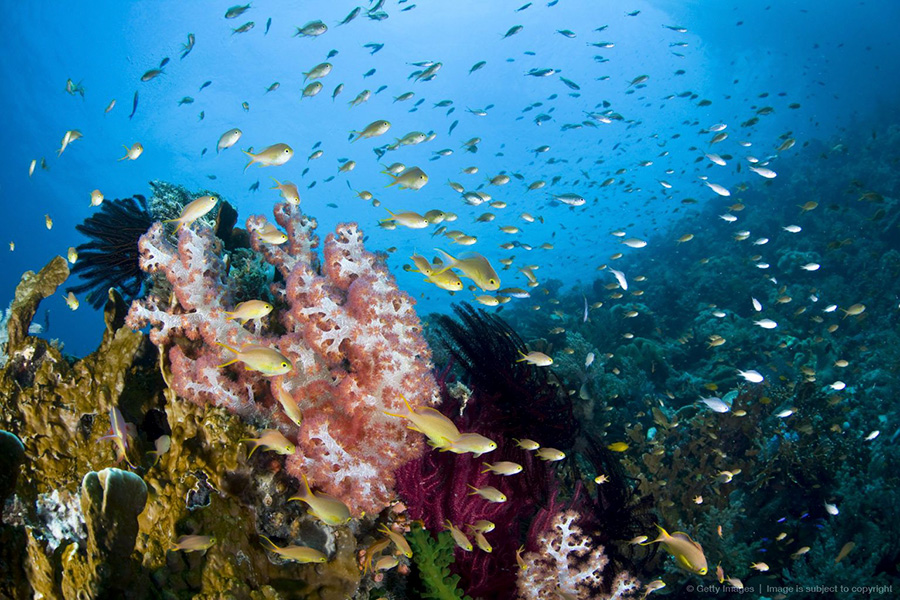 Where to stay on the Cabilao Island
Most of the diving contingent is placed in dive resorts at about 4,000 pesos per person. As budget accommodation, you can find "non-diving" hotels offering bungalows for 1200 pesos. A couple of families in the villages rent rooms for 600 pesos.
The northwest corner would be the best choice as it has the most accommodation, and snorkeling is by far the best on the island. On the 150-meter strip of the beach, there are several medium-sized dive resorts. The beach is ok but not great for swimming – there are grass and coral fragments in the shallow water but the snorkeling is fantastic. The best diving spots are located 200 meters from the beach.
Dive resorts have restaurants, but apart from that, there are almost no options for dining outside the hotel.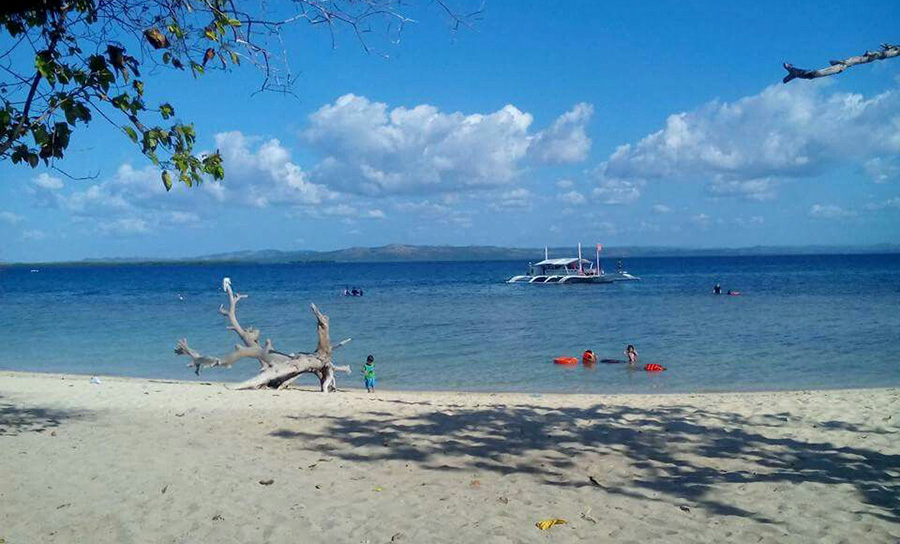 Getting to the island is not easy, but everything is in order. The seaport and airport of Bohol have located a few kilometers northwest of the island's capital – Tagbilaran. Public transport to Cabilao Island departs from the "Data Bus Jeepney Terminal," next to the Island City Mall. It is 3 km north of Tagbilaran Center.
It would help if you used a taxi or habal-habal (motorcycle taxi) to get to the bus station from Tagbilaran Airport (or from the pier). Buses leave from a complex located 100 meters northeast of the shopping center – they, here, call this bus station an integrated terminal.
You will need to ask where your bus is at the bus station. The nearest town to Cabilao is Loon, 4 km from the turn to Cabilao. Buses used to stop at Loon, but now they continue north (to Calapa, Toubigon, etc.). If you find a bus to Loon, you are in luck. But to be more sure, you can also say "Sandingan Island" to double-check.
Sandingan Island is the gateway to Cabilao
The bus fare is around 30 pesos. Befriend the conductor guy and ask him to tell you when you reach Sandingan Island (not Cabilao – this will most likely confuse him). Sandingan Island is the gateway to Cabilao – and you must cross it first.
Buses follow the main road to Bohol, passing the turnoff to Sandingan, so ask the driver to drop you off on the main road at the junction.
The junction is just behind the bridge that crosses a large river. There will be a small crowd of habal habals (motorcycle taxis) next to a bamboo hut on the side of the main road.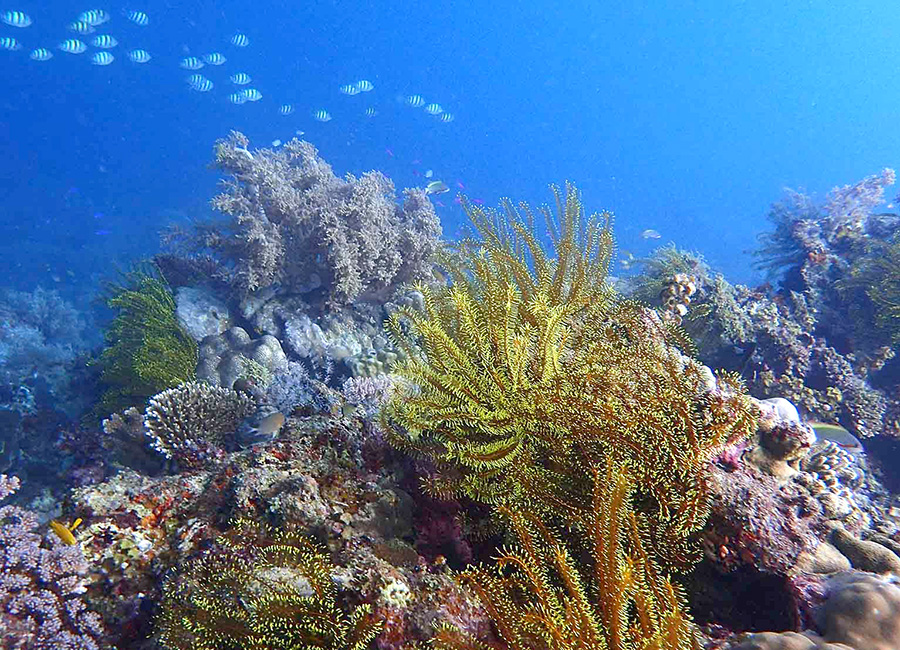 From Mokpok to Cabilao Island
It would help if you got to the city of Mokpok on the northwest corner of Sandingan Island. From Mokpok, small 8-seater bangkha boats sail two kilometers across the strait to the east side of Cabilao Island. Their destination is usually the city of Talisay in the southeast of Cabilao, but it may also be Kambakis on the northeast corner, depending on demand. The boats only leave when it is full of passengers.
You have to wait a long time until enough passengers show up. One seat costs 25 pesos. But you can buy two or three seats to speed up your departure. The driver does not care how many people are on board if he receives the required amount. You can also charter the entire boat for around 300 pesos.

On the island of Cabilao, habal-habal drivers will be waiting at the Talisay and Kambakiz marinas. You will have to get to your hotel by habal habal anyway. So it doesn't matter which pier you reach. A habal habal ride across the island to your resort should cost 20-30 pesos, but the driver will charge you twice as much (because he has to return to the pier again (!). I think that some dive resorts can pick you up from the jetty by car if you book the transfer in advance.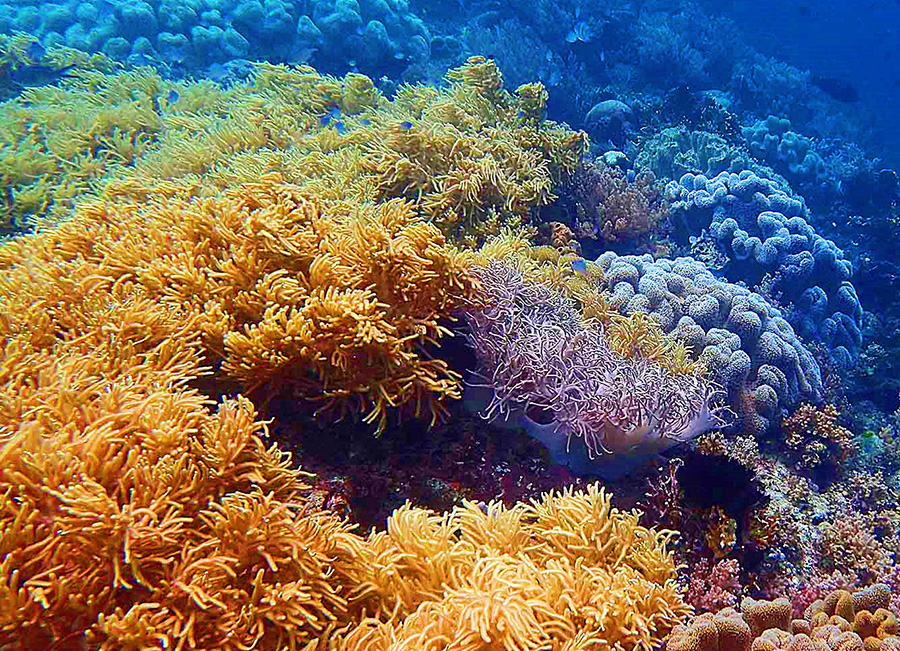 How to reach the spot for snorkeling
You will need to tell your habal habal driver where you are going. There doesn't seem to be a proper name for the Northwest Corner. Some maps refer to it as "Pantudlan," but this may be met with blank stares as, technically, that is the area's name. The word "Polaris" seems to work. It's the name of the most famous dive resort in the northwest corner.

A boat runs from Cabilao to Argao (on the east coast of Cebu) twice a week on market days (Tuesdays and Saturdays). She leaves Cabilao in the morning (9 am) and returns in the middle of the day when the locals have finished buying and selling at the market in Cebu. The boat is large, with 40 seats, Bangka. The fare is 120 pesos. Boats depart from the beach, where the main road turns sharply to the right to follow the coastline, about 1 km south of the city of Argao.
The high season is from November to April.
3. Snorkeling on Alona Beach on Panglao Island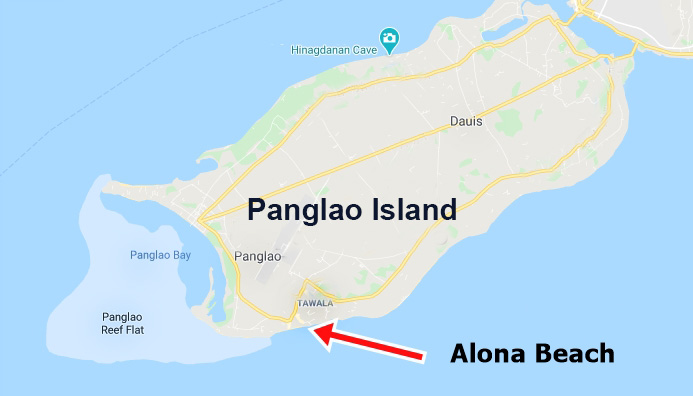 Alona Beach resides on the southern part of Panglao Island, which, in turn, is very close to Bohol Island and is connected to it by bridges. This beach is not particularly famous for snorkeling, but several places are worthy of your attention. The real reason to go there is to take a day trip to Balicasag.
Alona Beach is a great spot for snorkeling off Bohol
Alona Beach is a long (800 m) thin strip of soft yellowish sand surrounded by restaurants and dive resorts. The bay outside is full of small boats with two outriggers – bangkas mainly used to bring divers and day-trippers to Balicasag Island, located 6 km southwest. There are a few snorkeling spots in the bay, but you should avoid peak hours from 8 to 9 am and 3 to 5 pm when boats move around a lot.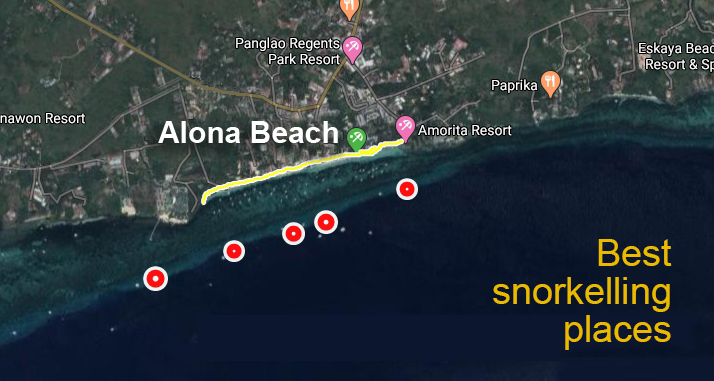 The most exciting areas for snorkeling
The most exciting areas for snorkeling are to the left and right of the beach and the central part opposite the beach. Here you can find very picturesque soft corals.
Underwater currents are not strong. The cliff usually has a weak current, most often directed from west to east, but sometimes in the opposite direction. From the beach, you can determine the direction of the current by watching the anchored boats pull toward their moorings. You won't be swept away by the current – shallow waters at both ends of the bay, so you can swim into the shallower waters and walk back. But there is no current inside the bay.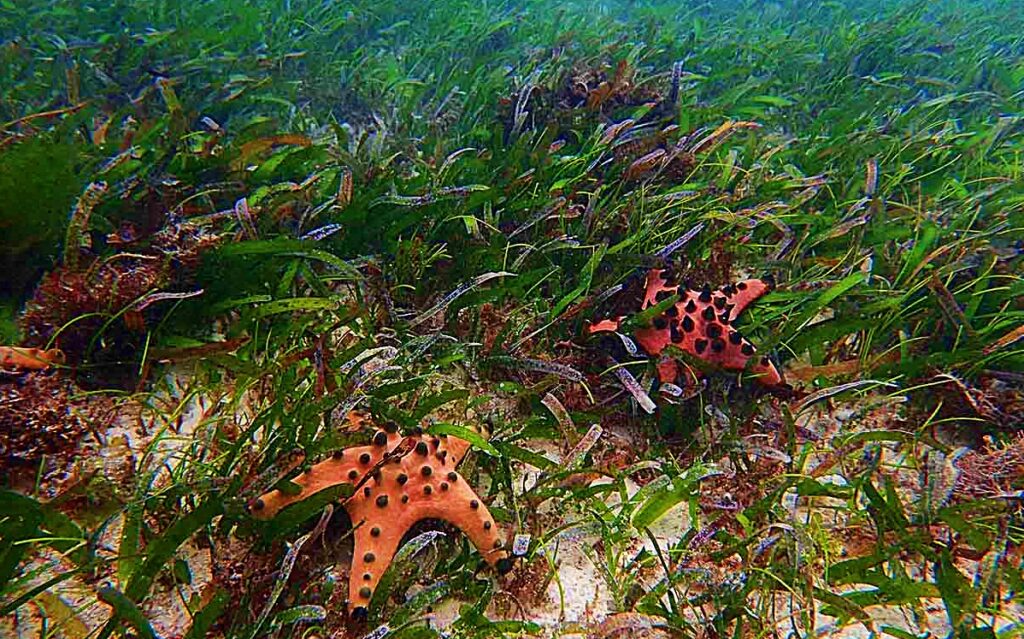 Your biggest concern is the boats
Bangka boats are noisy and slow. Please don't rely on boat drivers; it's hard to spot snorkelers in choppy waters. It's incredible how much a fluorescent tip at the end of a tube or a fluorescent bathing cap helps. Be vigilant while swimming!
Alona Beach is decent enough, but not that special. Unfortunately, most of the hard corals are dead. The reef goes far from the shore – about 150 meters and resides on the other side of all these boats.
You can read about other great places for snorkeling in the blog "Snorkeling near Coron Island."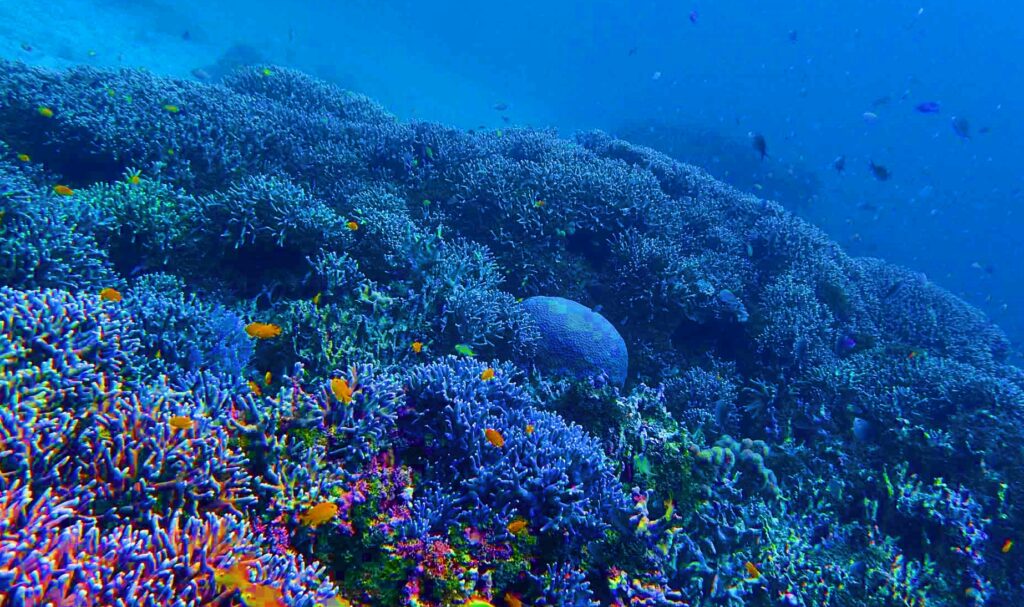 We would like to share our amazing experience of exploring the underwater world of Bohol, Philippines. The huge variety of marine flora and fauna is truly breathtaking. When you see all this underwater life in all its diversity, you want to capture it for memory. In this regard, do not forget to take a waterproof camera with you when going to the Philippines. Take care of this in advance. We shot on GoPro Hero4, Robins 1 and Nikon Coolpix AW 130. Sharing your photos and videos with friends and family will give them a glimpse into the exuberant underwater world they have never seen before.