If your vacation is limited to ten days, even then, you have the opportunity to visit several places in this warm and relaxing country.
Our itinerary "The Philippines in 10 days" includes unforgettable days of relaxation with snorkeling and diving on coral reefs. It will be walking along deserted beaches and amazing sunrises and sunsets on the picturesque islands. Start your journey from Manila.
The Philippines in 10 days itinerary map
Day 1 – Transfer Manila – Coron
Days 2 and 3 – Coron
Day 4 – Transfer Coron – El Nido
Days 5, 6, and 7 – El Nido
Day 8 – Transfer El Nido – Port Barton
Day 9 – Port Barton
Day 10 – Transfer Port Barton – Manila
Day 1. Transfer Manila - Coron
It would help if you arrived in Manila the day before or very early in the morning to be able to take one of the first morning  flights from Manila to Coron, Busuanga Airport (USU) on Busuanga Island.
Do not mistake Coron city on Busuanga island for Coron island
Coron island resides next to Busuanga island. Tourists stop in Coron city. You can get to Coron Island by buying a tour or renting a boat with a captain. Discuss your lunch with the captain before sailing. As a rule, you go to the market with him, buy food, and he will cook dinner for you for free.
After checking into the hotel, you can start exploring the area. You have a wide choice. You can go snorkeling in the 7 Sins Marine Reserve (Siete Pecados), climb Tapyas Mount, or visit the Makinit hot springs. On the Coron page, you will find enough recommendations on what to do on the island and its surroundings.
Where to stay in Coron
Recommended accommodation in Coron. Good value for money – Acacia Garden Inn, more comfortable – The Funny Lion
On the Coron page, you can find other accommodation options using the map of hotels on the island.
Two days - on Coron island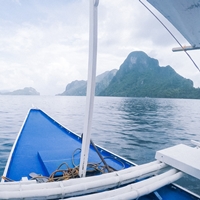 Coron Island is one of the most beautiful places in the Philippines. Its beaches will delight you with turquoise waters and white sandy beaches. You have two full days to enjoy it all. You will find a lot of information on the Coron page in the 7 things to do in Coron section, but we advise you to distribute the days as follows.
On the first day, take the Escapade Tour of the Islands, where you will get to know islands such as Malcapuya, Banana, and Bulog Doc. Details about island hopping can be found on the Coron page in Try island hopping on Coron.
On the second day, you can choose the type of activity depending on your tastes.
If you like snorkeling, spend this day at Black Island. The reef surrounding Black Island is perfect for those who are used to snorkeling in shallow water and advanced snorkels. There are many living, colorful corals even close to the coast. Read more in the post Snorkeling near the Coron island.
Divers can spend a Diving Day among the Japanese shipwrecks near Coron Island. This is one of the best diving spots in the Philippines.
Day 4 of "The Philippines in 10 days" tour. Transfer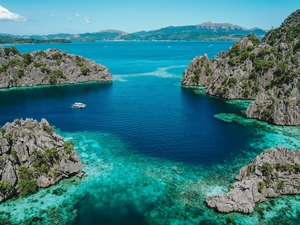 To get
from Coron to El Nido
, you have two options – by ferry and by plane.The fast ferry ride from Coron Island – this way is one of the most frequently used by travelers.
You can book a seat on the ferry online or find the cheapest flight to El Nido
. The airplane is the fastest way but also the most expensive. Here is another resource
for finding the available flights to El Nido
. Choose for yourself – fly fast or sail cheaply by ferry.If you arrive in El Nido early in the morning, climb to the top of one of the cliffs surrounding El Nido Bay and enjoy the breathtaking view! If you feel like you need to unwind, you should try a relaxing full-body massage. Take your time today, relax, enjoy the outdoors, or explore the area. Be sure to visit Nacpan Beach. To do this, you will have to rent a motorcycle, which is very easy to do. If you want to see a fantastic sunset, visit the beautiful beach of Las Cabañas. This is one of the best beaches in the Philippines.
Where to stay in El Nido
Recommended accommodation in El Nido – Good
value for money –
Bulskamp Inn
.On the El Nido page, in the
Where to stay in El Nido
section, you can find other accommodation options using the map of hotels on the island.
Days 5, 6 and 7. Rest in El Nido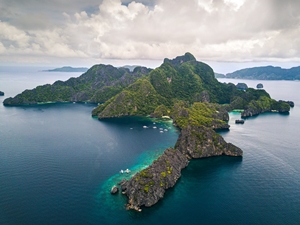 El Nido is simply a paradise you must visit, surrounded by islands and cliffs. In our text on things to do in El Nido, you will learn about the best things to do and where to stay on the island, but here we give you a recommendation on how to use these three days to get the most out of these days. 
On your first day, sail to Island A to enjoy emerald waters, snorkel on incredible reefs and see unique wildlife. Read about island tours on the El Nido page. Of course, you can also choose a combination of tours A + C or B + D. It is up to you to decide which islands you like.
On the second day, take a tour of Las Cabanas Beach, Lio Beach, and Nacpan Beach. It's worth devoting a day to.
On the third day, take a tour to island C or any of those where you have not been. If you prefer an active holiday, you can also make a route in a kayak.
The order in which island you go to at first is entirely unimportant. What matters is the sunny weather. Check the weather forecast before visiting the islands. Choose those days when it will not rain, and it will be sunny.
You can purchase a private tour to avoid the crowds of tourists around you. It might cost a little more, but you can sail to the islands you wish to.
Day 8. Transfer El Nido - Port Barton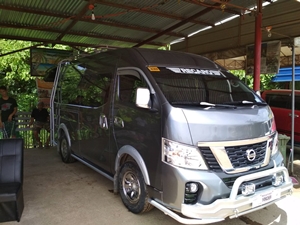 We will continue our Philippine itinerary by visiting the charming city of Port Barton. Its laid-back atmosphere, the smiles of the locals, and the opportunity to take beautiful walks along the beaches are the attractions that make us include this place on a 10-day trip to the Philippines.
The best way to get from El Nido to Port Barton is by minibus. Travel time is about 3.5-4 hours. We recommend that you book a minibus in advance. Leave early to enjoy a day in Port Barton.
Here is a link to the booking.
In Port Barton, walk to White Beach and stop at Coconut Beach. Enjoy the time spent in this fantastic place and admire the unforgettable sunset.
Where to stay in Port Barton
Recommended living conditions: Cheap and clean – Pems Pension and Restaurant. Good quality – Ausan Beach Front Cottages.
On the Port Barton page, in the Where to stay in Port Barton section, you can find other accommodation options using the map of hotels on the island.
Day 9 of "The Philippines in 10 days" tour. Rest in Port Barton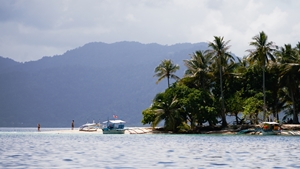 Port Barton is a fantastic fishing village. You have this whole day to see the islands around Port Barton. Here you can enjoy island paradises, incredible snorkeling, and above all, tranquility as Port Barton is much less visited than its northern brother Palawan.On our
Port Barton
page, you will find many more ways to organize your holiday. Here you will feel that you have arrived in paradise.Spend the evening sipping fresh coconuts on the white sand while listening to some island reggae. Accommodation here is basic but comfortable and in a great location, right on the seafront.
Day 10. Transfer Port Barton - Manila
It is a pity that you have so little time to spend in Port Barton. You can have time to visit the Pamuayan Falls in the early morning before taking a minibus from Port Barton to Puerto Princesa Airport (the trip takes about 3 hours) and from Puerto Princesa on the last flight to Manila to make the most of the day. You can book tickets here.
Please have a great dinner in Manila in the lively Población area and drink on a beautiful 10-day trip to the Philippines on the terrace of the I'M Hotel.
Our advice, as always, is to try and be in Manila at least a day before your international flight leaves. If you have time in the capital, you can choose the route we offer on the Manila page in the section What to see in Manila in 1 day.
Recommended accommodation in Manila. Near the airport: Alicia Apartment.
If you wish, follow the link and find your options for resolving the issue of accommodation in Manila on the map.
Read about other great places in the Philippines