Sibuyan Island is not the last place among the most exotic holiday destinations. Of course, its popularity is less than the famous resort "hangouts,» but you can rest from civilization here, and nature is fantastic. After visiting this island, you will feel true solitude and relaxation from society.
Sibuyan Island is a crescent-shaped island in the Sibuyan Sea province of Romblon. Its area is 445 sq. km. Virgin forests cover 140 sq. km or 33% of the surface of Sibuyan. However, most low sea-level woods were cut down or planted again.
Never in the entire period of its geological history has it been associated with any part of the Philippine Archipelago. This explains the uniqueness and uniqueness of this island.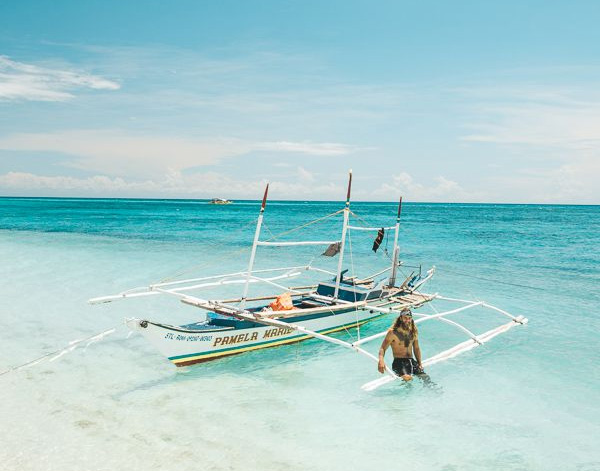 Print out all e-tickets in advance. It may turn out that only the printed version will be required from you, and there will not be a computer with a printer nearby at this moment.
From Romblon to Sibuyan by ferry   
From Romblon, only one shipping company sends ferries to the port of Ambulong in Sibuyan: Starlite Ferries. The ferries depart at 2:00 in the early morning every Tuesday, Thursday, and Saturday. Prices range around $7. In theory, everything should be like this, but practice shows that sometimes ferries leave a little earlier, sometimes they are late, and sometimes there is no ferry. It is best to find out at the port the day before departure and arrive at the port ahead of time. The trip takes about 2 hours.
From Roxas (Roxas – Panay Island) to Sibuyan by ferry   
You must get to the port in Culasi, where ferries go to Sibuyan Island (the ferry goes to Romblon, calling at Sibuyan, where you disembark). You can buy tickets online, and their price is $16.
Another alternative (for the desperate) is to take a Bangka (local boat) from Kulasi to Azagra or San Fernando in the port of Kulasi. The theory goes that they go out every day at 7:00, minus Monday and Saturday. The trip takes about 5 hours and costs about $6. 
From Manila to Sibuyan       or     +   
1. Directly from Batangas (Luzon Island): Starlite ferries operate on the Batangas – Roxas route, which passes through Sibuyan. They depart from Batangas on Monday, Wednesday, and Friday, departing at 16:00. Ticket prices start at $26. Here, you can book ferry tickets in advance.
| | | |
| --- | --- | --- |
| Transport Name | Route Time | Price |
| Starlite Ferries Reclining Seats | 16:00 - 04:00 | $28 |
| Starlite Ferries Tourist Bed Bunks | 21:00 - 05:00 | $32 |
2. Via Panay Island: you can take one of the flights from Manila to Roxas; from the airport, you need to get to the port in Culasi, from where ferries run to Sibuyan Island. Landing early in the morning in Roxas, you must catch the ferry departing at 13:00. Book your tickets in advance – tickets may not be available. And print out e-tickets at home. Ferry tickets can be purchased here.
From Cebu to Sibuyan          
If you come from the Cebu area and want to get to Sibuyan, you have two options:
1. Take 14h ferry journey with Trans Asia to Iloilo (Panay Island) by ferry from Cebu: Ferries depart Monday and Friday at 18:00. Prices range around $26. From there, go to Roxas by bus or minibus (2 hours), and then follow the instructions "how to get from Roxas to Sibuyan." Book your ferry tickets in advance here.
2. Take a flight from Cebu to Iloilo. Cebu Pacific Air and Philippine Airlines daily operate them. The trip takes about 50 minutes. The price starts from $14. From there – by bus or minibus to Roxas and from the port of Kulasi to Sibuyan – by ferry. Ferry tickets can be booked here.
| | | |
| --- | --- | --- |
| Transport Name | Route Time | Price |
| Cebu Pacific Economy | 05:00 - 06:05 | $31 |
| Philippine Airlines Economy | 05:00 - 05:55 | $42 |
| Philippine Airlines Economy | 06:00 - 07:25 | $71 |
| Cebu Pacific Economy | 08:55 - 10:00 | $31 |
| Philippine Airlines Economy | 11:15 - 12:10 | $42 |
| Philippine Airlines Economy | 13:00 - 14:20 | $71 |
| Cebu Pacific Economy | 15:30 - 16:30 | $31 |
| Cebu Pacific Economy | 16:20 - 17:20 | $31 |
| Philippine Airlines Economy | 17:15 - 18:10 | $42 |
| Trans Asia Tourist | 18:00 - 07:30 | $27 |
| Philippine Airlines Economy | 19:30 - 20:25 | $71 |
| Cebu Pacific Economy | 20:20 - 21:25 | $31 |
| Cebu Pacific Economy | 23:35 - 05:55 | $31 |
From Boracay to Sibuyan         
The easiest way is to get to Roxas by bus from Caticlan to Kalibo (2 hours, $1.8). From there, you will need to go to the port of Culasi (in Roxas) and, as described above, ferry to Sibuyan.
Another way is to transfer from your hotel in Boracay to Kalibo. It takes 2 hours 30 minutes. It contains taxi+ferry+bus and costs $16-23 per adult.
5 Things TO DO ON Sibuyan ISLAND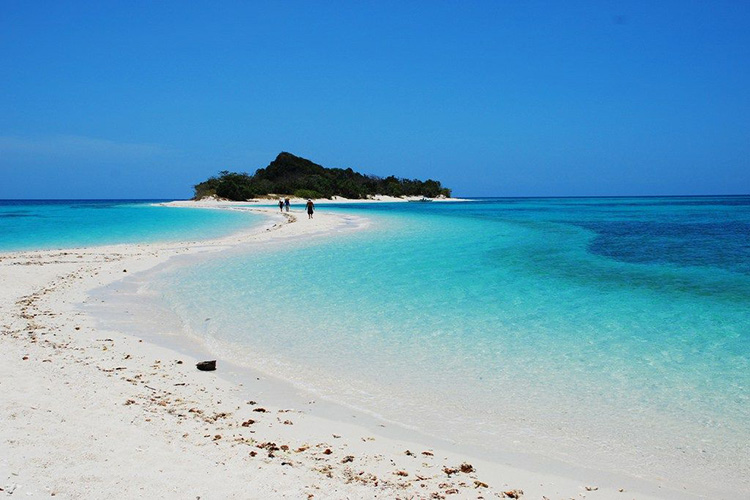 1. Go to the Cresta de Gallo
There can be nothing else at the top of your to-do list in Sibuyan. You can spend the whole day enjoying its white sandy tongues, turquoise water, and snorkeling. That seems to be the primary motive that should attract you to Sibuyan if you don't like hiking and rock climbing. Cresta de Gallo is an unexplored island that you can reach by boat from the Sibuyan skeleton in 45 minutes. The pride of the Cresta de Gallo is the dazzling white sand and vast coral reef, teeming with colorful, diverse underwater life, which makes it an ideal place for lovers of snorkeling and diving.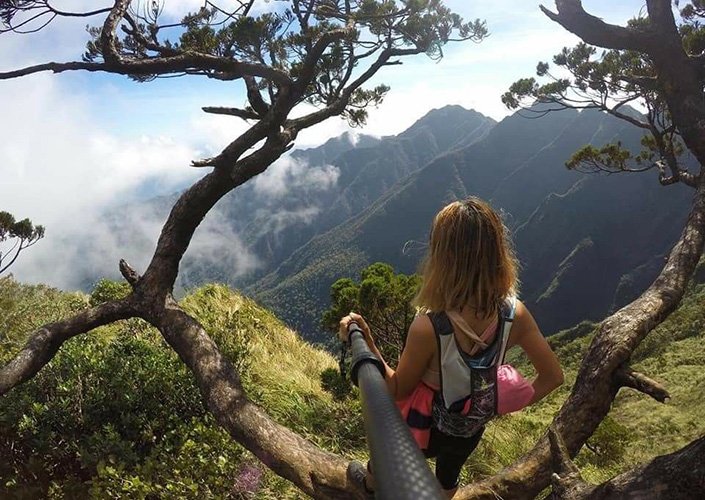 2. Hike Mount Guiting-Guiting
The climb of Mount Guiting-Guiting is one of the harshest in the Philippines, and it is said that it is here that Filipino climbers train who want to prepare for other peaks. The mountain is declared a natural park by the Philippines government; it is believed that the densest forest in the world grows on its steep slopes, and many unnamed species of plants and animals are still waiting for their Linnaeus.
The base is the city of Magdiwang, where you can spend the night at the famous Sanctuary Garden Resort, located a few steps from the DENR office, where you get permits. It is a must for climbing and costs 500 pesos per person.
If you are going to stay overnight, you will need, in addition to all the mountain equipment and food, to take a tent with you. At the DENR office, they can help you with this, as well as hire a guide, which is highly recommended.
Of course, among the forests of Sibuyan, you can also make more straightforward hikes. If you love birds or are interested in the biodiversity of the island, DENR will be able to give you more information and help you get a specialized guide.
In addition, an even tougher hike, the Olango Trail or Reverse Traverse, runs from San Fernando to Magdiwang. You will need at least two nights and three days to do this.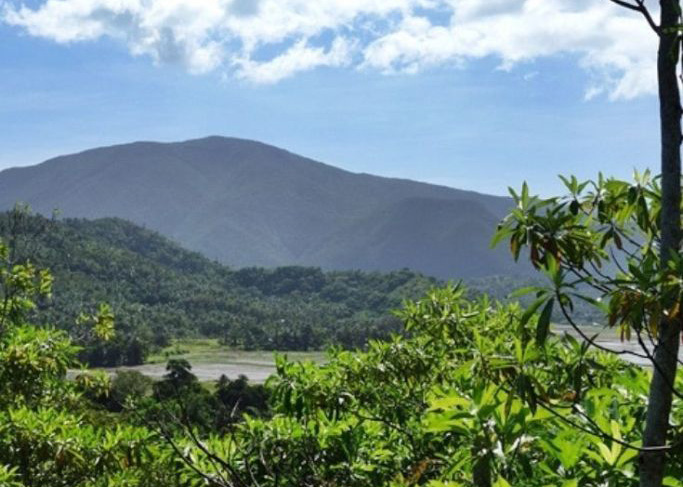 3. Take a dip in the Katinas River
The Katingas River is said to be the cleanest in the Philippines and provides 90% of Sibuyan's fresh water. The best way to see this and take some photos of the river with Mt. Guiting-Guiting in the background and drive just 10 minutes by motorcycle or tricycle from the village of San Fernando. Admission costs 50 pesos for foreigners.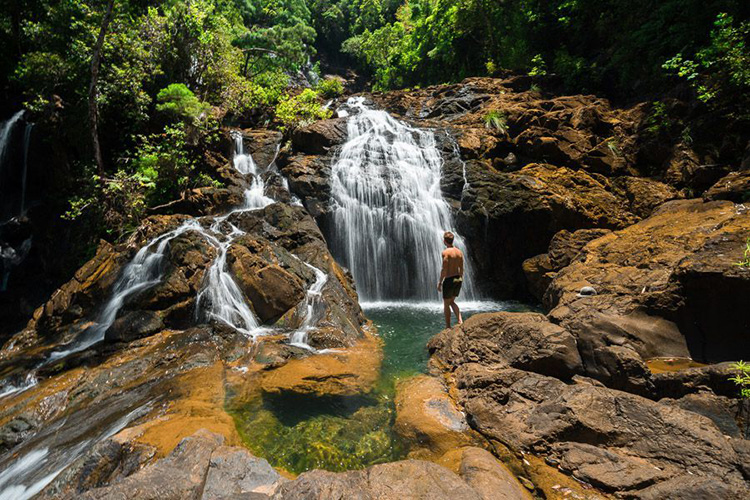 4. Explore Sibuyan Waterfalls
Due to its orography, Sibuyan has many waterfalls and rivers. We went to a couple of them. Here we leave you a list of waterfalls you can see in Sibuyan and refresh yourself with their fresh water.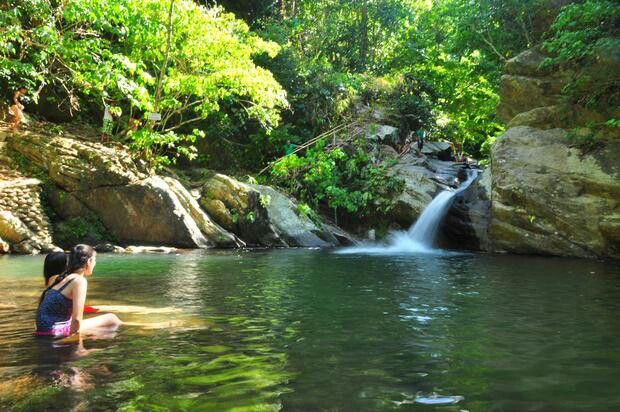 Bila-Bila Waterfalls on Sibuyan
Bila-Bila Waterfalls are easily accessible if you are staying in Cajidiocan; we liked these multi-level waterfalls where we have not seen anyone else. Although there are nine levels, the first four are the most accessible, and we do not risk going higher.
The road was sometimes somewhat confusing, but asking for some child we saw, we came. By the way, Bila-Bila means butterfly because this area is their sanctuary.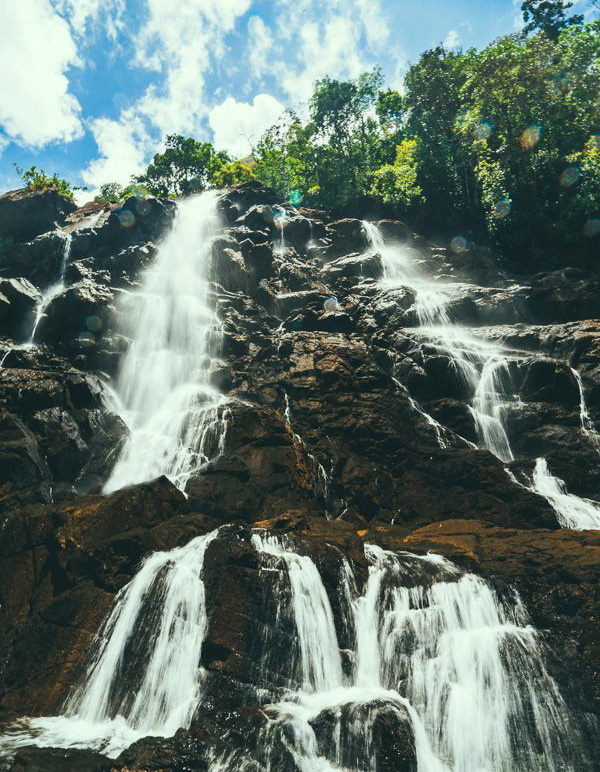 Cataja wateralls on Sibuyan
You can reach them from Magdiwang, and they are hard to find, so it is best to hire a guide by asking at the DENR office. It isn't easy to get to the hotspot, but then you need to go and climb. You will see a series of beautiful waterfalls and natural pools, the highest of which is 18 meters.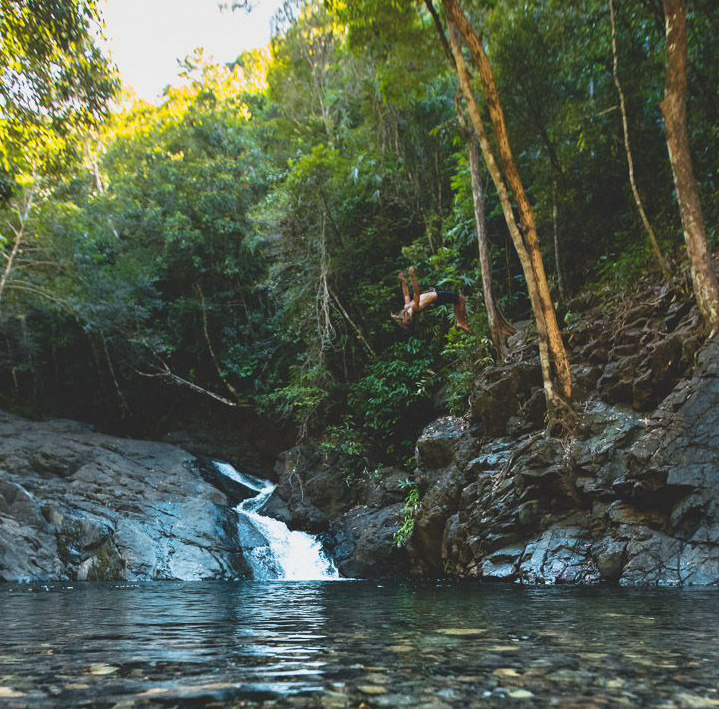 Lambingan Falls on Sibuyan
Lambingan Falls is also close to Magdiwang and much more accessible than the previous ones. You don't have to walk; you can reach them just 10-15 minutes from the village. They are not very tall, but they are ok with swimming. Admission costs 50 pesos.
Pavala River Natural Pool: Near Sanctuary Garden Resort are these natural pools on the Pavala River.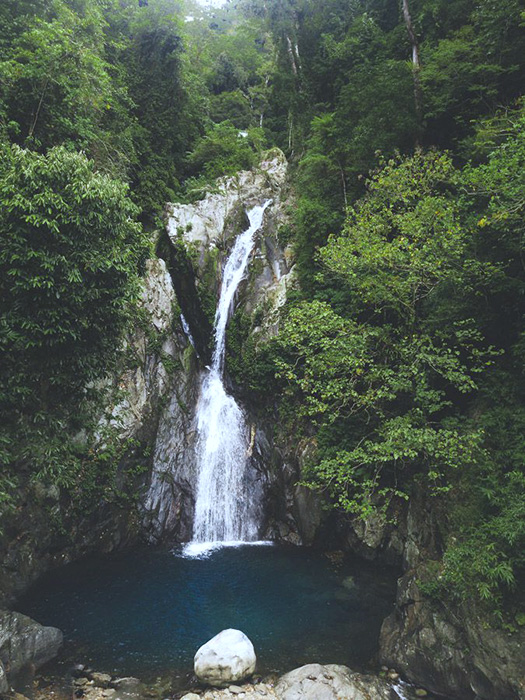 Busy Waterfalls on Sibuyan
These waterfalls are located near San Fernando, between this village and Espana, it will be convenient for you to get to them if you spend the night in San Fernando to go to Gallo Island, and they can be combined with a trip to the island in one day.
Busy Waterfall resides near the entrance bridge to San Fernando, where there is a detour. Most likely, you will not find it on your own and will get lost, ask the first person you meet for directions, and he will kindly guide you.
Although the waterfall is not very high, the truth is that the landscape around it is stunning, and if you do not come on a weekend, you will find this place surprisingly quiet.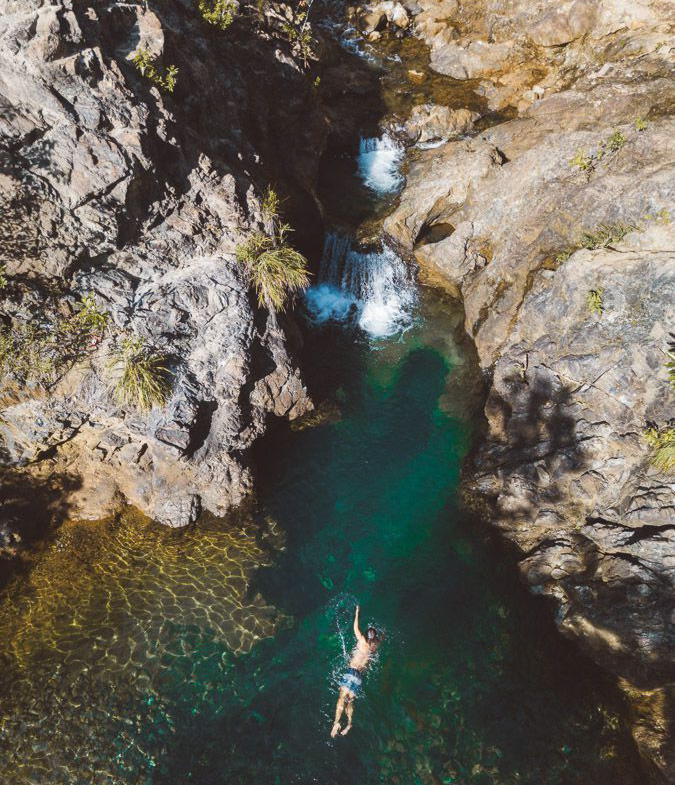 Dagubdub Waterfall near San Fernando
Dagubdub Waterfall also resides near San Fernando – you will have to walk about 15 minutes from the moment of parking the motorcycle. Like Bila-Vila, these waterfalls have several levels that you can climb.
SIBUYAN ISLAND HOTELS ON THE MAP
Read about other great places in the Philippines