If you're looking for a fun, relaxing, and beautiful place to visit, you've found it!
Siargao Island is famous for its excellent surfing. However, besides surfing, there is something to do and see on the island. You will not be left indifferent by the picturesque circular road with thousands of the most beautiful palm trees in the world, mangroves in Del Carmen, and neighboring islands: Daco Island, the famous Sugba Lagoon on Kangbangyo Island, and the impressive sandy tongue of Kawhagan Island.
Siargao has an excellent surfing community, but it also has plenty of other activities to keep you busy—like snorkeling in the waters surrounding Kawhagan Island. You won't be disappointed by either place!
Despite the distance from the capital, getting to the island is becoming more accessible. One important thing to consider is that Siargao Airport is relatively small. It has a very short runway. The terminal is also a small building in which there is not even a luggage belt. Because of this, cancellations and delays of flights to Siargao in bad weather are common.
Therefore, we advise you to consider this and lay additional days for the trip to the island. Booking is the key to finding cheap flights. If you already know your route, we recommend booking tickets as soon as possible – then you can find flights to Siargao for $76.
From Manila to Siargao   


Daily direct flights from Manila to Siargao are by low-cost airlines Skyjet and Cebu Pacific Air. The duration of the flight is about 2 hours. Booking tickets from Manila to Siargao.
| | | |
| --- | --- | --- |
| Transport Name | Route Time | Price |
| Philippine Airlines Economy | 04:10 - 16:30 | $105 |
| Cebu Pacific Economy | 05:25 - 07:45 | $125 |
| Philippine Airlines Economy | 07:40 - 09:50 | $160 |
| Philippine Airlines Economy | 08:35 - 10:35 | $124 |
| Philippine Airlines Economy | 09:10 - 11:10 | $158 |
| Philippine Airlines Economy | 11:50 - 08:00 | $200 |
| Philippine Airlines Economy | 13:00 - 15:00 | $124 |
| Cebu Pacific Economy | 13:00 - 15:25 | $125 |
| Philippine Airlines Economy | 14:15 - 16:15 | $127 |
| Philippine Airlines Economy | 19:25 - ? | $110 |
| Philippine Airlines Economy | 20:50 - ? | $105 |
| Philippine Airlines Economy | 23:00 - ? | $105 |
From Cebu to Siargao   

Cebu Pacific Air and Philippine Airlines offer several daily flights on the Cebu-Siargao route. The duration of such a flight is only 1 hour. Booking flights from Cebu to Siargao
Flights from Davao   

Philippines Airlines offers several flights per week on the Davao-Siargao route. This flight is an excellent option for getting to Siargao from the south of the Philippines or Malaysia. Booking flights from Davao to Siargao
Air Asia has direct flights to Davao from Malaysia. The flight from Davao to Siargao is about 1 hour and 15 minutes.
From Clark (Luzon) to Siargao   

You can reach Siargao by plane from Clark, an airport 80 km from Manila. Philippines Airlines offers flights on the Clark-Siargao route almost every day. Flights from Clark to Siargao take 2 hours and 20 minutes.
From Cebu to Siargao by ferry     
You can get on one of three ferries from Cebu to the nearest large port to Siargao in Surigao on Davao Island. It's a pretty comfortable and safe journey. Ferries depart from Cebu almost daily. On the way, you can even sleep because the ferries are equipped with sleeping places.
Starlite ferries have been heading from Cebu to Surigao daily at 21:00 and arrive at Siargao at 7:00 am. They have Reclining Seats with air conditioning and TV, $21. Economy Beds – without air conditioning, $23. Tourist Beds Bunks – with air conditioning and TV, $27. The price includes meals, a pillow, and bed linen. 
You can book a seat on the Starlite ferries here. We recommend booking tickets in advance on holidays such as Christmas and Easter. In the opposite direction, from Surigao to Cebu, Starlite ferries depart every day at 9:00 am and arrive at Cebu at 19:00. 
| | | |
| --- | --- | --- |
| Transport Name | Route Time | Price |
| Starlite Ferries Economy Bed | 09:00 - 19:00 | $21 |
| Starlite Ferries Reclining Seats | 21:00 - 07:00 | $22 |
From Surigao to Siargao   
There are different types of water transport plying between Surigao and Siargao. Their departure schedules change from time to time. 
Here you can book ferry tickets to Siargao.
The approximate departure time of ferries to Siargao: are 04:30, 05:00, 05:30, 06:00, 10:00, 11:00, and 13:00. But it is better to clarify in advance because the schedule often changes.
8 BEST THINGS TO DO ON SIARGAO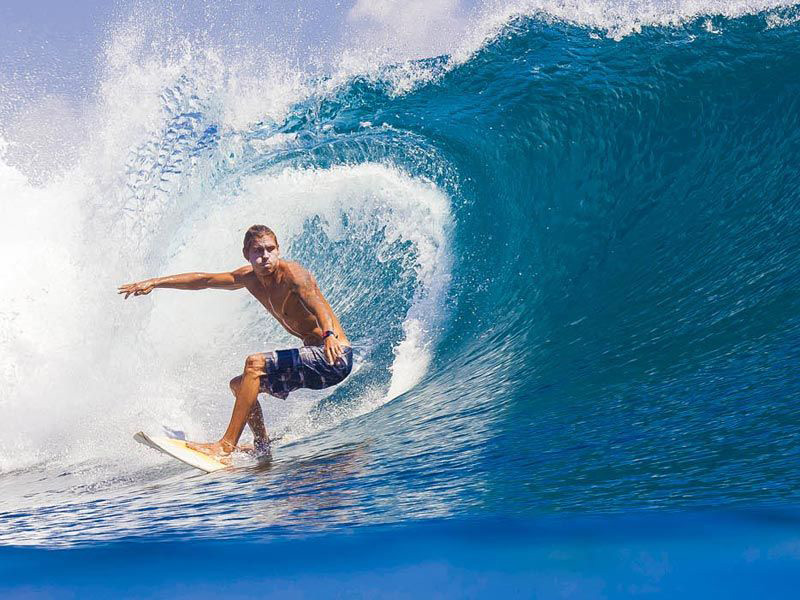 1. Enjoy surfing on Siargao
Siargao is an island where you can go for the best surfing in the Philippines. Prestigious surfing championships are held here every year. In addition to the most famous wave – Cloud 9 – there are many more places to practice, such as Quicksilver, Stimpy's, Rock Island, Daku Reef, Cemetery, Pacifico, or Secret Spot. If you are a beginner, don't worry. One of the best things to do in Siargao is to learn how to surf.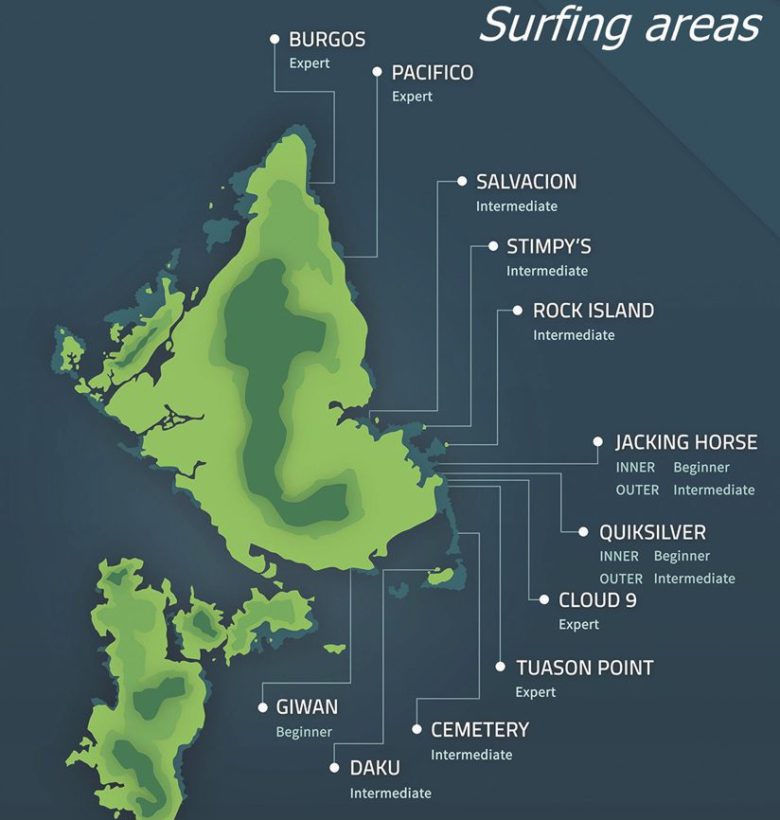 There are many surf schools on the island. The cost of training services in most of them is 500 pesos per hour, including board rental. You can just rent a surfboard; prices range from 200 pesos per hour. The rental cost will decrease significantly if you rent a board for a few days or weeks.
Surfing spots for beginners in Siargao: Jacking Horse, Tuason Point, Dako Island, or Secret Spot.
The best time to catch waves in Siargao is from September to November. On these dates, the best waves are in the Cloud 9, Pacifico, Burgos Bay, and Tuason Point zones. The best surfing spots in Stimpys and Pilar are from December to March. Although the waves are usually smaller from April to August, they can also surf at this time.
Some surf spots in Siargao

Cloud 9: Level - Expert. Cloud 9 is a world famous surf spot. Gorgeous right and left barrelling wave that breaks on a coral reef.
Cloud 9 can be reached easily and simply by walking 100 meters from the tower in Cloud 9 village.
The peak of the season falls on the end of August-end of November.
Also, during the summer months of June, July, early August, Cloud 9 is usually the only spot to surf in Siargao.
This is a world-class wave, so it's not surprising that it usually gets very crowded. To avoid the crowd, try to get there at dawn.
It is better to ride from medium water to high tide.
Definitely not suitable for beginners.
The best wind is southwest.
Tuason Point: Level - Expert. One of the best surf spots in Siargao, but not at all suitable for beginners.
A very powerful and dangerous wave that crashes on a shallow reef.
This is one of the best lefts on the island and could get bigger than Cloud9 during the season. However, it only starts to work with a swell of 3ft.
It is better to ride at high tide, because at low tide in some places it becomes very shallow and you can get injured from the reef.
The best wind is northwest and southwest.
Quiksilver: Level - Advanced. Located near Cloud 9, this wave is similar to Cloud 9 but is often smaller.
However, Quiksilver is a faster and more technically difficult wave than Cloud 9. It is usually a right wave, but sometimes a good left wave is also possible.
It is better to ride from medium water to high tide; at low tide it can be quite shallow here.
During off-peak swells/seasons the wave is good for training.
Because Quiksilver is near the Tower and Cloud 9 area (Quiksilver is right in front of the tower), and anyone can take their board and go there at any time, it is often very crowded there.
The best wind is southwest.
Pacifico: Level - Advanced. Famous for its double-topped left-handed barrels and big, crazy waves that break into the rocky reef.
However, in small swells, the Pacifico can be an pleasant, man-height wave with a long shoulder that you can ride without too much danger.
It's better to ride at high tide. To ensure that coastal winds allow you to enter, surf and exit without much danger, it makes sense to surf here during the peak season in September, October and November.
It's usually not crowded here.
The best wind is southwest.
Rock Island: Level - Upper intermediate. Magnificent long right wave near Rock Island. Perfectly barrelling and holds the swell up to two heights.
Works best without wind from low tide to mid water.
Recommended for experienced surfers who dream of fast, tricky and punchy right.
The surf season is all year round except June, July and August.
Not suitable for beginners. There are usually few surfers here - if the swell is really big, there aren't too many crazy people to surf here.
You can get there by boat from the village of Cloud 9 or at the pier at the end of the paved road behind Cloud 9.
Stimpy's: Level - Upper intermediate. First-class left, which runs along a small island.
Excellent barrells. Holds a large swell. Works well from low tide to mid water. Catch the wave is quite easy, and take off occurs at medium speed.
You must hire a boat to get to Stimpy. You can find a boat with a skipper for rent in the village of Cloud 9, and in 15 minutes you will be there.
Stimpy's is quite a popular place, so if there aren't many people here, then you're in luck.
The best wind is northwest.
Cemetery: Level - Intermediate. A very long and good left (but sometimes right) wave that twists into barrells in offshore winds.
The best time to surf here is at low tide.
Wave shoulder can be suitable even for beginners.
Cemetery is about a 15 minute walk or paddle from Pagoda Beach Bar (close to General Luna town), or about a 3 minute boat ride at high tide by taking a boat from the market/boulevard in General Luna.
Usually there are not many people.
Surf season is from spring to autumn.
The best wind is southwest.
Daku Island: Level - Beginner/Intermediate. A nice and soft wave that breaks in front of Dako Island on a deep reef.
It is quite suitable for beginners with little experience in surfboarding and can paddle and catch a wave on their own, or for beginners to be taught by an instructor.
However, in winter the wave can become quite large.
It is desirable to ride from medium water to high tide and from high tide to medium water.
The best wind is south.
The number of surfers here, under good conditions, is above average.
You hire a boat around the General Luna boardwalk to get here. The trip takes about 15 minutes and the skipper will be waiting for you while you surf and take you back.
Jacking Horse: Level - Beginner. It's quite a popular spot near Cloud 9.
Here, the right wave rises very quickly and then brakes into a shallow reef, and immediately, rises again, creating a wave with a soft take-off for beginners.
The best time to surf is from mid water to high tide.
The best wind is southwest.
Be aware that there is a strong current running sideways through the break.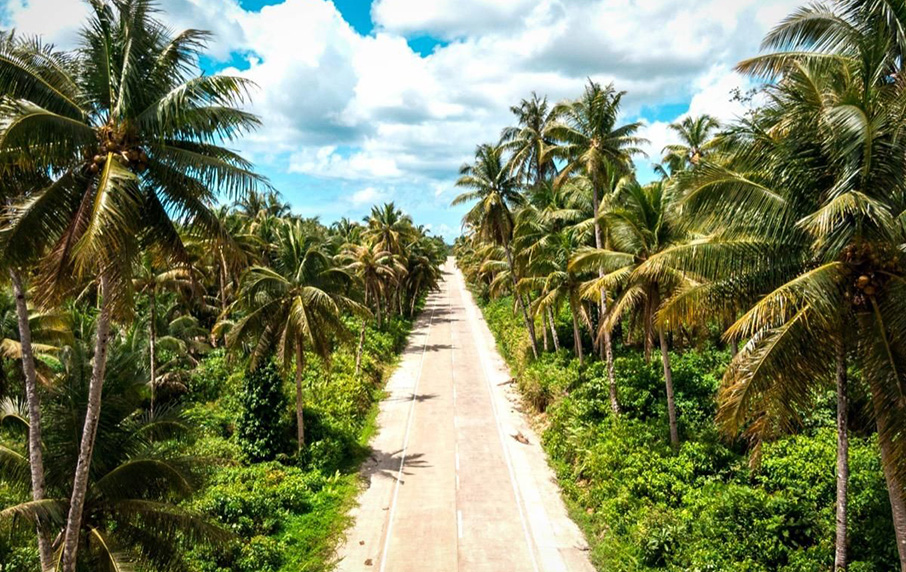 2. Travel on the Siargao roads
You may love this island by driving along its coastal road, where palm groves, mangroves, rivers, beaches, natural pools (Magpupungko Rock Pools), and waterfalls await you. In Siargao, you can rent a motorcycle or motorbike for 350 pesos daily.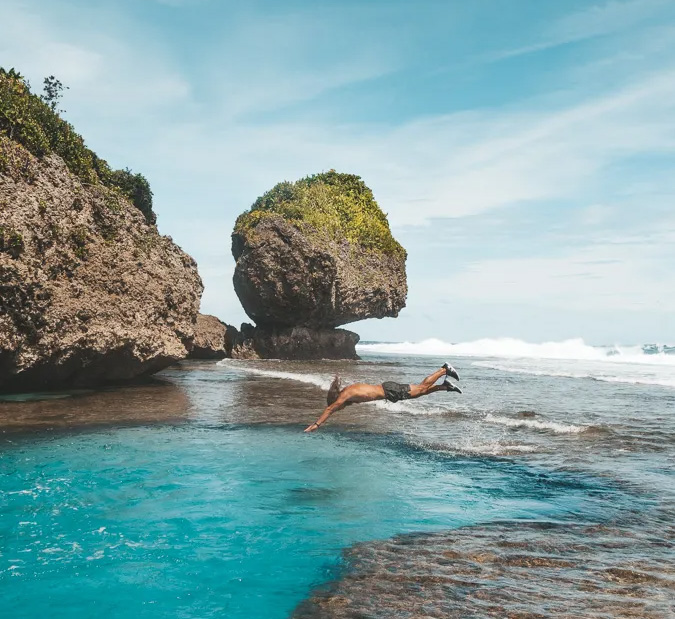 3. Discover Magpupungko Rock pools on Siargao
One of the most popular excursions in Siargao is the natural pools of Magpupungko. They are visited at low tide. Therefore, do not forget to check the tide table to avoid arriving there at the wrong time. You will not be able to get to the pools if the water level is too high. There is a beach nearby, which is also worth a visit.
In Magpupungko, you will find several eateries, a restaurant, and coconut sellers. The pool entrance costs 50 pesos, plus you will have to pay an additional 50 pesos for parking a motorcycle.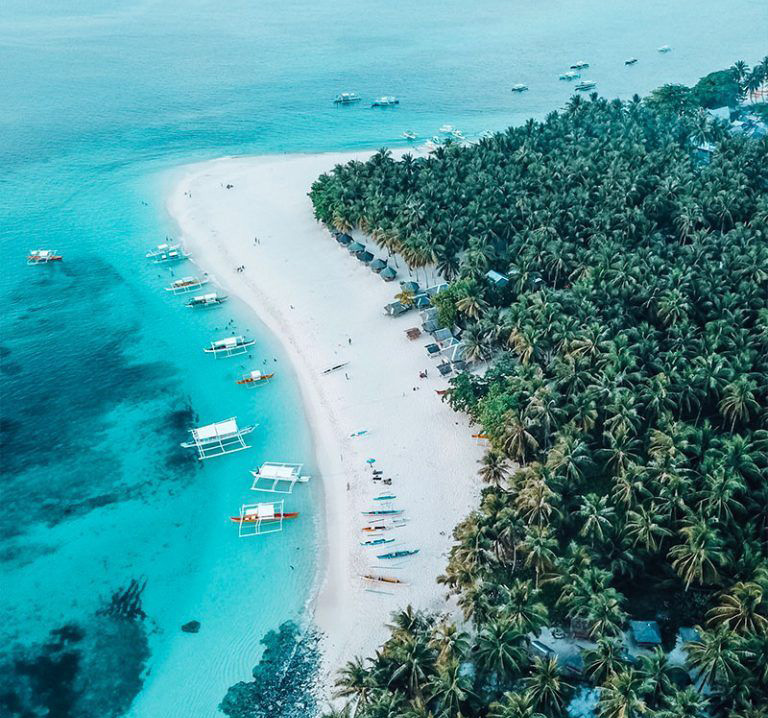 4. Relax on Siargao Beaches
Let's face it, Siargao cannot boast of the best beaches in the Philippines, but some are very good, especially those you will have to get to by boat. However, in any case, you will be able to enjoy Alegria Beach, the beaches of the Pacifico area, as well as those in the Malinao area, not far from the Sandy Feet Hotel. Their palm trees by the sea are unforgettable.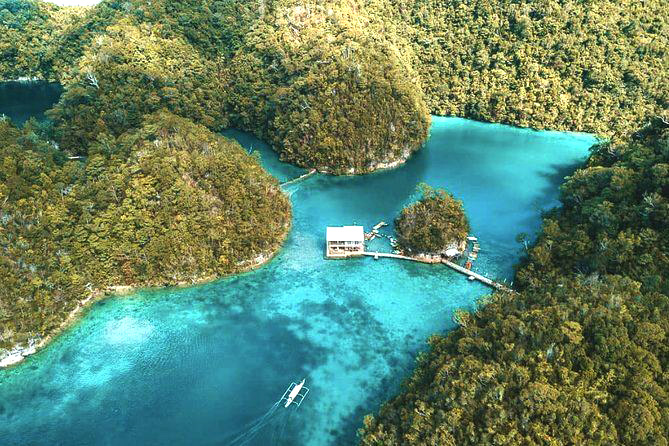 5. Explore Sugba Lagoon on Kangbangyo Island and Kawhagan Island
The turquoise waters of the Sugba lagoon, protected by colossal limestone stone walls, will amaze you. And when you get to Kawhagan Island, you will be delighted! A turquoise sea surrounds a massive tongue of white sand on this island. Here you can spend several hours swimming, playing volleyball, and enjoying the shade of palm trees.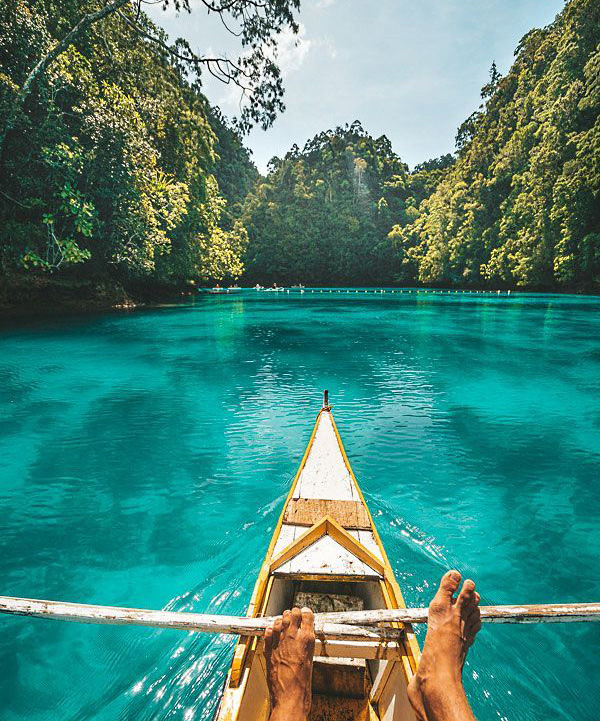 6. Enjoy Sohoton Cove on Socorro island
Sohoton Bay is a set of beautiful lagoons and caves surrounded by limestone cliffs that make up a landscape like El Nido or Del Carmen.
The tour to the island includes stops such as Tiktikan Lake, Blue Lagoon, Crystal and Bolitas Cave, Magkukuob Cave, and Granule Cave.
Tojoman Lagoon is home to the famous non-venomous jellyfish (Papuas Mastigas). Keep in mind that they are not always there. Jellyfish usually appear from March to June. Their population has significantly decreased, and therefore, in order not to cause them any harm, swimming with them is not allowed.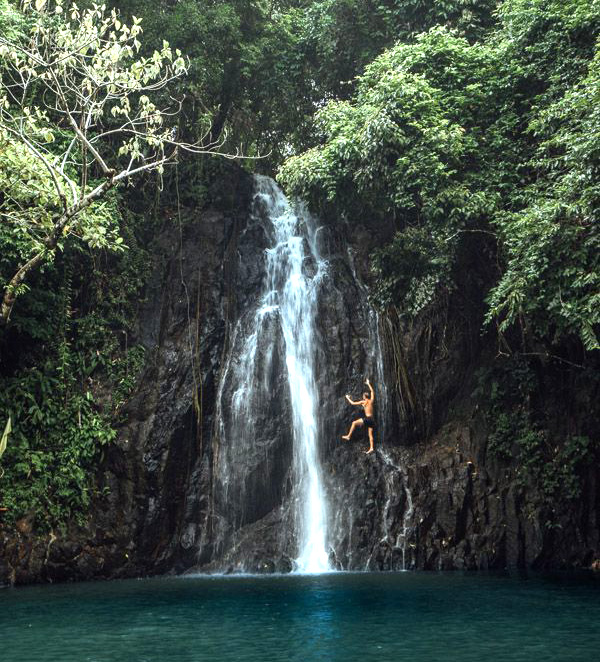 7. Visit Taktak Falls on Siargao
Take a tour that will take you to the east coast of Siargao Island to the Taktak Waterfall. Waterfalls are stunning and are an excellent place to communicate with nature.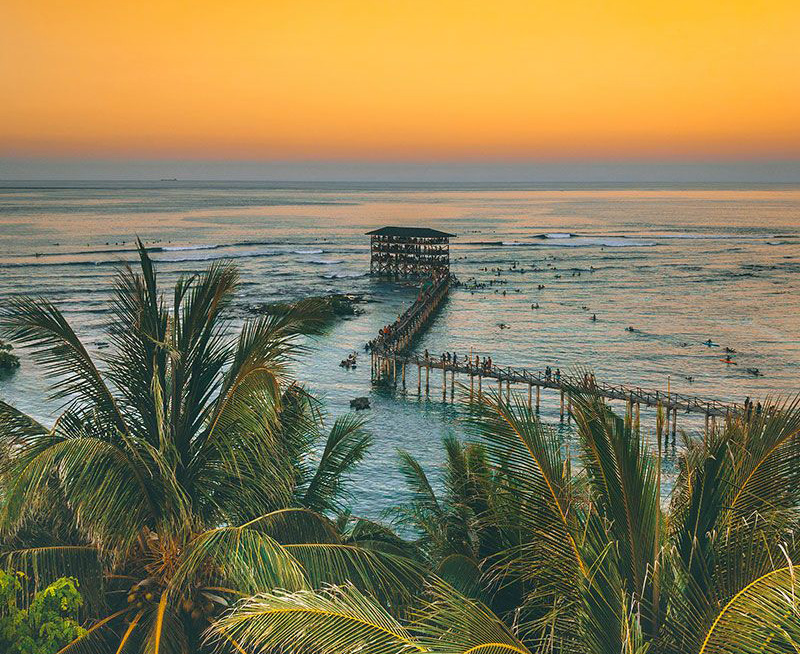 8. Enjoy night atmosphere of Siargao
While most Filipino towns or villages shut down around 9 or 10 p.m., this doesn't happen in Siargao! Almost every evening you will find a bar where you can drink and dance. So, include this island in your itinerary in the Philippines if you appreciate the nightlife.
Here you can choose the most conveniently located hotel and book your accommodation in advance:
Keep in mind that there are no ATMs on the island and in most restaurants you will not be able to pay with a credit card. It is best to get a peso in advance in Manila or Cebu before arriving in Siargao.
Read about other great places in the Philippines