Moalboal is a small town on the southwestern side of Cebu Island, located 89 kilometers from Cebu City, about two and a half hours away by public bus. Tourists know it as an entry point to Panagsama Beach, where most resorts, restaurants, bars, and diving schools reside.
Stretching out as a peninsula at the southwestern tip of Cebu, Moalboal is bordered on the West by the Tanyon Strait, and Negros Island is visible from the western coastline.
Moalboal has a fascinating history: it was once a royal settlement for about 100 years before becoming a popular tourist spot during the 1970s. The town's name comes from its original inhabitants: Moalboos (or Moolbos).
Today, Moalboal is home to many resorts and villas built in different styles, modern or traditional. You can also find businesses that cater to divers and snorkelers, such as dive shops and hotels.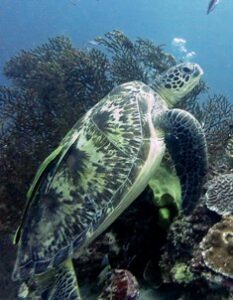 Snorkeling in Moalboal
Enter the water in front of the Saavedra Diving School, and you will encounter a massive shoal of sardines. A rare snorkeler will not see a giant turtle and, if lucky, a whale shark. This place is one of the best snorkeling spots in the Philippines.
Diving in Moalboal
Moalboal is one of the best diving spots in the Philippines. You can dive on House Reef to see a massive shoal of sardines below, but other exciting places like Tongo Point, White Beach, or Umbrella Point exist. On average, the prices for diving are 1500 pesos per dive.
The most popular places for snorkeling and diving sites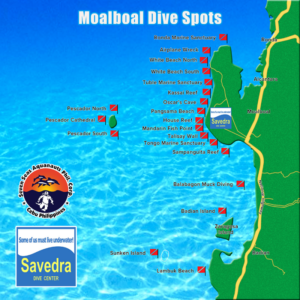 : 
Fisherman's Island (Pescador Island) – this tiny island, about 20 minutes by boat from Moalboal, is a chic place for snorkeling and diving. Here are some of the best diving sites in the Philippines
Sunken Island
Kasai
Plane Wreck
Tongo and Sampaguita
Marine reserves in Basdiot and Saavedra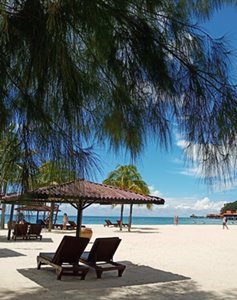 Beaches in Moalboal
Although Pagnasama Beach, where most of the Moalboal hotels reside, is mediocre (most of the beach was washed away by a typhoon in 1984), bat you will like White Beach: a great white sandy beach with emerald water and 30 meters from the shore you will find a coral reef rich in colorful inhabitants. Here, on the beach, you can also have lunch in restaurants located along the coast. Try to visit him from Monday to Friday when it's quieter. If you have more time, don't miss Lambug Beach, located about 20 km south, towards Badian. You can get to it by tricycle.
Kawasan Waterfall
These crystal streams and bowls of intensely turquoise water are one of the most famous attractions in the Philippines. The waterfall is a three-stage cascade of waterfalls located in the rainforest, about 20 km south of Moalboal. You can safely plunge into the emerald water or enjoy canyoneering. More waterfalls in the Badian area/Samboan: Inambakan, Dao, Kambai, Montpellier, Binalayan, and Aginid.
Orchid Gallery in Moalboal
If you want to find a place in Moalboal where orchids are bred, in the middle of a wild, picturesque landscape, turn off the national highway near the Petron gas station. Follow the 200 meters road, and you will find an Orchid Gallery. Here you can admire orchids and other plants and buy flowers. The entrance fee is symbolic.
Osmena Peak
From Moalboal, you can also take a tour to Cebu to travel around the mountains of Cebu.
There are no airports or ports in Moalboal. The nearest airport is Mactan International Airport. The easiest way to get to Moalboal is from Cebu City. The road is in good condition, and the total distance is approximately 80 km. To get from Cebu to Moalboal, you must go to the South Bus Terminal, where buses from Cebu to Moalboal leave. If you are at Mactan Airport, take one of the white taxis to the South Bus Terminal bus station (from $15), give or take 30 minutes, depending on traffic). Buses from Cebu to Moalboal depart from the Southern Bus Terminal (it will cost about $4). In addition, you can book a taxi + minibus transfer (single ticket) from anywhere in Cebu, where you will need to be picked up – to Moalboal (about $80).
Sometimes it is much more effective to choose a place of residence using a map, selecting the most conveniently located hotel on the map.