Bohol Island is a world-class resort region that offers a luxurious experience to its visitors. It's a recognized destination for those who want to enjoy the best of both worlds – relaxation, and adventure.
You can explore the island's unique landscapes, white sandy beaches, and calm crystal blue waters.
Bohol Island is also one of the best places for diving enthusiasts, with many options for excellent diving.
The island is located southeast of Cebu Island and separated by a strait. The weather in Bohol is primarily humid throughout the year.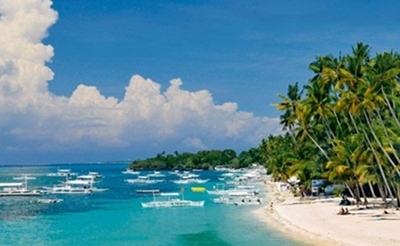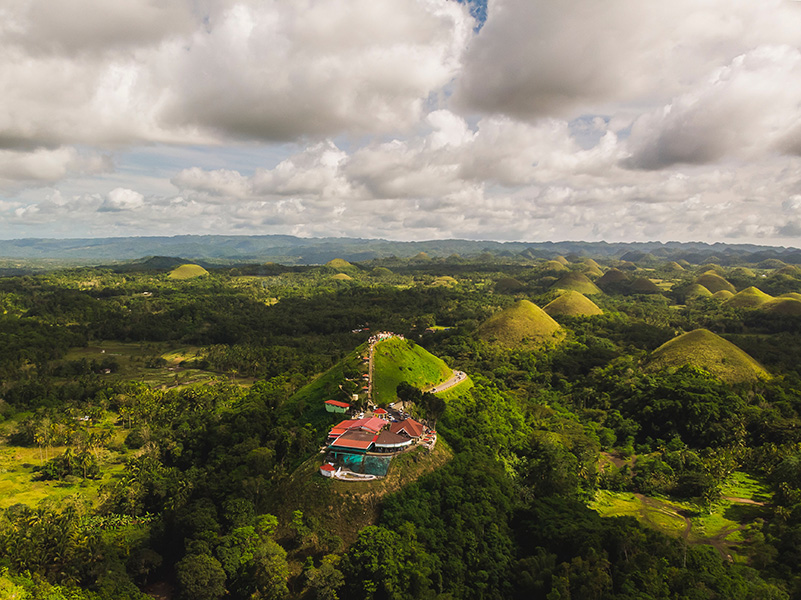 Manila to Bohol by airplane   
From Manila (Ninoy Aquino International Airport, MNL), Bohol can be reached by regular airlines, Asian airlines, Cebu Pacific Airlines, and Philippine Airlines. Planes land at Bohol-Panglao International Airport (Tagbilaran, TAG), located on Panglao island. A one-way flight costs, on average, $45 – $76. Here you can choose the most economical and convenient option and book tickets.
| | | |
| --- | --- | --- |
| Transport Name | Route Time | Price |
| Philippines AirAsia Economy | 04:30 - 06:00 | $76 |
| Cebu Pacific Economy | 04:50 - 06:35 | $56 |
| Philippine Airlines Economy | 06:00 - 07:40 | $65 |
| Philippine Airlines Economy | 09:10 - 10:40 | $52 |
| 2GO ferry Super Value Class | 09:30 - 11:30 | $28 |
| Philippines AirAsia Economy | 11:30 - 13:05 | $51 |
| 2GO Tourist Class | 11:59 - 18:00 | $36 |
| 2GO Cabin for 4 | 12:30 - 00:30 | $82 |
| Cebu Pacific Economy | 13:15 - 14:55 | $56 |
| Philippine Airlines Economy | 15:05 - 16:40 | $50 |
| Philippines AirAsia Economy | 17:25 - 18:55 | $43 |
| Cebu Pacific Economy | 18:05 - 19:35 | $51 |
| Cebu Pacific Economy | 21:30 - 23:05 | $45 |
From Cebu to Bohol by ferry   
The best way to get from Cebu Island to Bohol is by ferry. The distance to the port of Tagbilaran is covered by high-speed ferries in about 1.5 hours; a ticket costs $10 – $25. There are more budget options, but the trip duration will increase to 4-5 hours.
If you are staying in the north of Cebu, it makes sense to find out about ferries to Talibon and Tubigon marinas so that it will be even faster and cheaper. Tickets can be booked online through the popular Asian service 12GO.ASIA.
| | | |
| --- | --- | --- |
| Transport Name | Route Time | Price |
| Lite Shipping Tourist Sitting | 01:00 - 03:00 | $9 |
| Philippine Airlines Economy | 05:30 - 12:05 | $209 |
| Philippine Airlines Economy | 06:15 - 15:40 | $256 |
| Oceanjet Business Class | 08:15 - 09:30 | $17 |
| Oceanjet Tourist Class | 11:45 - 13:00 | $11 |
| Lite Shipping Economy A | 13:00 - 15:00 | $8 |
| Oceanjet Tourist Class | 14:00 - 16:00 | $18 |
| Oceanjet Open-Air | 17:40 - 19:30 | $18 |
| Lite Shipping Tourist Sitting | 19:00 - 21:00 | $9 |
| FastCat Premium Economy | 20:00 - 21:30 | $9 |
| Lite Shipping Standard A | 22:00 - 02:00 | $9 |
7 THINGS TO DO ON BOHOL ISLAND
1. Travel around the city
The center of Bohol will surprise you with various activities: a walking route among palm trees and a cruise on the Loboc River, with live music and a free buffet, the famous 500-meter zipline track at an altitude of more than 115 meters, and Bilar Man-Made Forest.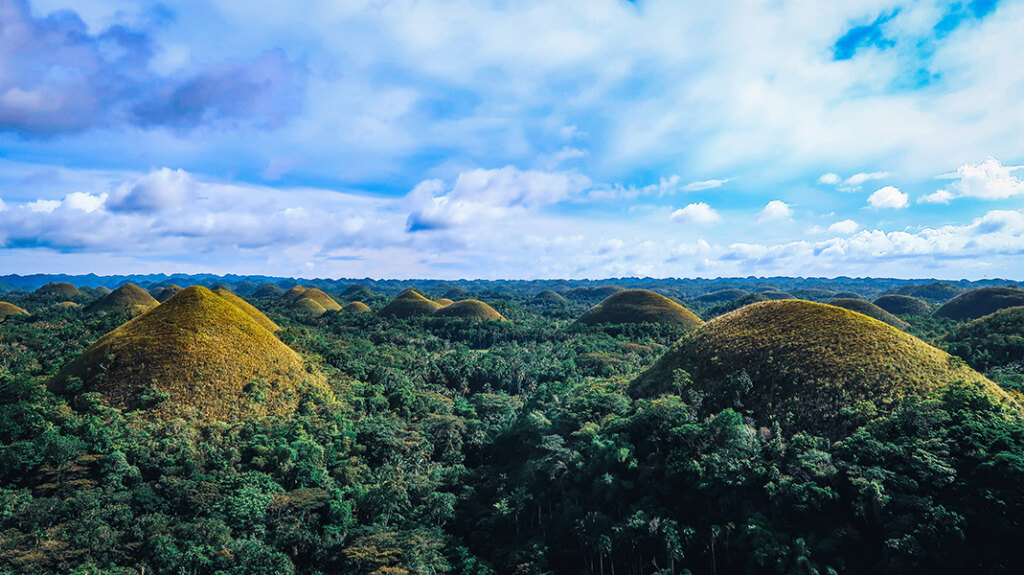 2. Look at Chocolate hills on Bohol
These bizarre rock formations in the dry season look like giant chocolates.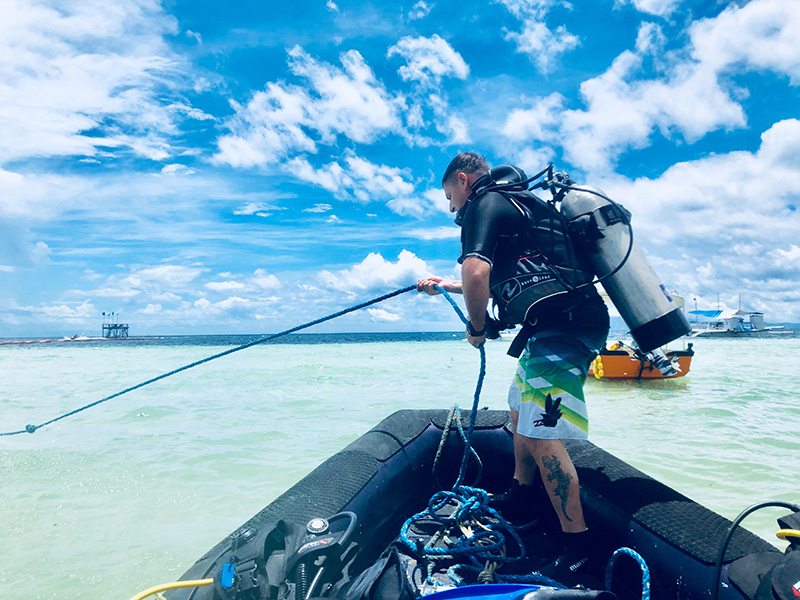 3. Enjoy diving and snorkeling on Balikasag
The best places for diving or snorkeling in the Philippines always include Balicasag Island. This diving spot attracts lovers of marine life from all over the world, not only because of the large number of fish of all colors that live there but also an incredible forest of black corals and a vast number of turtles.
The underwater plateau surrounding the island has a depth of 5 to 17 meters and then descends to a much greater depth. That is why it is an excellent place for less experienced divers.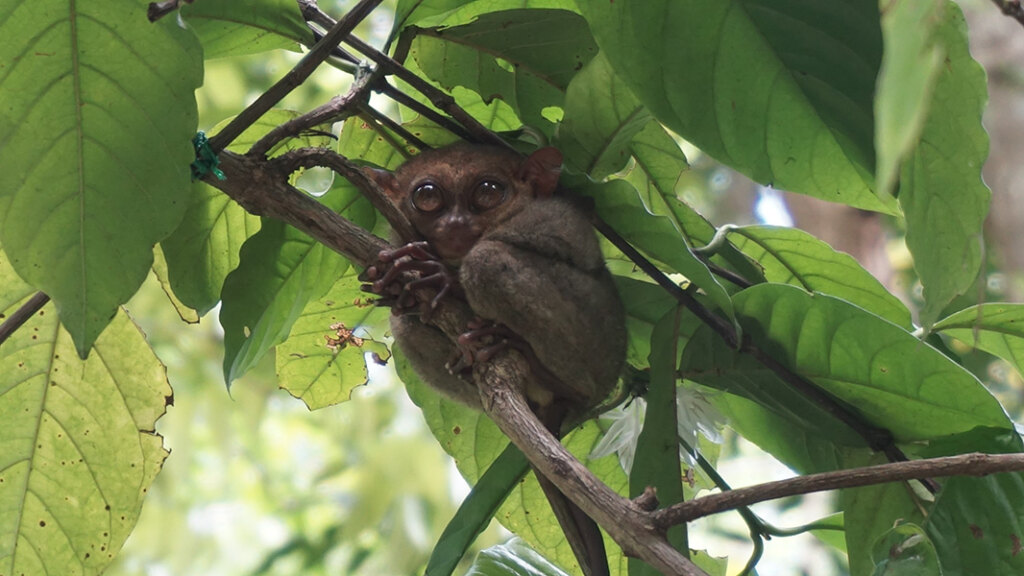 4. Watch Philippine Tarsiers on Bohol
Philippine Tarsiers look like mini monkeys the size of a human palm with a long tail. They are called tarsiers because of the elongated bones of the legs and fingers on all limbs. During the day, tarsiers mostly sleep. Philippine Tarsiers are most active at night.
They have huge eyes – the size of their eyes about whole body is disproportionately 150 times larger than human eyes; in addition, Philippine Tarsiers glow in the dark. These tiny animals can turn their head 180 degrees. They can jump up to a distance of 5 meters.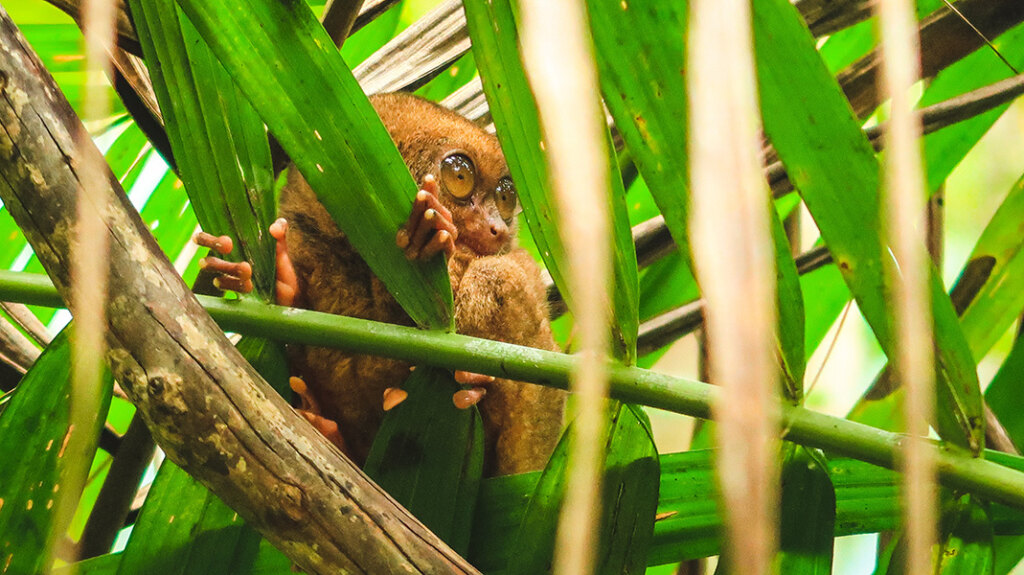 How to get to Philippine Tarsiers?
In Tagbilaran, find the bus station next to Island City Mall, and take a bus or jeepney to Sikatuna, passing through Corella. Tell them you need a Philippine Tarsier Sanctuary; the driver will understand and drop you off where you need to. The entrance to the reserve costs 60 pesos per person.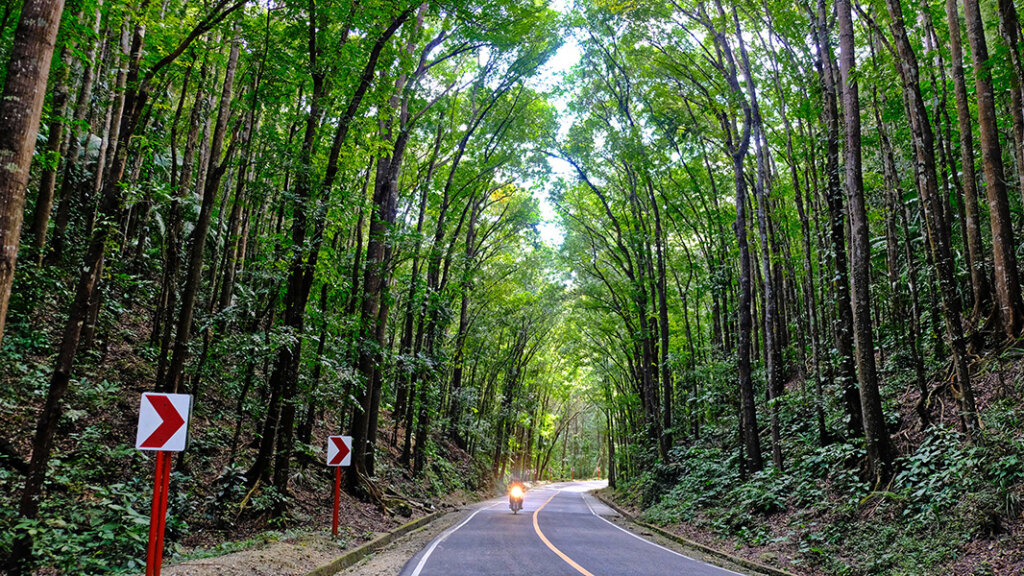 5. Explore the Anda region in Bohol
In Anda, you will find more beautiful beaches than in Panglao, with much fewer people; huge waterfalls, such as Canumantad Falls; beautiful rice terraces where you can just get lost; caves and cenotes where you can swim.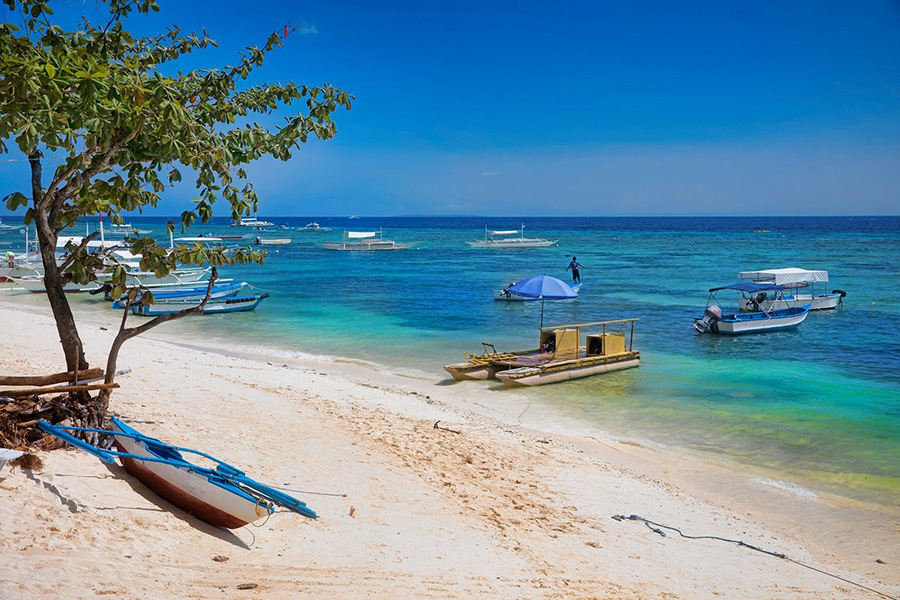 6. Visit Panglao Island, Bohol's younger brother
Panglao Island is located near the island of Bohol, opposite the city of Tagbilaran, and connected to Bohol by dams and highways. Here are some of the things you can do on Panglao:
You can take an excursion introducing you to the sandy tongue of Virgin Island or the beach of Balicasag Island.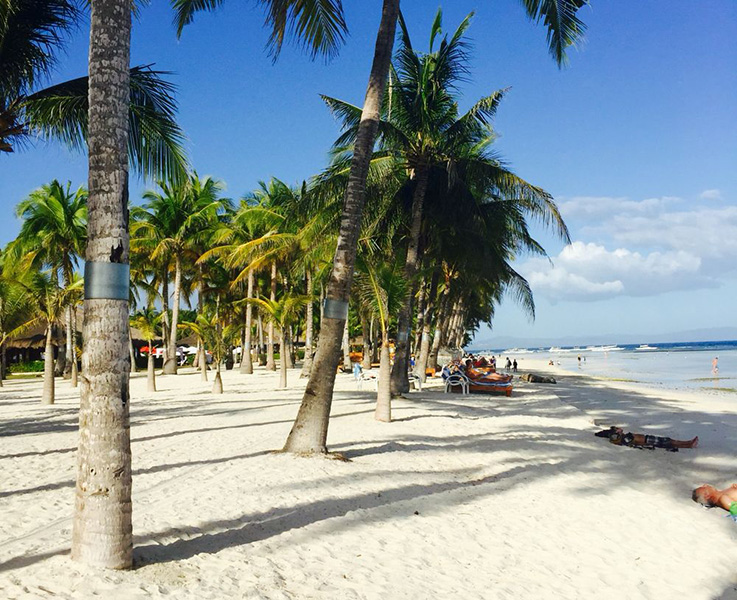 7. Discover beaches in Panglao Bohol
Panglao's beaches are some of the best in the Philippines. We've got a few recommendations for you to check out!
First, Doljo Beach is one of the most beautiful beaches in Panglao. You can enjoy a beautiful sunset there and then stroll along the beach after dark to see all the lights come on.
Dumaluan Beach is so long that you'll walk for several kilometers before you reach the end—and you won't get tired because of all those fantastic views!
San Isidro has a small bay where you can relax away from the hustle and bustle.
Alona Beach is the nerve center of Panglao, and it unites the vast majority of diving schools, hotels, bars, and restaurants. This beach is your place if you are looking for constant "movement" and fuss.
Here you can choose the most conveniently located hotel in Bohol during your visit to the island and book your accommodation in advance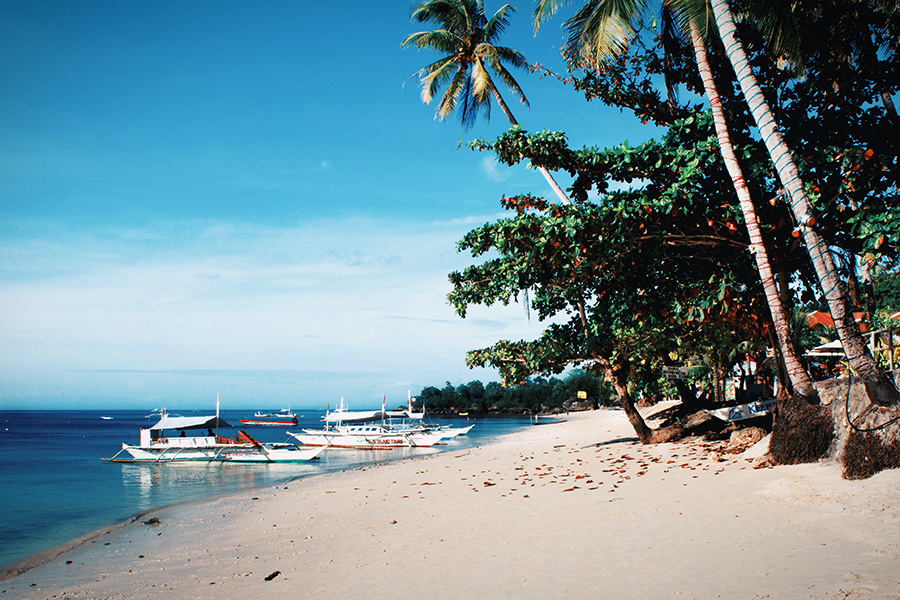 How many days does it take to go to Bohol?
Every area of Bohol (Panglao, Loboc, and Anda) deserves at least two days to explore its corners peacefully. The classic route in Panglao: one day to the Central district, another to Balikasag Island, and the third to explore the beaches of Panglao.
The best time to visit Bohol
November – May. Please note that the number of visitors has increased. Check tickets in advance if you travel for Christmas, Easter, or Chinese New Year. It is necessary to book accommodation and transport in advance.
Health
Bohol Island offers a variety of adventures, and therefore it is important to always travel with good traveler's insurance.
Responsible tourism in Bohol
Please do not touch turtles, starfish, and other animals under any circumstances!
Electronic tickets
You must print all electronic tickets in advance – on the spot; it may turn out they will require a paper version.
Read about other great places in the Philippines