Kawasan Falls is one of the most beautiful waterfalls in the Philippines. Its height, the color of the water, and the lush vegetation surrounding it have made it the most famous waterfall in the country. Whether it tours from Moalboal or tours that start in Cebu, many travelers mark this place on the map as a travel destination, and many others leave rave reviews about it on travel sites. Maybe you decide to add some adrenaline and experience the canyoning experience at Kawasan Falls, one of Cebu's most coveted tours.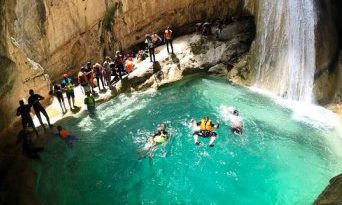 Your canyoning guide will provide you with equipment: a helmet and a life jacket, both mandatory for the tour, and at the Badian base, where most of the agencies have grounds, you will have the opportunity to leave valuables that you do not want to wear during the tour in the locker Take a waterproof GoPro camera with you and a waterproof bag that can hold a wallet full of money, a mobile phone in a water case, a bottle of water, and a towel to protect them from splashes.
Two massive vertical stone walls full of greenery, sunbeams streaming through the branches, and impressive turquoise water that will make you gasp await you. This is where the tour will start, which will last about 4 hours and take you successively to different places in the river where you can jump or swim. There will be seven medium-sized jumps waiting for you, but there will also be places where, for example, you will slide and slide, like on a water park slide. The last jump in the canyon at Kawasan Falls will be the wildest: 12 meters high and jump into the waters, which, unlike the previous one, do not see the bottom. Trust the guides; they will point you to where you can safely fall.
Kawasan Falls, the endpoint of this tour in Cebu, will delight you with a combination of a vast waterfall, rocky walls, and turquoise water of stunning beauty. Unfortunately, this idyll is broken by many restaurants, accommodations, and hundreds of tourists on the shore.
Kawasan Falls is about one and a half kilometers from the main road, and access is only allowed on foot. You will have to walk a quarter of an hour to complete the tour officially.
Tips for Canyoning at Kawasan Falls, Cebu
Wear suitable footwear. You will be in and out of the water, wet feet clambering over slippery rocks. Beach flip-flops are not ideal for this. You can rent it locally, but it will cost you 100 pesos.
Before canyoning, ensure your helmet and vest are in perfect condition. Fasten it, stretch it, and imitate some sharp movement.
If you have a padlock, you can use it to close your locker.
Although canyoning in Cebu can be done all year round, the time when the waterfalls are at their most beautiful is during the months with the highest rainfall. That is, from June to September, when the river has the highest level, and, therefore, jumping is more convenient.
Canyoning at Kawasan Falls, as beautiful and fun as it is, is a risky sport. It would help if you had travel insurance covering the risks of active sports.
Don't go canyoning in Cebu on your own. For two reasons. First, it's completely illegal. Second, it's dangerous. The last thing that can happen to you is to get lost. The guide is your ideal ally who knows where and how to jump without the risk of injury.
Take only the essentials: a waterproof GoPro camera, a waterproof bag of water and money to pay for food, and a waterproof cell phone case.