Camiguin Island, whose circumference is approximately sixty-five kilometers, is of volcanic origin and consists of four young strato-volcanoes lying above older volcanic structures. The last eruption was in 1953 (Hibok-Hibok volcano), which is still active. Other large volcanic formations: Mount Volcano, 671 meters – northwest of Hibok–Hibok. Mambahao, 1552 meters – in the central part of the island. Ginsiliban, 581 meters – in the southern part of the island, and Ubai – north of Mount Ginsiliban.
This typical tropical paradise, of course, impresses with its beauty, cleanliness, and white beaches of neighboring islets. Compared to other islands in the Philippines, Camiguin Island is very clean – even foliage is removed daily along the roads (the city of Mambahao, the administrative center of the island, is somewhat littered).
Suppose you are looking for the perfect tropical refuge in the middle of the vast expanses of the sea, far from the popular tourist destinations in the Philippines. In that case, Camiguin Island will not disappoint you. 
WHAT TO DO ON Camiguin ISLAND
Snorkeling and diving on Camiguin island
Several nature reserves are waiting for you to let you enjoy snorkeling; plunge into this endless aquarium with clear warm water and rich flora and fauna. In addition, Camiguin is one of the best diving spots in the Philippines.
Hiking on Camiguin island
Perhaps the most desperate walk is to climb Mount Hibok–Hibok, where you can see the volcano's caldera. There are other, more straightforward walking routes.
Island hopping from Camiguin island
Due to its volcanic origin, the sand on the beaches of this island is dark. But nothing prevents you from taking photos of beaches with white sand; you need to make a jump (a short trip on a local boat) to two neighboring islands: Mantiga and White Beach. And do not forget about snorkeling gear.
Hot springs and natural pools on Camiguin island
Hot springs with healing water gush from the bowels of the Earth, where you can relax and recharge your batteries. Ardent hot springs are the most famous.
White Island around Camiguin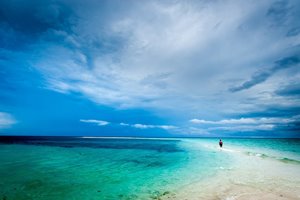 The most important thing to do in Camiguin is to visit White Island. This huge tongue of white sand resides off the northern coast of Camiguin Island, just one and a half kilometers from the pier with the same name.
How to get to the island
White Island Ferry Terminal (White Island Ferry Terminal); is near the Paras Hotel in the western part of the city. The trip to white island by boat takes only 10 minutes. The price of a ship for 1-6 people is 400-600 pesos (plus 20 pesos a tax on each visitor to the island).
There is a small shop on the island with food, soft drinks, and alcoholic beverages. Rent umbrellas (there are no trees on the island). You will see a small sand spit on which there is not a single tree, not a single shrub, only white sand and azure, clear water.
What to do on the White island
So, take with you to drink, eat, umbrellas, and, of course, a mask with a snorkel and fins – there is excellent snorkeling. You can spend as much time on the island as you want; tell the boatman the time when he should take you back. To see the island in all its glory – get out on it during the beginning of low tide.
Mantigue Island around Camiguin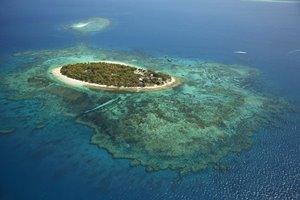 From the east coast of Camiguin Island, there is Mantigue Island or Magsaysay. It is small enough, only 3800 meters.
The State protects the Island and coastal waters. You can find only several diving and snorkeling spots, local cuisine (grilled fish and meat), and a small excursion program.
How to get to the island
This Island has the purest white beaches. It resides a dozen kilometers from Mambajao but is already in the eastern part of the Island. If you are going to this Island, you first need to arrive at Mahinog, at the Mantigue Island Boat Terminal. Here you can take a boat going to the Island.
Payment on the island
The price for a round trip is about 550 pesos, including 4 hours of waiting for sightseeing on the Island. Each additional hour costs 75 pesos. The environmental fee is 30 pesos, plus 50 pesos for snorkeling. Or you can go to the Village of San Roque and take a boat on the pier of the same name.
What to do on Mantigue island
What this Island has to offer you: firstly, beautiful beaches; secondly, it boasts a living marine reserve that will amaze you, and many consider it the best place for snorkeling in the Philippines. If you don't have snorkeling equipment, you can rent it for 150 pesos. Buy food and water in advance and take them with you.
Mount Hibok-Hibok on Camiguin Island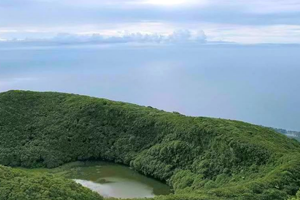 Mount Hibok-Hibok is an active strato–volcano with a height of 1300 meters and a primary diameter of about 10 kilometers; this mountain is a popular hiking destination on the island. In this realm of giant ferns and mosses, the route to the summit mainly passes through a low, dense forest dotted with overgrown shrubs.
Hiking to the volcano
The Ardent hot drain in Mambajao is a common item in the program of a hike to the volcano, which takes approximately 3-5 hours from the foot to the top. From the top is a gorgeous view of the mossy crater Ilikhan (memory of the eruption of 1950), White Island, and the islands of Siquihor and Bohol.
And by the way, this volcano is active, and its last eruption in the 50s killed about 600 people. The way to the top usually starts at Ardent Hot Springs in Mambajao or Yumbing. If you are in "average" physical shape, the whole tour will take about 8 hours, and we advise you to start at 5:30 in the morning to avoid the heat and have a better chance that clouds will not cover the summit.
Permission and payment on the island
To climb, you need DENR's permission, so you must go to his office in Mambajao to get authorization or let your guide hustle for you. Getting a permit costs 200 pesos per person (environmental fee). Guides charge about 1,500 pesos.
From Manila and Cebu to Camiguin
The fastest option is a flight to Cebu City and then a direct flight to Camiguin (CGM). Here you can book plane tickets from Lapu Lapu Airport, Cebu by Cebu Pacific; it can be significantly cheaper than buying tickets on the spot on the day of departure.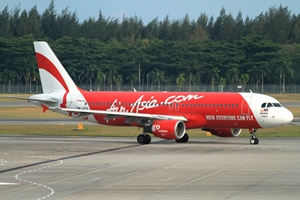 If you fly from Manila to Cagayan de Oro, your travel time by plane will probably take about one hour and a half. After landing at the Cagayan de Oro City Airport, take a taxi to the Cagayan Bus Station near the Agora Market.
You will take a bus from the Cagayan Bus Terminal to Balingoan, located 88 km from Cagayan de Oro City.
The travel time by bus is from two to three hours. Upon arrival at the Balingoan bus station, take the tricycle to the port and then – by ferry – to Camiguin. Ferries on the Balingoan – Camiguin Island route depart every hour. The first ferry leaves at 5 am, the last at 17:00. Travel time by sea is usually two hours.
How to get from Bohol to Camiguin
Most travelers who want to visit Camiguin do so from Bohol. It would help if you first went to Jagna Port from Bohol to Camiguin.
You will need to make the following transfers: Get to Jagna. If you are in Alona, you will have to go to Tagbilaran (you can do it by bus for 50 pesos in about 45 minutes) and take the Dao terminal, one of the buses going to Jagna. The bus tour takes about 90 minutes and costs about 100 pesos.
You can also take a taxi or minibus, which charges about 2000 pesos from Alona Beach. Take the super Shuttle ferry from Jagna to Camiguin (Balbagon): they depart every day at 13:00, and the ticket costs 425 pesos.
The trip takes 3 hours. Try to be 1 hour earlier at the box office. However, you can also book tickets online. Please note that this company sells tickets about a month in advance. Please do not panic that they have not been on the Internet for several months. They will appear. And sometimes happen that you can't buy them on the pier anymore. Be prepared for this in the season of high demand.
How to get from Siargao to Camiguin
Camiguin and Siargao are two of the most popular destinations for travelers going to the Philippines, many of whom want to combine trips. To get from Siargao to Camiguin, you have two alternatives:
1) Combine the flight from Siargao to Cebu and from Cebu to Camiguin. This is the fastest option. Although it may not always be carried out in one day due to the flight schedule.
2) Ferry from Siargao (DAP port) to Surigao. If possible, get on the first ship, which departs around 6: 00. The trip takes about two hours, and prices fluctuate around 450 pesos. Tickets can be purchased in advance here.
Go to Surigao Bus Terminal by tricycle or jeep (about 50 pesos, 15 minutes) and take the bus or Van to Butuan. The trip takes about four hours and usually costs 226 pesos per person for a bus and 170 for a minibus.
A minibus is generally faster. Take the bus or go from Butuan to Cagayan de Oro and get off at Balingoane. It takes a couple of hours, and it usually costs 230 pesos. Make sure he stops at Balingoan by asking the driver. Take the ferry from Balingoan to Camiguin. They depart at about 16:15 and cost 225 pesos. The trip takes about 90 minutes.