Panagbenga 2023 will be from February 1 to March 5. The Festival celebrates the blooming season and commemorates Baguio's rise from the ruins of the 1990 earthquake. The festival is the most popular annual festival in Baguio City, bringing together the community and tourists.
The celebration of the Panagbenga Festival was canceled at the height of the pandemic. In 2023, the festival returns, and we will see the vibrant celebration of Panagbenga once again as it was before the pandemic.
It's an excellent opportunity to explore Baguio's natural beauty, taste delicious street food, enjoy live music, and enjoy a show by professional dancers performing traditional dances.
Panagbenga 2023 will show us the main events of the festival – the Grand Street Dancing Parade and the Grand Float Parade. Do not miss events like the Session Road in Bloom and Handog ng Panagbenga sa Pamilya Baguio. They are no less exciting. Be sure to watch the Opening Parade and the Final Grand fireworks display. In the video, you can see what was during Panagbenga 2019. The Theme for the Panagbenga 2023 is "A Renaissance of Wonder and Beauty."
Panagbenga 2023: How to get to Baguio Flower Festival
Panagbenga Flower Festival takes place in Baguio City, Philippines. This Festival attracts many tourists, which is why it is crucial to buy tickets as early as possible. A bus is an easiest and fastest way to get to Baguio from Manila. Touring by bus is a convenient option to travel on a shoestring budget and for tourists who do not want to compromise on comfort. 
Find cheap bus tickets to Baguio from Manila. The travel time by bus usually takes around four to five hours. It depends on traffic. It can be shorter if you take the midnight buses.
Panagbenga 2023: Schedule of activities
Date

Activities

February 1, 2023

Panagbenga Grand Opening Day Parade

February 1- March 5, 2023

Panagbengascapes: Professional Landscaping Competition

February 1- March 5, 2023

Baguio Blooms: Market Encounter

February 5,12,19 2023

Panagbenga Sunday's Showcase

February 11,14,15 2023

School-Based Flower Arrangement and Landscaping Competition

February 12, 2023

Handog ng Panagbenga sa Pamilya Baguio
– Let a thousand flowers bloom
– Panagbenga Kite-Flying Challenga
– Panagbenga Cultural Show
– Panagbenga Fitness Frenzy

February 16-18, 2023

PMA Alumni Homecoming

February 18, 2023

Panagbenga Cultural Dance Competition

February 19, 2023

Fluvial Parade and Mardi Gras at the Lake

February 24, 2023

A Tribute to the Father of Panagbenga: Atty. Damaso E. Bangaoet Jr. Statue Unveiling Ceremony

February 24-25, 2023

Flower-tee golf classic

February 25-26, 2023

Festival Sponsors Row

February 25, 2023

Grand Street Dance Parade

February 26, 2023

Grand Float Parade

February 27- March 5, 2023

Session Road in Bloom

March 4, 2023

Pony Boy's Day

March 5, 2023

Awarding and Closing Ceremonies

March 5, 2023

Grand Aerial Fireworks Display
Panagbenga 2023: Festival History
Panagbenga started with the idea of Atty. Damaso E. Bangaoet, Jr. that Baguio City should have its celebration flower festival. People decided to organize a February  celebration because the weather is perfect. Another reason is that it motivates people to visit Baguio between Christmas and Holy Week. First Panagbenga Festival was in the 1995 year. The word Panagbenga comes from the Cancan term meaning Flowering Season.
At first, the Panagbenga lasted ten days. The Festival included two weekends. On the first weekend, there was a launch ceremony, and on weekdays there was a blooming Session Road. Festival organizers decided to arrange Grandiose parades last weekend. Later the festival was extended to two weeks, then to three, and then began to be held throughout February because the popularity of this event was very high. Nowadays, the Panagbenga festival stretches for five weeks!
Panagbenga Logo and Hymn
The official logo was chosen at the Camp John Hay art competition. The winning work was of Trisha Tabangin with a bouquet of wild sunflowers. Professor at Saint Louis University Macario Fronda composed the festival hymn. Now it sounds throughout the festival during the parades.
Panagbenga events
The main events of Panagbenga remain unchanged: The Parade of Floats, Street Dancing & Band Competitions, Session Road in Bloom, Market Encounter, Pony Boys Day, etc.
The opening ceremony of the Panagbenga festival takes place at sunset on the Mervyn Jones Grandstand in Burnham Park. The action begins with the city's residents' field demonstration of local dances and music. The Panagbenga festival organizers welcome visitors and declare the Baguio Flower Festival open. There are fireworks at the end of the opening ceremony of the Flower Festival.
Landscape Design Competition during the Panagbenga Flower Festival
The landscape design Competition is one of the best exhibitions during the Panagbenga Flower Festival. At the exhibition, landscape designers and gardeners show their original compositions of flowers, plants, stones, wood, local fabrics, and other materials. According to the competition rules, the garden plot's design must be of a specific size.
Artists demonstrate skills in creating landscapes that combine what they see from the environment and various gardens in the Philippines and abroad. It's incredible what skillful compositions local landscape designers show every year! It would help if you visited Burnham Park during the Baguio Flower Festival. You won't regret it.
Market Encounter while the Panagbenga
Market Encounter is a significant feature of the annual Panagbenga Flower Festival in Baguio. It is a bazaar of Filipino flowers and other goods. Originally Market Encounter was held at Scout Hill in Camp John Hay. It is now in Burnham Park.
Panagbenga Grand Street Dance Parade
Thousands of Filipinos and tourists from all over the world come on February 25 to Baguio to see the beautiful flower arrangements and incendiary dances on the streets of the summer capital of the Philippines. The procession follows Session Road, then Harrison Road, until it reaches the Mervyn Jones Grandstand at Burnham Park.
If you are not a dancer but love watching them, this is your day. Students from Baguio schools take part in the parade of street dancers. You will not remain indifferent to watching dances with original choreography and excellent costumes. They alternate with drum & lyre bands. It's not just dancing; groups compete. The most famous band is the Philippine Military Academy band.
Panagbenga Grand parade of floats
The next day, February 26, there will be a Grand parade of floats with bright, impressive performances. The floats usually decorate with flowers, and the dancers' costumes have bright floral colors and shapes. They follow the same route as the Grand Parade the day before.
Session Road in bloom
Session Road in Bloom lasts a week. In 2023, it will begin on February 27 and end on March 5. The city's roads are closed to traffic so that local people and various businesses can sell their products. Locals love this time, when there are many bazaars and fairs, night performances of musical groups, many outdoor cafes, and food stalls are open.
Pony Boy's Day
At the Annual Pony Boy's Day event in Wright Park, tourists can take part in scenic horse rides. At this event, ranchers from various equestrian clubs in the Baguio area gather with their horses for the day of the show. They celebrate the holiday with racing competitions, theatrical performances, and games with the favorite horses of the inhabitants of the whole city. Pony Boy's Day will be on Murch 4, 2023.
Plan your trip to Panagbenga Festival 2023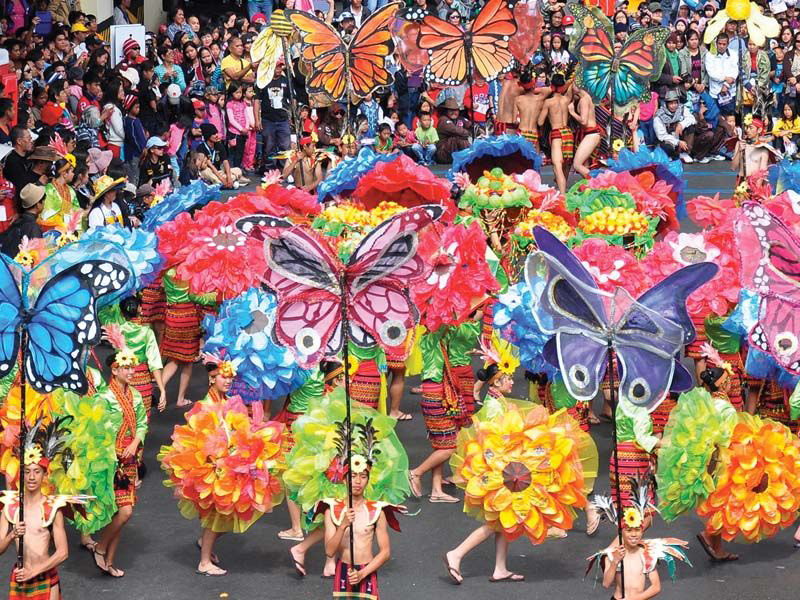 The Panagbenga Festival is a month-long celebration. Many events will be during February and early March. Plan your trip to the Panagbenga Flower Festival in Baguio in advance so as not to miss the most exciting events.
Check the weather forecast and prepare comfortable clothes and shoes
Check the weather forecast a few days before your trip to know that you take everything you need. Be sure to take an umbrella. It will protect both from the sun and the rain. It can act as your walking stick, as well.
Take comfortable shoes and clothes with you. You will have to walk a lot. There will be very few or no parking spaces during the festival. You will be able to drive as close as possible and then walk. The traffic on Session & Burnham will be heavy, and the only way to get around is to walk.
Secure your belongings
Keep in mind that Baguio is not a big town, and almost all events are concentrated on Session Road and Burnham Park, expect crowds of thousands of people there. Secure your belongings. Wear your backpack in front. Leave valuables and passports in the hotel safe.
Best places to watch Panagbenga parades
If you want to watch the parades on Session Road, find a suitable restaurant on the second floor in advance and stay there to get an excellent overview. The Melvin Jones grandstand is another good place to watch. You will be able to see all the floats and street dancers.
Panagbenga 2023: Where to stay?
Book a hotel before you travel. Early booking will allow you to choose the best location and price. Select an inn or hotel along Session Road or roads like Governor Pack, Calderon, Assumption, and Abanao. Also it will be good to book a hotel near Burnham Park (Kisad & Legarda). Hotels along Leonard Wood, Navy & CM Recto, Upper Session & Military Cut-Off will be reasonable accommodations.Some of the hotels located in this area are shown below: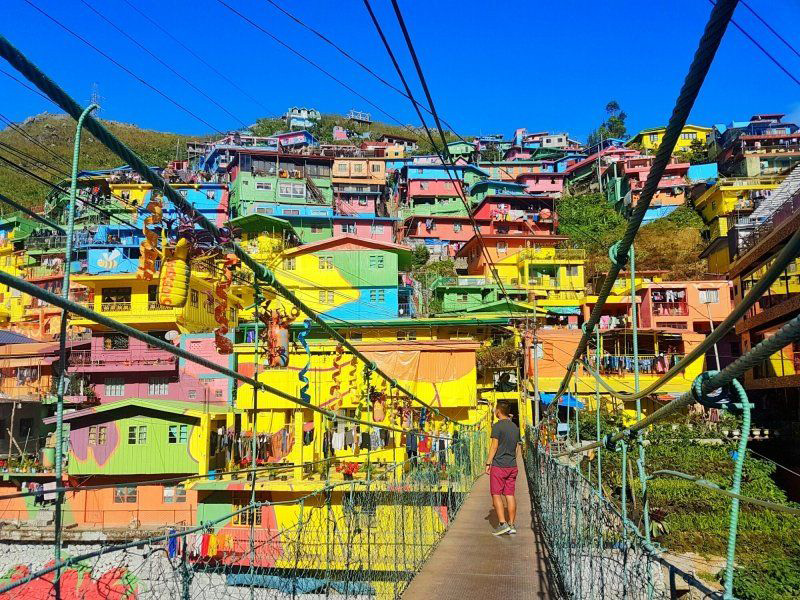 Panagbenga 2023: What else to do in Baguio?
Plan to arrive a day earlier or stay an extra day to better enjoy the beautiful Baguio in a month when the weather is almost perfect. There will be many activities during Panagbenga, and you may not have time to see other sights of the city. 
Are you looking to experience a wild, natural environment? Then Mount Pulag National Park is an excellent choice for you. Trekking Mt. Pulag is a must-try for all outdoor and adventure lovers, and it is one of the most sought trails in the Philippines.
Visit Camp John Hay. This area is popular with tourists and locals. A shady eco-trail for walking and running runs through the pine forest. There are ziplines in the Tree Top Adventure Park.
The Bell Church is one of Baguio City's famous attractions. This Taoist temple is in a quiet area, so it's a great place to get away from the hustle and bustle of the city.
If you love nature, you should visit the Baguio Botanical Garden, a haven of peace and tranquility, where you can relax under the towering pine trees and take in the beauty of nature.
You can read what to do in the summer capital of the Philippines on the Baguio page.
Read about other great places in the Philippines